Inspirations
The making of a corporate documentary for Facebook: Planning, Shoot & Edit. It's rare that I can blog about my commercial work.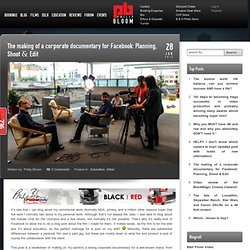 Normally NDA, privacy, and a million other reasons mean that the work I normally talk about is my personal work. Although that's not always the case. EDAMAME THE HARD WAY. AppFlow - Crowdsourcing App Discovery. Welcome to adidasdesignstudios.com. Beet cake. A Brief History of John Baldessari. B.L.O.T. Jon Contino. Alternate 'Dark Knight' Endings Rise to Animated Parody. Were you satisfied with the ending to The Dark Knight Rises, or left wanting more?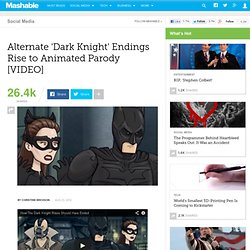 You're in luck, because this cartoon of alternate endings might have the one you were looking for. If you still haven't seen the film, you might not want to watch the video above, as there are slight spoilers. Sequential Design // Willi Kunz to Eduardo Recife. Water ink _ BDDP Unlimited and Solidarités International - UK. Lil Buck. Shepard Fairey et Mr.ANDRE: Vive les Friends | Explore. Mostly Robot: Behind the Scenes of Sónar 2012. THINK: A film about making the world work better. Paris In Motion (Part I) Designing Bond's Look. Handmade Portraits: Liberty Vintage Motorcycles.
Frame of Mind. I need one dollar (New York City) I have a dream #mlk. StudioKxx. Yeda Design, l'univers de la déco murale éco-design. 0inShare Papiers peints, tableaux, stickers muraux, stickers pour pc portable et stickers portes, voilà ce que nous propose le site Yeda Design, une décoration urbaine, abstraite, animale, asiatique ou vintage, des créations imprimées avec de l'encre de latex végétale pour un style personnalisé et personnalisable puisque le site nous propose de créér nos propres stickers via l'application en ligne.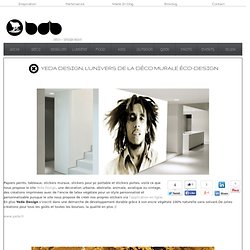 En plus Yeda Design s'inscrit dans une démarche de développement durable grâce à son encre végétale 100% naturelle sans solvant.De jolies créations pour tous les goûts et toutes les bourses, la qualité en plus ;) www.yeda.fr. THE BEAT OF NEW YORK. Interview Soemone FR. Still Life. Boy Meets Girl. Vous avez dit motion ? Hey !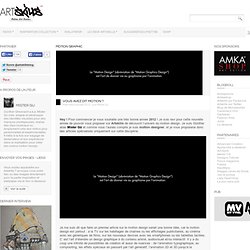 Pour commencer je vous souhaite une très bonne année 2012 ! Je suis ravi pour cette nouvelle année de pouvoir vous proposer sur Artskills de découvrir l'univers du motion design. Je suis Günther alias Mister Gü et comme vous l'aurais compris je suis motion designer, et je vous proposerai donc des articles spécialisés uniquement sur cette discipline. "Noisey Talks" Teaser - Fridays on Noisey: VICE's Music Channel.
M.I.A. "Bad Girls" Comment Response (Official): Noisey Specials #03. Brokeart. Start Making. Klaire fait grr. POLAROID teaser. Esquivel. Made by Hand / No 3 The Beekeeper. BtoB : Nouveau Portail des exportateurs français. Hillman Curtis. I Love People: 5,000 Miles, 930 People, 162 Seconds. Illuzions production - the work of david hubert. Cincinnati's music video from the one and only Artist of the year www.aoty.ca This low budget experimental music video is based on a very simple idea; in an industrial environment, people are emerging all over the place from boxes to fill the stage and create a big party.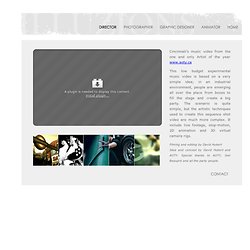 The scenario is quite simple, but the artistic techniques used to create this sequence shot video are much more complex. Baldwin Fall / Winter 2012. V Magazine Music Issue. Behind the Scenes: "Joy Ride" by Sandro Miller Using the Nikon D800. Made by Hand / No 1 The Distiller. Boy Meets Girl. 2011/12 Creative Mornings with Ben Chestnut.
---