Web&Blogs
My Generation. A letter to England… | English Scots for YES. Today sees the publication of a letter, from English Scots for YES, to the peoples of England (and indeed, the rest of the UK), explaining how we feel a YES vote is important for all our futures.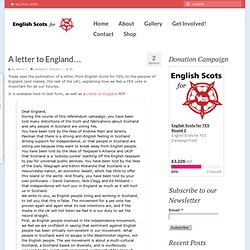 Dear England, During the course of this referendum campaign, you have been told many distortions of the truth and fabrications about Scotland and why people in Scotland are voting Yes. You have been told by the likes of Andrew Marr and Jeremy Paxman that there is a strong anti-English feeling in Scotland driving support for independence, or that people in Scotland are voting yes because they want to break away from English people. Theconversation. Tom Devine, Scotland's most celebrated historian of recent years, sent shockwaves through the country when he revealed in a news report in The Observer newspaper last weekend that he intends to vote in favour of independence on September 18.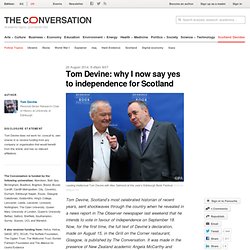 Now, for the first time, the full text of Devine's declaration, made on August 15, in the Grill on the Corner restaurant, Glasgow, is published by The Conversation. It was made in the presence of New Zealand academic Angela McCarthy and Observer correspondent Kevin McKenna. My engagement in the Scottish independence referendum campaign before now has been restricted to impartial academic interviews. And although I've only come to a yes conclusion over the last fortnight this has been a long journey for me. Scottish West Coast untapped oil and gas reserves worth trillions - Oil and Gas News. Published in Oil Industry News on Wednesday, 3 September 2014 Scotland could be sitting on more than double the amount of oil and gas reserves currently predicted, a new independent industry investigation has found.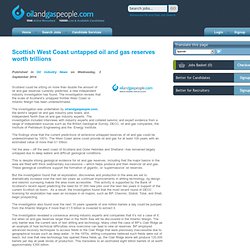 The investigation reveals that the scale of Scotland's untapped frontier West Coast or Atlantic Margin has been underestimated. The investigation was undertaken by oilandgaspeople.com, the world's largest oil and gas industry jobs board, and independent North Sea oil and gas industry experts. The investigation included interviews with industry experts and collated seismic and expert evidence from a range of independent sources such as the British Geological Survey, DECC, oil and gas companies, the Institute of Petroleum Engineering and the Energy Institute. The findings show that the current predictions of extensive untapped reserves of oil and gas could be underestimated by 100%.
Dear Eddie Izzard and friends, Please don't go (on). Please listen to why it's OK for us English to let Scotland go. | Upholding English honour. Dear Mr Izzard and all the other English contributors to the recent "Let's stay together" video, I am English and live in England.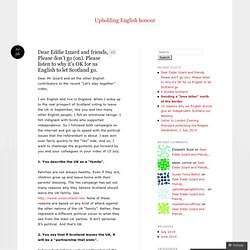 When I woke up to the real prospect of Scotland voting to leave the UK in September, like you and like many other English people, I felt an emotional twinge. I felt indignant with Scots who supported independence. Andrew Wilson: A light-bulb moment in independence. IT IS time for a light-bulb moment in how we govern ourselves, writes Andrew Wilson Curious is the world of politics.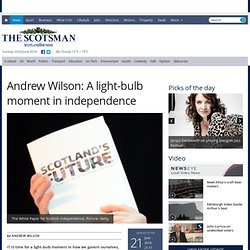 Curiouser still the people who inhabit it. Why We Need Wings | A Wilderness of Peace. OK, I've been biting my tongue in regards to Yes Scotland for a while, because I think it's counter-productive to criticise allies in a cause.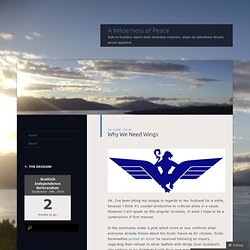 However I will speak on this singular occasion, in what I hope to be a constructive if firm manner. In the comments under a post which more or less confirms what everyone already knows about the Scots' future as EU citizens, Scots Renewables posted an email he received following an inquiry regarding their refusal to allow leaflets with Wings Over Scotland's site address to be distributed with their own material. The response was as follows. The Wee Blue Book.
WingsScotland2. NewsnetScotland. Derek Bateman Broadcaster. National Collective. Greg Moodie. BellaCaledonia. ScotGoesPop. Craig Murray. Iain MacWhirter Now and Then. Wee Ginger Dug. Citizen Smart. Odds & Sods. This is going to be good. The Scots were never big enough to break the Union.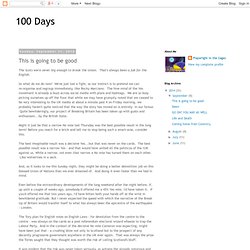 That's always been a job for the English.So what do we do now? We've just lost a fight, so our instinct is to pretend we can re-organise and regroup immediately, like Rocky Marciano. The hive mind of the Yes movement is already a-buzz across social media with plans and hashtags. The Real London Fear…. | EezyPeezyLemonSqeezy. A friend of mine noticed this artlcle and sent me a link to it.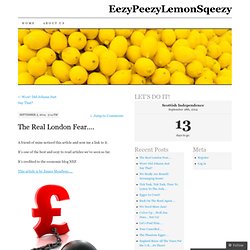 It's one of the best and eezy to read articles we've seen so far. It's credited to the economic blog NEF. Better Together's Bigoted Blogger | The Real McGowan | Blog of Drew McGowan. "This September I'll be saying No Thanks to separation because I think breaking up the UK would be bad for our public services and our household bills", says Yvonne Hama from Airdrie.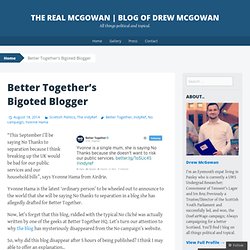 Yvonne Hama is the latest 'ordinary person' to be wheeled out to announce to the world that she will be saying No thanks to separation in a blog she has allegedly drafted for Better Together. Now, let's forget that this blog, riddled with the typical No cliché was actually written by one of the geeks at Better Together HQ. Let's turn our attention to why the blog has mysteriously disappeared from the No campaign's website.
So, why did this blog disappear after 5 hours of being published? I think I may able to offer an explanation.. Independence will generate a £109,000,000,000 asset windfall for Scotland. An independent Scotland will inherit a fair share of the UK's £1.3 trillion assets.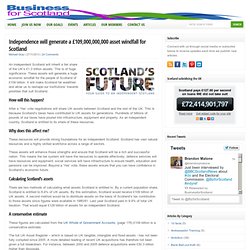 This is of huge significance. These assets will generate a huge economic windfall for the people of Scotland of £109 billion. It will make Scotland far wealthier and allow us to reshape our institutions' towards priorities that suit Scotland. How will this happen? After a 'Yes' vote negotiations will share UK assets between Scotland and the rest of the UK. Labour's pains. A Westminster Labour front-bench politician asked me last week at his party conference in Perth how I felt the polls were looking for 2016. "Didn't he mean 2014?" I asked before realising that for him, the referendum was all but won. And worse, he had already bought into the belief that with the SNP soundly thumped at the ballot box, his party would rise, phoenix like, to assume power 18 months on. England don't go | ScottishRepublic.eu. England don't go. England don't go and drift off into a fantasy isolationism, anti-immigrant, anti-EU and anti the interconnectedness of the modern world. England don't go and vote for UKIP.
England don't go on fuelling the London City-state with subsidies and tax-breaks, denuding the rest of your country of jobs and opportunity. Economic policy in an independent Scotland. Exploding the Scotland will not be fully independent myth! It is an often quoted 'No' claim that keeping the pound and allowing The Bank of England to set interest rates, means that Scotland won't have control of its own economic policy after independence, or that it would not be truly independent.
Leaving aside the fact that this argument implies that France, Germany, Denmark and all the other eurozone countries are not fully independent, I thought the claim was worthy of fuller investigation. From Poisonous Little Acorns… | Scottish Independence 2014 Blog. It's been few months now since Johann Lamont, Labour's leader in the Scottish Parliament, raised eyebrows with a speech in the chamber in which she outlined her 'fear' of Scotland voting for independence and the inevitable side-effect of the 'foreignisation' of her friends and relatives in rUK.
Many of us ridiculed her comments at the time, pointing out that the idea of someone being foreign presented us with no problem whatsoever. At the 'United with Labour' launch recently, she revisited this when she said "In simple terms, why make Alex Ferguson a foreigner?" . She evidently didn't get the memo. Then today on BBC Radio Scotland's 'Good Morning Scotland' show, Margaret Curran MP, Labour's Shadow Secretary of State for Scotland, made similar remarks. To September And Beyond: Cybernats Ate My Hamster. Should No campaigners venture out into the streets without body armour? That's the question currently being posed by self-styled influential commentators after a study by IBM (Incredibly Biased Media) revealed that Cybernat rudeness is reaching epidemic proportions. "It was bad enough when Cybernats were confined to their bedrooms," said one political figure, wearing a paper bag over his head for anonymity.
"Having the word PISH tweeted at you isn't very agreeable when your Scottish cringe is normally greeted with nods of approval in the House of Lords. But at least they used to be out of sight, unless one of them accidentally managed to Skype you, so you didn't have to gaze with horror upon their sweaty countenances and grubby semmits. "Now we've let them get hold of iPhones, so they're able to go outdoors, meet up in huge gangs and go on…. on…. sticker rampages."
Logic's Rock: The Perfect Storm, The Shit Storm and Der Stürmer. All Grist for the Mill. Edinburgh welcomes UKIP. Just Who Hates The English? Set In Darkness. The Ben Lomond Free Press. 10 economic benefits for a wealthier independent Scotland. #BizforScotland destroys the No Campaign's bank bail-out lies. Aren't we already losing Scotland? Twitter and Cyber-Bullying. Reporting the Referendum: Love, bombing again. SeanMcP Blogfeast. A Cybernat Writes | Vote Yes for Scotland. The extreme limit of wisdom, that's what the public calls madness.: A Very Personal Welcome to the Scottish Government 'Don't Give Fire a Home' Initiative. A Bankie's Blether.: I Read The News Today - Oh Boy (Lennon and McCartney) Freedom and Whisky. Lenathehyena's Blog | It's not Rocket Salad. Devolution Matters. Love and Garbage – some commonplace musings | Stuff about stuff. Thoughtland. Johann in Blunderland. Pseudepigrapha.
Alba Matters. Scottish Republic: Time to establish more debate on the Referendum. WHAT'S UP WITH HISTORIC SCOTLAND? | scottish2013.com. Holyrood Chronicles. Scottish Tory Leader to Scots: Drop Dead. Another Scotland Office boomerang. Dirty Money: The Tory Millionaire Bankrolling Better Together. Argyll News: South Scotland MSP raises the mystery of 1980s west coast oil capped on Westmister instructions | For Argyll.
Ian Hamilton QC. Cameron, Referendum and Why Scotland's Insignificance in London is an Advantage [BLOG] Scots Politics. Alan Bissett: Is It Cos Wur Scots? Interesting wee facts from the local elections. Calum Cashley SNP: Who's obsessed by independence? The Early Days of a Better Council? | davidsberry. Meet the main man. BellgroveBelle.
Party-supporters
ScottishTimes. Caledonian Mercury. Better Nation. New Statesman. Scottish Review. Jimmy Reid Foundation. Moridura. A Burdzeye View. Another Side of Lesley Riddoch. Lallans Peat Worrier. Witterings of a Weegiewarbler.
A Sair Fecht. Arc of Prosperity. Tattie Scones.
Gerry Hassan
Munguin's Republic. Auld Acquaintance. BBCScotlandshire. Subrosa. Dark Lochnagar.
---