Web&Blogs
Dear Eddie Izzard and friends, Please don't go (on). Please listen to why it's OK for us English to let Scotland go. | Upholding English honour. Dear Mr Izzard and all the other English contributors to the recent "Let's stay together" video, I am English and live in England.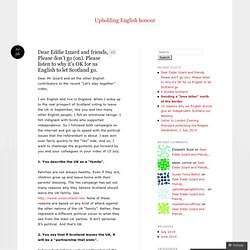 When I woke up to the real prospect of Scotland voting to leave the UK in September, like you and like many other English people, I felt an emotional twinge. I felt indignant with Scots who supported independence. Andrew Wilson: A light-bulb moment in independence. IT IS time for a light-bulb moment in how we govern ourselves, writes Andrew Wilson Curious is the world of politics.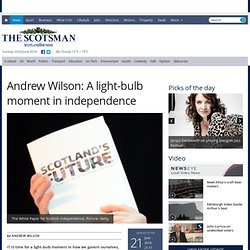 Curiouser still the people who inhabit it. Why We Need Wings | A Wilderness of Peace. OK, I've been biting my tongue in regards to Yes Scotland for a while, because I think it's counter-productive to criticise allies in a cause.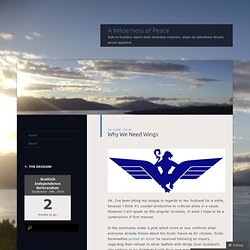 However I will speak on this singular occasion, in what I hope to be a constructive if firm manner. In the comments under a post which more or less confirms what everyone already knows about the Scots' future as EU citizens, Scots Renewables posted an email he received following an inquiry regarding their refusal to allow leaflets with Wings Over Scotland's site address to be distributed with their own material. The response was as follows. The Wee Blue Book.
WingsScotland2. NewsnetScotland. Derek Bateman Broadcaster. National Collective. Greg Moodie. BellaCaledonia. ScotGoesPop. Craig Murray. Iain MacWhirter Now and Then. Wee Ginger Dug. Citizen Smart. Odds & Sods. Better Together's Bigoted Blogger | The Real McGowan | Blog of Drew McGowan.
"This September I'll be saying No Thanks to separation because I think breaking up the UK would be bad for our public services and our household bills", says Yvonne Hama from Airdrie.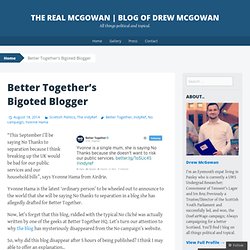 Yvonne Hama is the latest 'ordinary person' to be wheeled out to announce to the world that she will be saying No thanks to separation in a blog she has allegedly drafted for Better Together. Now, let's forget that this blog, riddled with the typical No cliché was actually written by one of the geeks at Better Together HQ. Let's turn our attention to why the blog has mysteriously disappeared from the No campaign's website. So, why did this blog disappear after 5 hours of being published? I think I may able to offer an explanation.. Why I'm hanging up the red rosette | Like a Red Red Rose. It is with a heavy heart that I have to write this article, but if this were six months ago, I imagine there would be a lot more love lost than now.
Fast forward to today, the 10th of August 2014 and things have radically changed for me, for the better. Six months ago, I was a skint student flirting with the idea of voting yes because I was sick of the idea of neo-liberalism and how there was little desire to change that across the UK. But I had a problem. I was a stalwart labour party member, my local constituency loved me and I could probably have got myself selected for the 2017 council elections and the Labour Party had taken a very clear and staunch 'No' stance. I was living a double life where I would be with my university friends, voicing my true opinions, my reservations about the Labour Party and my distaste at voting no and being part of a party who was actively campaigning for a no vote. Why I'm a feminist Wings Over Scotland fan. To be honest, I started writing this post a couple of months ago but I didn't have the guts to finish it until I read this amazing blog post by Wee Ginger Dug.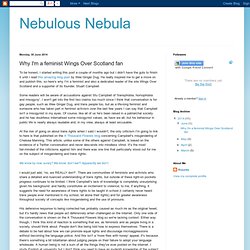 He really inspired me to get a move on and publish this, so here's why I'm a feminist and also a dedicated reader of the site Wings Over Scotland and a supporter of its founder, Stuart Campbell. Some readers will be aware of accusations against Stu Campbell of 'transphobia, homophobia and misogyny'. I won't get into the first two claims too much since I think that conversation is for gay people, such as Wee Ginger Dug, and trans people too, but as a life-long feminist and someone who has taken part in feminist activism over the last few years I can say that Campbell isn't a misogynist in my eyes. An Ordinary Gran. I was brought up in Musselburgh, born in 1950, a part of the babyboomer generation.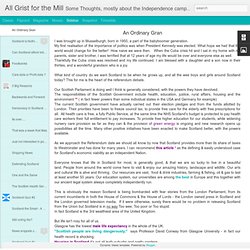 My first realisation of the importance of politics was when President Kennedy was elected. What hope we had that the world would change for the better! How naive we were then. When the Cuba crisis hit and I sat in my home with my parents, sister and brother, I was terrified that at 12 years of age my life would be over and everyone else as well. Thankfully the Cuba crisis was resolved and my life continued. Real Ordinary. This photo is credited to the eagle eyed Indy Quine, Amy, who spotted one of the BT ladies who'd come to a Yes event to stir it up wearing Union Flag pumps. it has nothing to do with this post, I just thought you'd like it) What it is to be an ordinary person.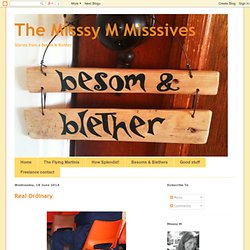 Here's what it means as a woman campaigning for YES. An Open Letter To J.K Rowling. | Scottish Pokemon – What do you believe in? Dear J.K Rowling, I'm writing this letter because I've just heard about your donation of £1 million to the Better Together campaign.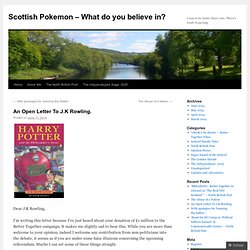 It makes me slightly sad to hear this. From Project Fear to Project Panic! | By Tom Steele In the past few weeks we have witnessed the truth about the independence referendum… the grassroots Yes campaign is ahead and winning!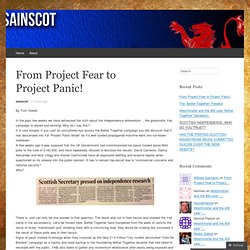 Why do I say this? Theresa May's grubby little warning: an independent Scotland will be out in the cold. It is a good thing that government ministers come to Scotland sometimes. It is a bad thing that they insist on opening their mouths when they do. Earlier this year we endured the spectacle of Philip Hammond making an arse of himself; today it has been Theresa May's turn to make one wish cabinet ministers would, just occasionally, contemplate the virtue of silence. Independence will generate a £109,000,000,000 asset windfall for Scotland. An independent Scotland will inherit a fair share of the UK's £1.3 trillion assets. This is of huge significance. These assets will generate a huge economic windfall for the people of Scotland of £109 billion. It will make Scotland far wealthier and allow us to reshape our institutions' towards priorities that suit Scotland. How will this happen? After a 'Yes' vote negotiations will share UK assets between Scotland and the rest of the UK.
Dr Eurovision's Blog www.dreurovision.com: A Song for Scotland? Today the Scottish Government launched its blueprint for independence. The document, titled "Scotland's Future: Your guide to an independent Scotland" outlines the justification for independence and sets out a series of policy pledges which the Scottish National Party would pursue in the event of a yes vote. The white paper is substantial and covers diverse topics including defence, environmental issues, economics and indeed culture. On page 532 of the report, under the section titled "Culture, Communications and Digital" the document categorically states that Scotland would seek to enter the Eurovision Song Contest. "The Scottish Broadcasting Service (SBS) would seek membership of the EBU. To September And Beyond: The Clash Of The Cabinets. Monday's UK Cabinet day-trip to Aberdeen, the first occasion in two years when Tory MPs outnumbered pandas in Scotland, was a complicated logistical exercise.
Public safety was a huge concern, since most Cabinet members aren't accustomed to being that far north without being seized by the urge to shoot something. In addition, there was the threat of the Scottish Cabinet unexpectedly appearing on the scene and subjecting Dave and his pals to a hilarious Benny Hill chase sequence. When, despite Michael Gove's intensive tutoring, the Cabinet proved to be absolute rubbish at spikkin Doric, it was the last straw. Aides regretfully concluded that the politicians would have to be kept apart from the general public at all times. First Minister speech at New Statesman Lecture. This site uses cookies to store information on your computer. Some cookies on this site are essential, and the site won't work as expected without them. These cookies are set when you submit a form, login or interact with the site by doing something that goes beyond clicking on simple links.
We also use some non-essential cookies to anonymously track visitors or enhance your experience of the site. Labour's pains. England don't go | ScottishRepublic.eu. Economic policy in an independent Scotland. From Poisonous Little Acorns… | Scottish Independence 2014 Blog. To September And Beyond: Cybernats Ate My Hamster. Logic's Rock: The Perfect Storm, The Shit Storm and Der Stürmer.
All Grist for the Mill. Edinburgh welcomes UKIP. Just Who Hates The English? Set In Darkness. The Ben Lomond Free Press. 10 economic benefits for a wealthier independent Scotland. #BizforScotland destroys the No Campaign's bank bail-out lies. Aren't we already losing Scotland? Twitter and Cyber-Bullying. Reporting the Referendum: Love, bombing again.
SeanMcP Blogfeast. A Cybernat Writes | Vote Yes for Scotland. The extreme limit of wisdom, that's what the public calls madness.: A Very Personal Welcome to the Scottish Government 'Don't Give Fire a Home' Initiative. A Bankie's Blether.: I Read The News Today - Oh Boy (Lennon and McCartney) Freedom and Whisky. Lenathehyena's Blog | It's not Rocket Salad. Devolution Matters. Love and Garbage – some commonplace musings | Stuff about stuff. Thoughtland. Johann in Blunderland. Pseudepigrapha. Alba Matters. Scottish Republic: Time to establish more debate on the Referendum. WHAT'S UP WITH HISTORIC SCOTLAND? | scottish2013.com. Holyrood Chronicles. Scottish Tory Leader to Scots: Drop Dead. Another Scotland Office boomerang. Dirty Money: The Tory Millionaire Bankrolling Better Together.
Argyll News: South Scotland MSP raises the mystery of 1980s west coast oil capped on Westmister instructions | For Argyll. Ian Hamilton QC. Cameron, Referendum and Why Scotland's Insignificance in London is an Advantage [BLOG] Scots Politics. Alan Bissett: Is It Cos Wur Scots? Interesting wee facts from the local elections. Calum Cashley SNP: Who's obsessed by independence? The Early Days of a Better Council? | davidsberry. Meet the main man. BellgroveBelle.
Party-supporters
ScottishTimes. Caledonian Mercury. Better Nation. New Statesman. Scottish Review. Jimmy Reid Foundation. Moridura. A Burdzeye View. Another Side of Lesley Riddoch. Lallans Peat Worrier. Witterings of a Weegiewarbler. A Sair Fecht. Arc of Prosperity. Tattie Scones. Gerry Hassan. Munguin's Republic. Auld Acquaintance. BBCScotlandshire.
Dark Lochnagar.
---