Web&Blogs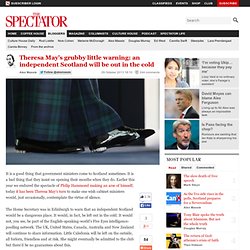 It is a good thing that government ministers come to Scotland sometimes. It is a bad thing that they insist on opening their mouths when they do. Earlier this year we endured the spectacle of Philip Hammond making an arse of himself; today it has been Theresa May's turn to make one wish cabinet ministers would, just occasionally, contemplate the virtue of silence.
Theresa May's grubby little warning: an independent Scotland will be out in the cold
This site uses cookies to store information on your computer. Some cookies on this site are essential, and the site won't work as expected without them. These cookies are set when you submit a form, login or interact with the site by doing something that goes beyond clicking on simple links. We also use some non-essential cookies to anonymously track visitors or enhance your experience of the site.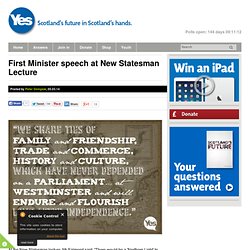 First Minister speech at New Statesman Lecture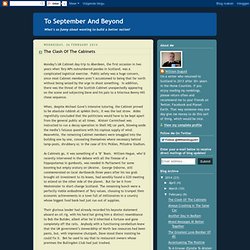 Monday's UK Cabinet day-trip to Aberdeen, the first occasion in two years when Tory MPs outnumbered pandas in Scotland, was a complicated logistical exercise. Public safety was a huge concern, since most Cabinet members aren't accustomed to being that far north without being seized by the urge to shoot something. In addition, there was the threat of the Scottish Cabinet unexpectedly appearing on the scene and subjecting Dave and his pals to a hilarious Benny Hill chase sequence. When, despite Michael Gove's intensive tutoring, the Cabinet proved to be absolute rubbish at spikkin Doric, it was the last straw. Aides regretfully concluded that the politicians would have to be kept apart from the general public at all times.
To September And Beyond: The Clash Of The Cabinets
An independent Scotland will inherit a fair share of the UK's £1.3 trillion assets. This is of huge significance. These assets will generate a huge economic windfall for the people of Scotland of £109 billion. It will make Scotland far wealthier and allow us to reshape our institutions' towards priorities that suit Scotland. How will this happen? After a 'Yes' vote negotiations will share UK assets between Scotland and the rest of the UK.
Independence will generate a £109,000,000,000 asset windfall for Scotland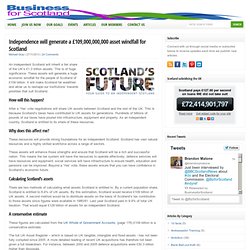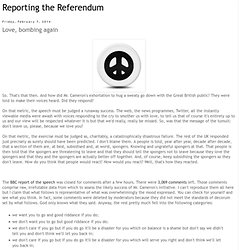 So. That's that then. And how did Mr. Cameron's exhortation to hug a sweaty go down with the Great British public? They were told to make their voices heard.
Reporting the Referendum: Love, bombing again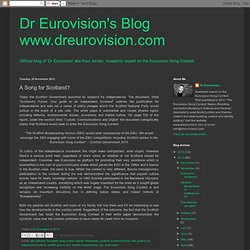 Dr Eurovision's Blog www.dreurovision.com: A Song for Scotland?
Today the Scottish Government launched its blueprint for independence. The document, titled "Scotland's Future: Your guide to an independent Scotland" outlines the justification for independence and sets out a series of policy pledges which the Scottish National Party would pursue in the event of a yes vote. The white paper is substantial and covers diverse topics including defence, environmental issues, economics and indeed culture. On page 532 of the report, under the section titled "Culture, Communications and Digital" the document categorically states that Scotland would seek to enter the Eurovision Song Contest. "The Scottish Broadcasting Service (SBS) would seek membership of the EBU.
Twitter and Cyber-Bullying
Monday, January 27th, 2014 @ 3:07PM I had the opportunity to fulfill a personal ambition when I was invited on to Question Time last week, a programme which as a young person was an introduction for me to real political debate and one I still find tests my certainties and assumptions. So I had the chance to emulate many of my Labour heroes last Thursday night by taking on David Dimbleby, Ruth Davidson, John Swinney, Jim Sillars and an impressive Dundee audience who weren't going to be conned by anyone.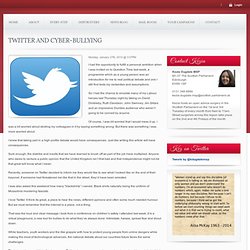 Barbarian Politics
Economic policy in an independent Scotland : Business for Scotland
Exploding the Scotland will not be fully independent myth! It is an often quoted 'No' claim that keeping the pound and allowing The Bank of England to set interest rates, means that Scotland won't have control of its own economic policy after independence, or that it would not be truly independent. Leaving aside the fact that this argument implies that France, Germany, Denmark and all the other eurozone countries are not fully independent, I thought the claim was worthy of fuller investigation.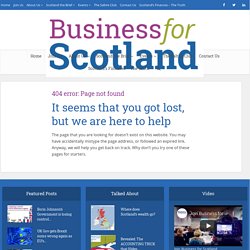 From Poisonous Little Acorns… | Scottish Independence 2014 Blog
It's been few months now since Johann Lamont, Labour's leader in the Scottish Parliament, raised eyebrows with a speech in the chamber in which she outlined her 'fear' of Scotland voting for independence and the inevitable side-effect of the 'foreignisation' of her friends and relatives in rUK. Many of us ridiculed her comments at the time, pointing out that the idea of someone being foreign presented us with no problem whatsoever. At the 'United with Labour' launch recently, she revisited this when she said "In simple terms, why make Alex Ferguson a foreigner?" . She evidently didn't get the memo. Then today on BBC Radio Scotland's 'Good Morning Scotland' show, Margaret Curran MP, Labour's Shadow Secretary of State for Scotland, made similar remarks.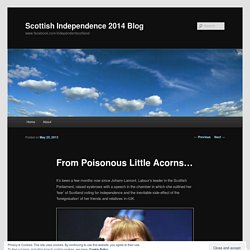 Independence opinion polls with trend lines. OpenOffice is able to compute trend lines for data in a graph. I took the most recent Scottish independence opinion polls (since August last year), put in the trend lines and extended them until the day of the actual referendum, 18th September 2014.
Yes will overtake No in five months' time | Arc of Prosperity
#BizforScotland destroys the No Campaign's bank bail-out lies : Business for Scotland
1 Churchill Place, Canary Wharf is a very important address in the debate about the economics of independence. It is home to a company the recent history of which completely exposes the misinformation tactics of the No Campaign. Over and over again we hear from anti-independence proponents (especially former Chancellor Alastair Darling) that an independent Scotland could not have afforded to bail-out the Scottish banks. After all, Alastair knows best!
Aren't we already losing Scotland?
The current strategy to save the Union actually breaks the ties that bind us - along with the constitution Westminster has been gripped by talk of a referendum this week. But the excitement hasn't been about the vote in ten months' time that will decide whether Scotland remains part of the United Kingdom, but about the possibility of an EU referendum in four years' time. South of Hadrian's Wall, Scotland's vote on independence is fast in danger of becoming the forgotten referendum. If the Scottish referendum is the forgotten one then the Welsh one is the one 'nobody's ever bloody well heard of'. Last week, David Cameron announced that there would be a vote in Wales to decide whether the assembly there should be able to vary the rate of income tax.
Suitably Despairing
The morning of 1st May was surprisingly dreich as the Edinburgh summer of 2013 faltered yet again, so having merely gazed at the garden I sat down at the computer with my egg roll and cup of tea and started browsing friends' posts on Facebook. I had no idea that I was about to be assailed by the perfect storm of celebrity pap and unionist churnalism that would see me initiated as a Cybernat. I clicked on a link to The Scotsman, hereinafter referred to as The Hootsmon as it bears no discernable relationship whatsoever to the Scottish organ of record that I used to persuade officers' mess committees should be ordered wherever I was posted in days of yore. The headline screamed Susan Calman: Death Threats For Independence Satire.
Logic's Rock: The Perfect Storm, The Shit Storm and Der Stürmer
Edinburgh welcomes UKIP
17 May, 2013 MAX CREMA was in Edinburgh yesterday and here gives a first-hand account of UKIP leader Nigel Farage's unceremonious bum's rush out of Scotland's capital . In the tightly controlled and pre-tested world of politics it's not often that an event occurs which doesn't fit into a narrative. A company will go bust and left-leaning papers will decry deregulation while their counterparts demand more.
Nigel Farage being unceremoniously ejected from The Canons' Gait pub on Edinburgh's Royal Mile after bizarrely disturbing the afternoon trade by bringing in a press pack and Student counter-demo, has opened up the question over whether the desire for Scottish Independence is inherently anti-English. This morning, on the BBC's Good Morning Scotland we had Margaret Curran MP, Labour Shadow SofS for Scotland hammering home that the opposite is the case, peppered with the usual Britnat self-loathing. The Yes campaign's view of of our future relationship with the remainder of the UK is that they will be our neighbour, friend, EU and Commonwealth partners and NATO allies. The No Campaign's view of rUK is that they will be foreigners who will put every conceivable impediment in the way of Scotland's future success. Who has the most positive view of the English?
Just Who Hates The English?
SeanMcP Blogfeast
All Grist for the Mill
Citizen Smart: Ian Smart, My Brother
Set In Darkness
The Ben Lomond Free Press
A Cybernat Writes | Vote Yes for Scotland
The extreme limit of wisdom, that's what the public calls madness.: A Very Personal Welcome to the Scottish Government 'Don't Give Fire a Home' Initiative
A Bankie's Blether.: I Read The News Today - Oh Boy (Lennon and McCartney)
Freedom and Whisky
Lenathehyena's Blog | It's not Rocket Salad
Yes Scotland is marching on together | "Stop the world, Scotland wants to get on!"
The Universality of Cheese.
Biased BBC | Biased BBC
Devolution Matters
Love and Garbage – some commonplace musings | Stuff about stuff
Thoughtland
Johann in Blunderland
Pseudepigrapha
Alba Matters
Scottish Republic: Time to establish more debate on the Referendum
WHAT'S UP WITH HISTORIC SCOTLAND? | scottish2013.com
The Steamie Politics Blog : Powered by Scotsman.com
Blog : David Torrance
Holyrood Chronicles
Scottish Tory Leader to Scots: Drop Dead - Spectator Blogs
Another Scotland Office boomerang
Dirty Money: The Tory Millionaire Bankrolling Better Together
Argyll News: South Scotland MSP raises the mystery of 1980s west coast oil capped on Westmister instructions | For Argyll
Ian Hamilton QC
Cameron, Referendum and Why Scotland's Insignificance in London is an Advantage [BLOG]
Scots Politics
Alan Bissett: Is It Cos Wur Scots?
Interesting wee facts from the local elections
Calum Cashley SNP: Who's obsessed by independence?
The Early Days of a Better Council? | davidsberry
BellgroveBelle
Bringing it all back home - The message of Tom Devine's book on Scottish emigration is ultimately a postive one. - Go Lassie Go
Labour Hame
@dhothersall
I Despair
The view from the hills
Caron's Musings
Tory Hoose
Scottish Roundup
About - @ScotVoices
Spying on you undercover, drinking coffee with your mother – am I getting closer? – Scottish Roundup
Derek Bateman Broadcaster
Another Side of Lesley Riddoch
Witterings of a Weegiewarbler
Iain MacWhirter Now and Then