The Fringe
Home | Edinburgh Festival Fringe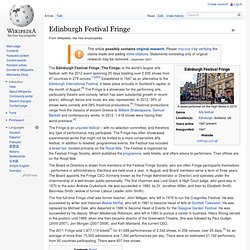 Edinburgh Festival Fringe
The Edinburgh Festival Fringe ( The Fringe ) is the world's largest arts festival, with the 2012 event spanning 25 days totalling over 2,695 shows from 47 countries in 279 venues. [ 1 ] [ 2 ] [ 3 ] Established in 1947 as an alternative to the Edinburgh International Festival , it takes place annually in Scotland's capital, in the month of August. [ 4 ] The Fringe is a showcase for the performing arts, particularly theatre and comedy (which has seen substantial growth in recent years), although dance and music are also represented.
Edinburgh Previews
(1) Edinburgh Festival Fringe Society
Edinburgh Comedy Festival
Pleasance Theatre in London and Edinburgh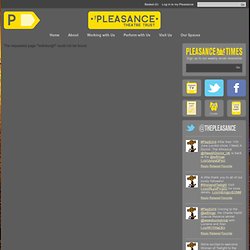 Do you want to perform with us in Edinburgh in 2013? Please find all the necessary information on how to apply in the application pack below. Click here to download the 2013 application pack.
Underbelly is a UK based live entertainment company. We run Underbelly at the Edinburgh Festival Fringe - one of the largest venue operations at the largest arts festival in the world - and Udderbelly Festival and Priceless London Wonderground at Southbank Centre in London. Our iconic upside-down purple cow venue - Udderbelly - is an annual fixture on both the London and Edinburgh skylines and 2012 was the inaugural year for our new London festival of circus and cabaret, Priceless London Wonderground.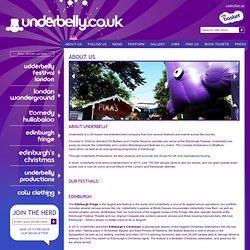 About us | Underbelly
C venues at the Edinburgh Festival Fringe
Gilded Balloon | Gilded Balloon home to the Edinburgh Fringe's legendary Late'n'Live
Bedlam Theatre, Edinburgh
Assembly 2011 - Edinburgh Fringe Festival's Premiere Venue, moving to George Square Gardens
Traverse Theatre Edinburgh - Scotland's new writing theatre
ZOO Venues at the Edinburgh Festival Fringe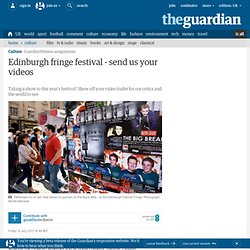 Are you taking a show to this year's Edinburgh fringe festival? Planning on wowing the crowds?
Edinburgh fringe festival - send us your videos | Culture
Home | Edinburgh Fringe 2011 - The Free Fringe
The Free Festival - Free Fringe shows in Edinburgh
The Free Edinburgh Fringe Festival will be back in Edinburgh from August 1st to 25th in 2013, with a new and exciting programme of shows for out 10th year in Edinburgh...
Footlights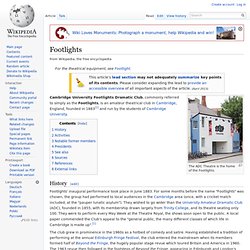 The ADC Theatre is the home of the Footlights. Cambridge University Footlights Dramatic Club , commonly referred to simply as the Footlights , is an amateur theatrical club in Cambridge , England, founded in 1883 [ 1 ] and run by the students of Cambridge University . [ edit ] History
Cambridge Footlights  ||  home
Foster's Edinburgh Comedy Awards 2011
List of Edinburgh Comedy Award winners
Broadway Baby. Brighter Coverage. Fringe, Regional and West End Theatre Listings and Reviews.