The Fringe
Home | Edinburgh Festival Fringe. Edinburgh Festival Fringe. The Edinburgh Festival Fringe (The Fringe) is the world's largest arts festival, with the 2012 event spanning 25 days totalling over 2,695 shows from 47 countries in 279 venues.[1][2][3] Established in 1947 as an alternative to the Edinburgh International Festival, it takes place annually in Scotland's capital, in the month of August.[4] The Fringe is a showcase for the performing arts, particularly theatre and comedy (which has seen substantial growth in recent years), although dance and music are also represented.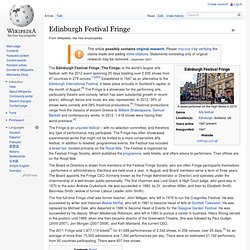 In 2012, 36% of shows were comedy and 28% theatrical productions.[4] Theatrical productions range from the classics of ancient Greece to William Shakespeare, Samuel Beckett and contemporary works. In 2012, 1,418 shows were having their world premiere.[4] The Fringe is an unjuried festival – with no selection committee, and therefore any type of performance may participate.
Edinburgh Previews. (1) Edinburgh Festival Fringe Society. Edinburgh Comedy Festival. Pleasance Theatre in London and Edinburgh. About us | Underbelly. Underbelly is a UK-based live entertainment company that runs several festivals and events across the country.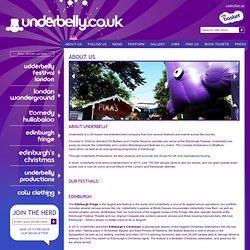 Founded in 2000 by directors Ed Bartlam and Charlie Wood to operate one venue at the Edinburgh Festival, Underbelly has grown to include the Udderbelly and London Wonderground festivals in London, The Comedy Hullabaloo in Stratford-Upon-Avon, as well as an ever-growing programme in Edinburgh. Through Underbelly Productions, we also produce and promote live shows for UK and international touring. C venues at the Edinburgh Festival Fringe. Gilded Balloon | Gilded Balloon home to the Edinburgh Fringe's legendary Late'n'Live. Bedlam Theatre, Edinburgh. Assembly 2011 - Edinburgh Fringe Festival's Premiere Venue, moving to George Square Gardens. Traverse Theatre Edinburgh - Scotland's new writing theatre. ZOO Venues at the Edinburgh Festival Fringe.
Edinburgh fringe festival - send us your videos. Are you taking a show to this year's Edinburgh fringe festival?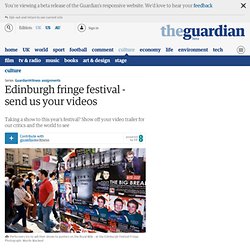 Planning on wowing the crowds? Whether you're doing comedy, theatre, cabaret, spoken-word, mime – or just reading the phonebook backwards in a fishtank on the Royal Mile – this is your chance tell festivalgoers and our critics what you're up to this year. Upload a short video trailer to GuardianWitness and tell us all about it. Home | Edinburgh Fringe 2011 - The Free Fringe. The Free Festival - Free Fringe shows in Edinburgh. We're now busy preparing for the 2014 Free Fringe Festival, which will be back in Edinburgh from July 31st to August 24th 2014.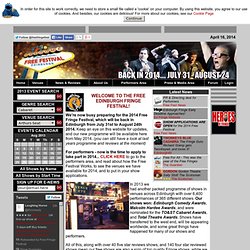 Keep an eye on this website for updates, and our new programme will be available here from May 2014. (you can still have a look at last years programme and reviews at the moment) For performers - now is the time to apply to take part in 2014... CLICK HERE to go to the performers area, and read about how the Free Festival Works, to see the venues we have available for 2014, and to put in your show applications. Footlights. The ADC Theatre is the home of the Footlights.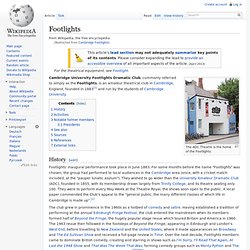 Cambridge University Footlights Dramatic Club, commonly referred to simply as the Footlights, is an amateur theatrical club in Cambridge, England, founded in 1883[1] and run by the students of Cambridge University. History[edit] Cambridge Footlights  ||  home. Foster's Edinburgh Comedy Awards 2011. List of Edinburgh Comedy Award winners. Broadway Baby. Brighter Coverage. Fringe, Regional and West End Theatre Listings and Reviews.
---