The Fringe
Home | Edinburgh Festival Fringe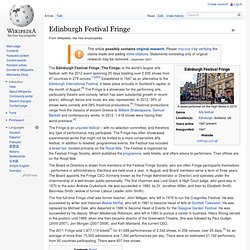 Edinburgh Festival Fringe
The Edinburgh Festival Fringe (The Fringe) is the world's largest arts festival, with the 2012 event spanning 25 days totalling over 2,695 shows from 47 countries in 279 venues.[1][2][3] Established in 1947 as an alternative to the Edinburgh International Festival, it takes place annually in Scotland's capital, in the month of August.[4] The Fringe is a showcase for the performing arts, particularly theatre and comedy (which has seen substantial growth in recent years), although dance and music are also represented. In 2012, 36% of shows were comedy and 28% theatrical productions.[4] Theatrical productions range from the classics of ancient Greece to William Shakespeare, Samuel Beckett and contemporary works. In 2012, 1,418 shows were having their world premiere.[4] The Fringe is an unjuried festival – with no selection committee, and therefore any type of performance may participate.
Edinburgh Previews
(1) Edinburgh Festival Fringe Society
Edinburgh Comedy Festival
Pleasance Theatre in London and Edinburgh
Underbelly is a UK based live entertainment company. We run Underbelly at the Edinburgh Festival Fringe - one of the largest venue operations at the largest arts festival in the world - and Udderbelly Festival and London Wonderground at Southbank Centre in London. Our iconic upside-down purple cow venue - Udderbelly - is an annual fixture on both the London and Edinburgh skylines and 2012 was the inaugural year for our new London festival of circus and cabaret, London Wonderground.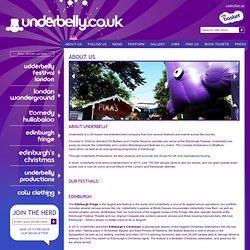 About us | Underbelly
C venues at the Edinburgh Festival Fringe
PPOWH! Charity Night 2014. The 24th March will bring some side-splitting hilarity for Glasgow's Hospice! Stewart Francis, Susan Calman, Karen Dunbar, Jo Caulfield, Des Clarke, Janey Godley, Des McLean and many more… …will be joining us at the Kings Theatre for one night only.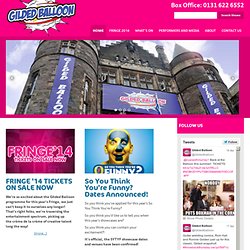 Gilded Balloon | Gilded Balloon home to the Edinburgh Fringe's legendary Late'n'Live
Bedlam Theatre, Edinburgh
Assembly 2011 - Edinburgh Fringe Festival's Premiere Venue, moving to George Square Gardens
Traverse Theatre Edinburgh - Scotland's new writing theatre
ZOO Venues at the Edinburgh Festival Fringe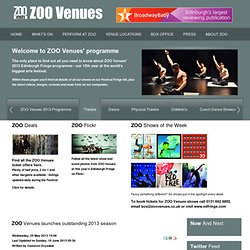 Wednesday, 29 May 2013 19:06 Last Updated on Sunday, 16 June 2013 09:36 Written by Cameron Drysdale ZOO Venues remarkable 2013 season brings together familiar faces and fresh new talent in a carefully curated programme of some of the finest dance, theatre, and physical theatre to be found on the Fringe. Acclaimed festival favourites Little Bulb premier their new work Squally Showers alongside the up-and-coming Wardrobe Ensemble's 33, follow up to the runaway success of 2011's Stage Awards nominated Riot.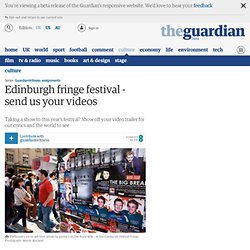 Are you taking a show to this year's Edinburgh fringe festival? Planning on wowing the crowds? Whether you're doing comedy, theatre, cabaret, spoken-word, mime – or just reading the phonebook backwards in a fishtank on the Royal Mile – this is your chance tell festivalgoers and our critics what you're up to this year. Upload a short video trailer to GuardianWitness and tell us all about it.
Edinburgh fringe festival - send us your videos | Culture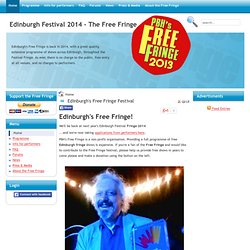 Hello all - the marvellous day has arrived, the PBH Free Fringe album is now officially available to buy. Yes. Over thirty bands and performers from the worlds of indie and comedy have come together to create a unique download album all entirely in aid of the PBH Free Fringe! The compilation features 36 new, unreleased or rare tracks from a wide range of performers including John Otway, Chris T-T, Helen Arney, Standard Fare, The Bobby McGees, The Just Joans and many many more. It's released today and costs just five pounds for over an hour and a half's worth of music. That's equivalent to just 14p a track!
Home | Edinburgh Fringe 2011 - The Free Fringe
The Free Festival - Free Fringe shows in Edinburgh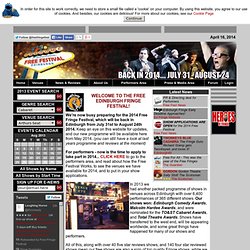 We're now busy preparing for the 2014 Free Fringe Festival, which will be back in Edinburgh from July 31st to August 24th 2014. Keep an eye on this website for updates, and our new programme will be available here from May 2014. (you can still have a look at last years programme and reviews at the moment) For performers - now is the time to apply to take part in 2014... CLICK HERE to go to the performers area, and read about how the Free Festival Works, to see the venues we have available for 2014, and to put in your show applications.
Footlights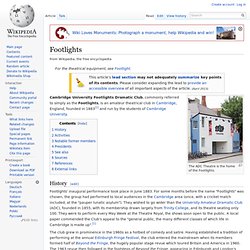 The ADC Theatre is the home of the Footlights. Cambridge University Footlights Dramatic Club, commonly referred to simply as the Footlights, is an amateur theatrical club in Cambridge, England, founded in 1883[1] and run by the students of Cambridge University. History[edit]
Cambridge Footlights  ||  home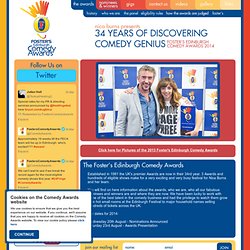 Established in 1981 the UK's premier Awards are now in their 33rd year. 3 Awards and hundreds of eligible shows make for a very exciting and very busy festival for Nica Burns and her team. You will find on here information about the awards, who we are, who all our fabulous nominees and winners are and where they are now. We have been lucky to work with some of the best talent in the comedy business and had the privilege to watch them grow from hot small rooms at the Edinburgh Festival to major household names selling hundreds of tickets across the UK.
Foster's Edinburgh Comedy Awards 2011
List of Edinburgh Comedy Award winners
Broadway Baby uses unobtrusive cookies to store information on your computer. Without them, Broadway Baby's features will not operate. By using Broadway Baby, you agree to the use of cookies. Some cookies on this site are essential, and the site won't work as expected without them. These cookies are set when you submit a form, login or interact with the site by doing something that goes beyond clicking on simple links.
Broadway Baby. Brighter Coverage. Fringe, Regional and West End Theatre Listings and Reviews.