E banking
Paiement mobile : Visa multiplie les solutions et les services. Mastercard s'attaque au marché des portefeuilles électroniques. Do We Even Need NFC For Mobile Payments? PayPal, Google Weigh In (Video) If you tried to judge whether NFC mobile payments are ready for prime time — based on the amount of chatter you hear in your newsfeed — you'd think the contactless technology was on the brink of ubiquitous adoption.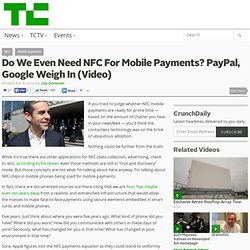 Nothing could be further from the truth. While it's true there are other applications for NFC (data collection, advertising, check in, etc), according to Forrester, even those methods are still in "trial and discovery" mode. Mobile Payments Startup Beamit Raises $2.4M From Founder's Co-op, Jeff Bezos, Eric Schmidt & Others. Mobile payments platform Beamit, which focuses on international money transfers between the U.S. and developing markets, has just closed a $2.4 million seed round led by Founder's Co-op, with participation from Bezos Expeditions (the personal investment company of Jeff Bezos), TomorrowVentures (the investment vehicle for Eric Schmidt) and a small group of angel investors.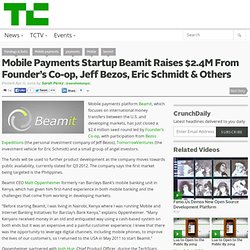 The funds will be used to further product development as the company moves towards public availability, currently slated for Q3 2012. The company says the first market being targeted is the Philippines. Beamit CEO Matt Oppenheimer formerly ran Barclays Bank's mobile banking unit in Kenya, which has given him first-hand experience in both mobile banking and the challenges that come from working in developing markets. "Before starting Beamit, I was living in Nairobi, Kenya where I was running Mobile and Internet Banking Initiatives for Barclay's Bank Kenya," explains Oppenheimer. Intuit Acquires Mobile Payments Company AisleBuyer, Will Integrate Into GoPayment, POS Solutions.
AisleBuyer, makers of a virtual shopping assistant app that lets in-store customers bypass checkout lines by paying directly on their mobile phone, has been acquired by Intuit.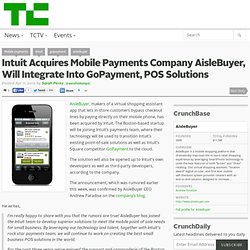 The Boston-based startup will be joining Intuit's payments team, where their technology will be used to transition Intuit's existing point-of-sale solutions as well as Intuit's Square competitor GoPayment to the cloud. The solution will also be opened up to Intuit's own developers as well as third-party developers, according to the company. The announcement, which was rumored earlier this week, was confirmed by AisleBuyer CEO Andrew Paradise on the company's blog.
Braintree Wants To Make It Easier For Developers To Integrate Online Payments. Braintree, an online payments gateway provider, is hoping to make it easier for developers to start integrating payments immediately.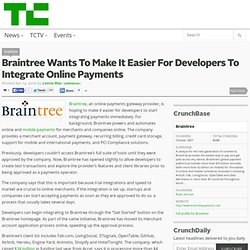 For background, Braintree powers and automates online and mobile payments for merchants and companies online. The company provides a merchant account, payment gateway, recurring billing, credit card storage, support for mobile and international payments, and PCI Compliance solutions. With $1M And An Alpha, Leaf Aims To Overhaul The Payments Experience For Local Merchants. Leaf, a Cambridge-based startup, is aiming to make the experience of paying in a shop more modern with paperless receipts for customers and transaction data in the cloud for merchants.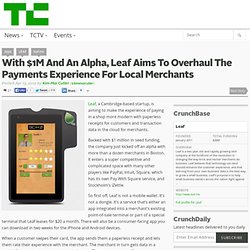 Backed with $1 million in seed funding, the company just kicked off an alpha with more than a dozen merchants in Boston. It enters a super competitive and complicated space with many other players like PayPal, Intuit, Square, which has its own Pay With Square service, and Stockholm's iZettle. So first off, Leaf is not a mobile wallet. It's not a dongle. It's a service that's either an app integrated into a merchant's existing point-of-sale terminal or part of a special terminal that Leaf leases for $20 a month.
Google Buys TxVia, Banks On Better Payment Technology (And 100M Customers) For Google Wallet. Google has had a few teething problems with its ambitious mobile payments service Google Wallet, but it is also putting some money down to get it on the right track.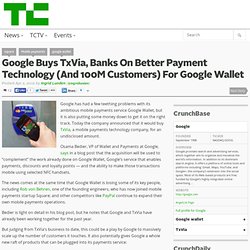 Today the company announced that it would buy TxVia, a mobile payments technology company, for an undisclosed amount. Osama Bedier, VP of Wallet and Payments at Google, says in a blog post that the acquisition will be used to "complement" the work already done on Google Wallet, Google's service that enables payments, discounts and loyalty points — and the ability to make those transactions mobile using selected NFC handsets. The news comes at the same time that Google Wallet is losing some of its key people, including Rob von Behren, one of the founding engineers, who has now joined mobile payments startup Square; and other competitors like PayPal continue to expand their own mobile payments operations. Uber Simplifies Sign Up Process: Just Hold Up Your Credit Card & You're In! On-demand black car service Uber is making it easier for new users to sign up for rides, thanks to its newly-announced Card.io integration.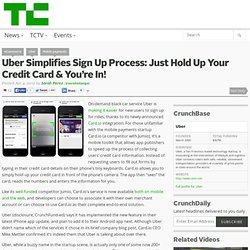 For those unfamiliar with the mobile payments startup Card.io (a competitor with Jumio), it's a mobile toolkit that allows app publishers to speed up the process of collecting users' credit card information. Instead of requesting users to fill out forms by typing in their credit card details on their phone's tiny keyboards, Card.io allows you to simply hold up your credit card in front of the phone's camera. The app then "sees" the card, reads the numbers and enters the information for you. Like its well-funded competitor Jumio, Card.io's service is now available both on mobile and the web, and developers can choose to associate it with their own merchant account or can choose to use Card.io as their complete end-to-end solution. PayPal Debuts Tiered Suite Of Online, Offline And Mobile Payments Options For Small Businesses. As we heard over the past few months, PayPal is ramping up its payments options for large and small merchants.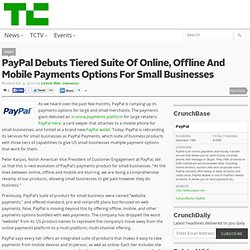 The payments giant debuted an in-store payments platform for large retailers; PayPal Here, a card swiper that attaches to a mobile phone for small businesses; and hinted at a brand new PayPal wallet. Today, PayPal is rebranding its services for small businesses as PayPal Payments, which suite of business products with three tiers of capabilities to give US small businesses multiple payment options that work for them. Peter Karpas, North American Vice President of Customer Engagement at PayPal, tell us that this is next evolution of PayPal's payments product for small businesses.
"As the lines between online, offline and mobile are blurring, we are doing a comprehensive revamp of our products, allowing small businesses to get paid however they do business." Tickets sans contact : bouffée d'oxygène pour l'électronicien ASK, PACA. Tagstand Relaunches NFC Task Launcher App, Makes NFC Way Less Geeky. YC-backed Tagstand, a company intent on helping make NFC more of a mainstream technology, is rebooting its Android app, NFC Task Launcher with a whole new feature set and user interface.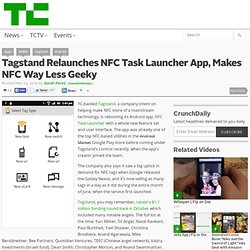 The app was already one of the top NFC-based utilities in the Android Market Google Play store before coming under Tagstand's control recently, when the app's creator joined the team. The company also says it saw a big uptick in demand for NFC tags when Google released the Galaxy Nexus, and it's now selling as many tags in a day as it did during the entire month of June, when the service first launched.
Tagstand, you may remember, raised a $1.1 million funding round back in October which included many notable angels. Card Case Adds More Merchant Discovery, Social Features To iOS And Android; Becomes 'Pay With Square' Square's consumer-focused loyalty and mobile payments app Card Case, which debuted in 2011, has been pushing the envelope when it comes to the future of payments, allowing for hands-free, location-based payments, emailed receipts and more.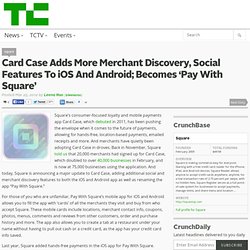 And merchants have quietly been adopting Card Case in droves. Back in November, Square told us that 20,000 merchants had signed up for Card Case, which doubled to over 40,000 businesses in February, and is now at 75,000 businesses using the application. And today, Square is announcing a major update to Card Case, adding additional social and merchant discovery features to both the iOS and Android app as well as renaming the app "Pay With Square." For those of you who are unfamiliar, Pay With Square's mobile app for iOS and Android allows you to fill the app with 'cards' of all the merchants they visit and buy from who accept Square. Exclusif : La BNP va intégrer le NFC à sa carte corporate avant la fin de cette année. C'est à l'occasion du forum Dimo, qui s'est déroulé le 20 mars à Lyon, que Laurent Sautré, responsable cartes commerciales chez BNP Paribas a révélé l'arrivée de la technologie de paiement sans contact intégré dans la carte corporate de la BNP.
Prudent, il n'a pas voulu donner de dates précises, ni dévoiler les grandes lignes technologiques, préférant se limiter à la faisabilité du produit qui pourrait bien simplifier la vie des acheteurs de voyage et des voyageurs eux mêmes. Le groupe ne devrait pas communiquer avant la mise en place commerciale de la carte. Si la technologie reste encore en France peu développée en NFC (Lyon et Nice), l'utilisation de ce nouveau produit devrait être appréciée à l'étranger et plus particulièrement en Asie. Paypal présente sa solution de paiement mobile : Paypal Here. Pour concurrencer Square, PayPal vient d'annoncer PayPal Here, il s'agit d'une application de paiement (iOS et Android) qui fonctionne grâce à un dongle externe branché à la sortie jack 3,5mm de votre téléphone et qui intègre un petit lecteur de cartes.
Pour payer, il suffit de glisser votre carte bancaire dans la fente du dongle et le paiement est ainsi enregistrés (avec une commission unique de 2,7% pour le vendeur). Une solution qui peut s'avérer moins onéreuse que les terminaux de paiement classiques. Pour le moment, seuls les USA, le Canada, Hong-Kong et l'Australie ont droit à Paypal Here mais le service devrait prochainement arriver en Europe. Geode regroupera et sécurisera toutes vos cartes de crédit. Geode regroupera et sécurisera toutes vos cartes de crédit La société iCache vient d'inventer un concept qui risque de faire un tabac, il se présente sous la forme d'un accessoire pour votre iPhone qui vous permettra de regrouper toutes vos cartes de crédit et de les sécuriser en une seule carte ! À l'intérieur de cet accessoire, vous retrouverez une carte universelle programmable, il dispose également d'un écran E. -ink capable de reproduire tous les codes-barres de vos cartes. L'accessoire est utilisé avec l'application du même nom qui permettra de scanner et d'enregistrer vos cartes de crédit, cartes de fidélité, etc.
Pour pouvoir utiliser une carte, vous devrez débloquer l'application via le lecteur d'empreintes digitales intégré et choisir votre carte que vous aurez préalablement enregistrée pour que la carte universelle soit configurée avec celle-ci. Brevet : iWallet pour iPhone. Apple vient de se voir accorder un nouveau brevet intéressant faisant référence à iWallet, une solution de paiement NFC (Near Field Contact), pour iPhone. L'idée est simple pouvoir payer via son iPhone sans forcément de contact, le tout connecté à iTunes permettant de gérer les transactions. D'autres fonctionnalités associées seront aussi disponibles mais reste à voir quand puisqu'Apple n'a fait aucun communiqué allant dans ce sens ! Paypal prépare des solutions de paiement pour les petits commerces. Après avoir commencé par adresser les gros distributeurs, Paypal devrait adapter aux petits commerces ses solutions de paiement en magasin physique. La filiale de paiement électronique d'eBay organise le 15 mars un événement au cours duquel elle présentera les solutions qu'elle prépare pour les petits commerçants, annonce "Techcrunch".
Paypal, qui a récemment lancé des solutions de paiement en boutique destinées aux grands distributeurs, déployées actuellement dans 2000 points de vente de la chaîne de bricolage Home Depot, devrait donc décliner ces technologies pour les adapter aux petits commerces (lire le dossier Commerce physique : le plan d'attaque de Paypal, du 02/12/2011). La société vient d'ailleurs d'annoncer un partenariat avec la start-up texane Tabbedout, qui permet aux consommateurs de payer leur addition au moyen d'une application mobile dans les 400 bars est restaurants où Tabbedout est actuellement disponible.
Be2Bill : Solution d'encaissement pour e-commerçants par Rentabiliweb. NFC highlights from #MWC12 (THE mobile event of the year) - enterprising business blog. Targeting Merchants, Square Debuts Register iPad App And Analytics; Now Processing $4B In Payments Per Year. Mobile Payment Solution LevelUp Now Seeing $1M Per Month In Transactions; Launches API. Facebook Mobile Operator Billing Opens App Economy To The Credit Card-less. Samsung et Visa : le paiement par mobile via NFC aux JO 2012. Les moyens de paiement dématérialisés ont le vent en poupe.
---