Stuff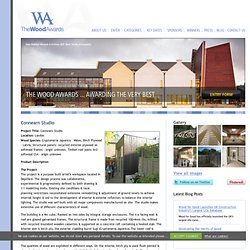 Connearn Studio | The Wood Awards
Project Title: Connearn StudioLocation: LondonWood Species: Cryptomeria Japonica – Wales, Birch Plywood – Latvia, Structural panels: recycled exterior plywood on softwood frames - origin unknown, Timber roof joists: 6×2 softwood CS4 - origin unknown
Connearn Studio | The Wood Awards
Shingle House | The Wood Awards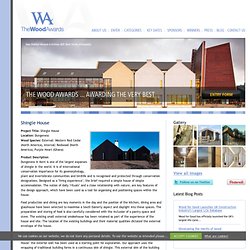 Project Title: Shingle HouseLocation: DungenessWood Species: External: Western Red Cedar (North America), Internal: Redwood (North America), Purple Heart (Ghana)
Project Title: Brockholes Visitor CentreLocation: Preston, LancashireWood Species: Austrian engineered timber, British timber oak shakes, Structural Insulated Panels (SIPs) made from Orientated Strand Board (OSB)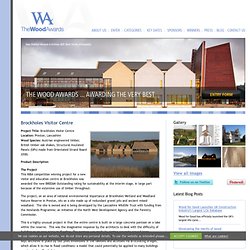 Brockholes Visitor Centre | The Wood Awards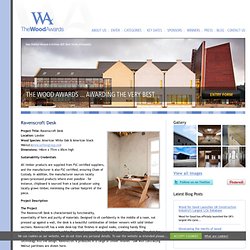 Ravenscroft Desk | The Wood Awards
Project Title: Ravenscroft DeskLocation: LondonWood Species: American White Oak & American black Walnut.(www.sorbesgroup.ee)Dimensions: 140cm x 77cm x 85cm high Sustainability Credentials
There are three object styles that rule them all—three styles that should be in every designer's toolbox because you'll find yourself calling on them again and again no matter how simple or complex the project. In this week's InDesign Secrets video, Anne-Marie Concepción shows you how to build these styles from scratch in Adobe InDesign and use them to format images, callout lines, and photo credits. 1.
Blog – Tutorials – Online Training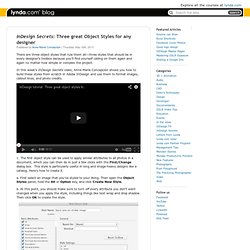 Option 1: Step 1: Change the current render to Rhino default render Step 2: Find " Tool---Option---Render, select "render surface edge and curve" Step 3: Change the Ambient light color to white Step 4: Find" View --Display option--- edge thickness" and change it to certain thickness Step 5: Print!!! Option 2: Step 1: Change the print width of the objects that you want to print Step 2: Change the Ambient light color to white Step 3: Change all the objects' color to black Step 4: Print!!!
N[one]: Wireframe rendering when your model is too big in Rhino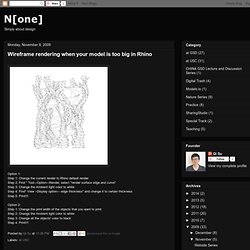 What is the Eden Project
Joint Details - English Heritage Buildings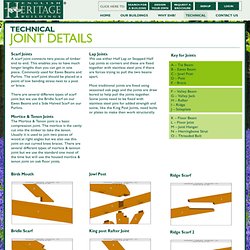 Scarf JointsA scarf joint connects two pieces of timber end to end. This enables you to have much longer lengths than you can get in one piece. Commonly used for Eaves Beams and Purlins.
Geodesic Dome Greenhouse - Part 8 - ASSEMBLING THE DOME!
Rhino 4 - Saving Views
Modern Seaweed House harkens back to Danish homes of yesteryear - Images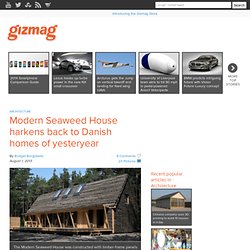 Joining the ranks of homes built with edible materials, such as the Tourner autour du Ried, made using corn cobs, and the Mushroom Tiny House, built with (you guessed it) mushroom-based products, is the Modern Seaweed House. Located on the small island of Læso in Denmark, the house features a simple wooden structure covered with an insulating layer of seaweed. View all
hdri vray rhino
Projects - Container City
Shipping containers rented out as London homes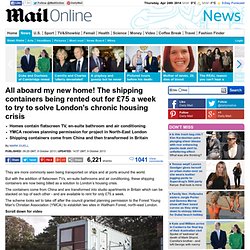 Homes contain flatscreen TV, en-suite bathroom and air conditioningYMCA receives planning permission for project in North-East LondonShipping containers come from China and then transformed in Britain
Autodesk Revit Tutorials: 03 Adding Topographic Surface
Vectorworks Spotlight Tutorial For Beginners 001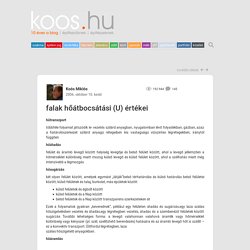 többféle folyamat játszódik le- vezetés szilárd anyagban, nyugalomban lévő folyadékban, gázban, azaz a határolószerkezet szilárd anyagú rétegeiben kis vastagságú vízszintes légrétegekben, iránytól függően felület és áramló levegő között helyiség levegője és belső felület között, ahol a levegő jellemzően a hőmérséklet különbség miatt mozog külső levegő és külső felület között, ahol a szélhatás miatt még intenzívebb a légmozgás két olyan felület között, amelyek egymást "látják"belső térhatárolás és külső határolás belső felületei között, külső felületek és talaj, burkolat, más épületek között külső felületek és égbolt között
falak hőátbocsátási (U) értékei
05.2. Mihez nem szükséges építési engedély?
Részletek Utolsó frissítés: 2013. november 30. szombat, 15:53 Közzétéve: 2008. szeptember 09. kedd, 16:23 Korábban azon kellett elgondolkodni, hogy egy építkezéshez, felújításhoz, bővítéshez szükséges-e építési engedélyt kérnünk vagy csak bejelentést kell tenni, vagy esetleg egyikre sincs szükség. 2013. január 1-jétől már ismét csak két kategória van: az engedélyhez kötött és az e nélkül végezhető tevékenységek. 5.2.1. Az engedélyköteles tevékenységek listája 2008-ig
A keresés átmenetileg nem üzemel. A Zajnát-hegy (más néven Kopárok) (019/10, 019/11, 019/12, 032 hrsz) és Cseresznyés-erdő (038/1, 038/2, 038/3, 038/4 hrsz) természetvédelmi terület természeti értékei 1.1.
www.pilisvorosvar.hu
Objektumok A lista a Kulturális Örökségvédelmi Hivatal (KÖH) által nyilvántartott műemlékadatbázis kivonata, kiegészítve a helyi védettségekkel (ezúton is köszönjük a VÁTI-nak). Az oszlopok a fejlécekre kattintva rendezhetők (név szerint növekvő az alaphelyzet, ismételt kattintással megfordítható). A lista sokféle szempont szerint szűkíthető az oldal alján levő mezők kitöltésével Új helyi védettség feltöltése Bejelentkezés név: jelszó: tárolás
műemlékem.hu - műemlék keresése
Archilaic - Budapest építészete mindegykié | Artportal
Éptúra
RAJZ 6 2013 TAVASZ on Behance
glink.hu
DUOX - Kolton
A fűtés jövője: komposzt fűtés | Komló Média
Faapríték tüzelésű kazánnal a fűtés 30-40 %-kal olcsóbb lehet | Passzívház magazin
Mobil Homok Team Kft.
Catalogues ArchiExpo
Google Earth, SketchUp and Google 3D Warehouse Connections
AutoCAD DWG/DXF Import Plugin for Google SketchUp | Sketchup Plugin Reviews
Shapeways
my hdr1 - Download
Some Special Radial and Spiral Tilings
Postcard – Árverések
Kriza János Néprajzi Társaság Fotóarchívuma
Earth Science Picture of the Day: Categories
Landscapes Wallpapers - wallcoo.net
Village dans les marais autour du Nil Blanc près de Bor, état de Jonglei, Soudan du Sud (6°31' N - 31°29' E
s Best Photos of architecture
Green Leaf With Water Drops 1600x1200 wallpapers download - Desktop Wallpapers, HD and iPhone Wallpapers, Free download
Free stock photos - high quality stock images | watercolor
Free Grunge Watercolor Stock Background Images ~ Backgrounds Etc.
Digitalizált térképek | Cholnoky Jenő Hagyaték
nevmutato.pdf (application/pdf objektum)
Orbán Balázs: A Székelyföld leírása /
MALONYAI DEZSŐ: A MAGYAR NÉP MŰVÉSZETE
Diaszpóra Alapítvány
Gallery
Msc1
nora szüts portfolio
Great Quotes By Architects « Serge Young, Architect | Hudson Valley Architects, Dutchess County Architects