Stuff
Swsizes.jpg (1010×1103) View Pictures - Home. Download - Bongo. DE ES FR IT JP KR 繁 System Requirements Bongo 2 requires Rhino 5 with a minimum version of 5.5 (Service Release 5).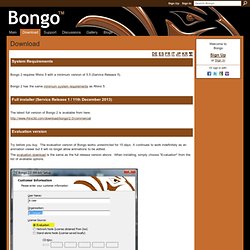 Using the Batting Linetype to draw insulation. Cheap flooring DIY idea | nooshloves. Would you believe me if I told you this floor was laid for around $1 per square metre?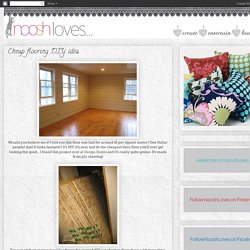 One Dollar people! And it looks fantastic! Nstruction Specialist Contractors trades sub contractors Prices rates and Costs. How Much Does a Wheelchair Lift Cost? Wheelchair lifts are ideal for individuals who use wheelchairs or motor scooters to be elevated from one floor to another or over steep front steps to the entryway.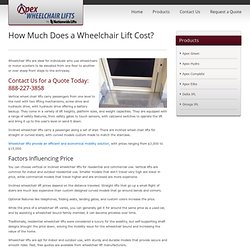 Contact Us for a Quote Today: 888-227-3858 Vertical wheel chair lifts carry passengers from one level to the next with two lifting mechanisms, screw drive and hydraulic drive, with hydraulic drive offering a battery backup. They come in a variety of lift heights, platform sizes, and weight capacities. They are equipped with a range of safety features, from safety gates to touch sensors, with call/send switches to operate the lift and bring it up to the user's level or send it down.
Inclined wheelchair lifts carry a passenger along a set of stair. Humble Homes Tiny Writer's Studio in London is a Wood-Clad Haven | Humble Homes. This tiny writer's studio in London has been designed by WSD Architecture for an author and illustrator in Hackney, London.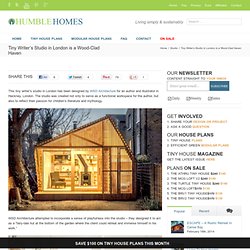 The studio was created not only to serve as a functional workspace for the author, but also to reflect their passion for children's literature and mythology. WSD Architecture attempted to incorporate a sense of playfulness into the studio – they designed it to act as a "fairy-tale hut at the bottom of the garden where the client could retreat and immerse himself in his work." The main elements that help to create the "fairy tale" atmosphere are composed of the back-lit cedar and shingle cladding, log store, and the wood burning stove. The frame-less glazed patio door opens up to a sheltered veranda, a place where, as the architects put it, "one can enjoy the very worst of the British weather." The interior of the writer's studio is full of natural light due to the large window openings.
Creative & Modern Office Designs Around the World. Gone are the days when offices were typically cubicle, surrounded by white walls and lit by white fluorescent lights.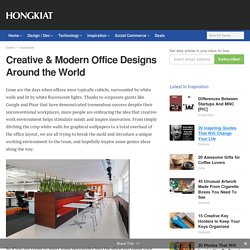 Thanks to corporate giants like Google and Pixar that have demonstrated tremendous success despite their unconventional workplaces, more people are embracing the idea that creative work environment helps stimulate minds and inspire innovation. From simply ditching the crisp white walls for graphical wallpapers to a total overhaul of the office layout, we are all trying to break the mold and introduce a unique working environment to the team, and hopefully inspire some genius ideas along the way. So if you are trying to inject some personality into the place you spend your daily 9-5, how about getting some cue from the creative giants themselves? Summer House / General Architecture. Architects: General Architecture Location: Nannberga, Sweden Project Architect: Erik Persson Design Team: John Billberg, Fabian Blücher, Josef Eder, Olof Grip Area: 76 sqm Year: 2011 Photographs: Mikael Olsson Constructor: Ingemar Johansson, Rita Bygg Client: Erik Persson From the architect.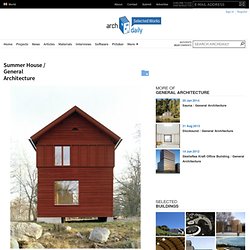 We found a small granary for sale outside Borlänge, in the Dalarna region of Sweden. It was a modest construction in design and dimensions, but expressed an uncompromising constructive attitude that interested us: Timbering as pure tectonics, materialized as a precise joining of individual elements that form a coherent unity. Projekt Übersicht — Website. The Pallet House by I-Beam Design Costs Only $75 and Uses Spare Wooden Pallets.
The designers at I-Beam Design created the Pallet House Project because they were inspired by one simple, but unbelievable, fact: 84% of the world's refugees could be housed with a year's supply of recycled American pallets.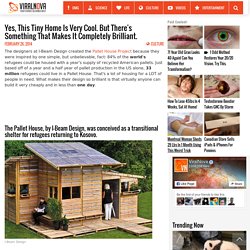 Just based off of a year and a half year of pallet production in the US alone, 33 million refugees could live in a Pallet House. That's a lot of housing for a LOT of people in need. What makes their design so brilliant is that virtually anyone can build it very cheaply and in less than one day. The Pallet House, by I-Beam Design, was conceived as a transitional shelter for refugees returning to Kosovo. The pallet house is simply and provides great flexibility in terms of configuration. Connearn Studio. Project Title: Connearn StudioLocation: LondonWood Species: Cryptomeria Japonica – Wales, Birch Plywood – Latvia, Structural panels: recycled exterior plywood on softwood frames - origin unknown, Timber roof joists: 6×2 softwood CS4 - origin unknown Product Description The Project The project is a purpose built artist's workspace located in Deptford.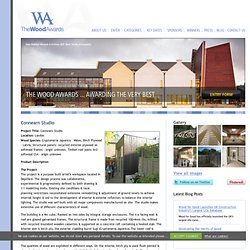 The design process was collaborative, experimental & progressively defined by both drawing & 1:1 modelling insitu. Connearn Studio. Shingle House. Project Title: Shingle HouseLocation: DungenessWood Species: External: Western Red Cedar (North America), Internal: Redwood (North America), Purple Heart (Ghana) Product Description Dungeness in Kent is one of the largest expanses of shingle in the world.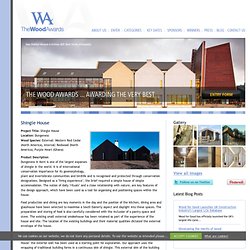 It is of international conservation importance for its geomorphology, plant and invertebrate communities and birdlife and is recognised and protected through conservation designations. Designed as a 'living experience', the brief required a simple house of simple accommodation. The notion of daily 'rituals' and a close relationship with nature, are key features of the design approach, which have been used as a tool for organising and positioning spaces within the house. Brockholes Visitor Centre. Project Title: Brockholes Visitor CentreLocation: Preston, LancashireWood Species: Austrian engineered timber, British timber oak shakes, Structural Insulated Panels (SIPs) made from Orientated Strand Board (OSB) Product Description The Project This RIBA competition winning project for a new visitor and education centre at Brockholes was awarded the new BREEAM Outstanding rating for sustainability at the interim stage, in large part because of the extensive use of timber throughout.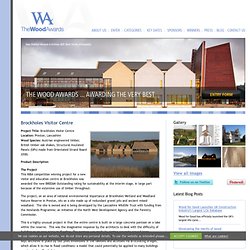 The project, on an area of national environmental importance at Brockholes Wetland and Woodland Nature Reserve in Preston, sits on a site made up of redundant gravel pits and ancient mixed woodland. The site is owned and is being developed by the Lancashire Wildlife Trust with funding from the Newlands Programme; an initiative of the North West Development Agency and the Forestry Commission. Ravenscroft Desk. Project Title: Ravenscroft DeskLocation: LondonWood Species: American White Oak & American black Walnut. (www.sorbesgroup.ee)Dimensions: 140cm x 77cm x 85cm high Sustainability Credentials. Blog – Tutorials – Online Training. There are three object styles that rule them all—three styles that should be in every designer's toolbox because you'll find yourself calling on them again and again no matter how simple or complex the project.
In this week's InDesign Secrets video, Anne-Marie Concepción shows you how to build these styles from scratch in Adobe InDesign and use them to format images, callout lines, and photo credits. 1. N[one]: Wireframe rendering when your model is too big in Rhino. Option 1: Step 1: Change the current render to Rhino default render Step 2: Find " Tool---Option---Render, select "render surface edge and curve" Step 3: Change the Ambient light color to white Step 4: Find" View --Display option--- edge thickness" and change it to certain thickness Step 5: Print!!!
Option 2: Step 1: Change the print width of the objects that you want to print Step 2: Change the Ambient light color to white Step 3: Change all the objects' color to black Step 4: Print!!! What is the Eden Project. Joint Details - English Heritage Buildings. Scarf JointsA scarf joint connects two pieces of timber end to end. This enables you to have much longer lengths than you can get in one piece. Commonly used for Eaves Beams and Purlins. Geodesic Dome Greenhouse - Part 8 - ASSEMBLING THE DOME! Rhino 4 - Saving Views. Modern Seaweed House harkens back to Danish homes of yesteryear - Images.
Joining the ranks of homes built with edible materials, such as the Tourner autour du Ried, made using corn cobs, and the Mushroom Tiny House, built with (you guessed it) mushroom-based products, is the Modern Seaweed House. Located on the small island of Læso in Denmark, the house features a simple wooden structure covered with an insulating layer of seaweed. View all. Hdri vray rhino. Projects - Container City. Shipping containers rented out as London homes. Autodesk Revit Tutorials: 03 Adding Topographic Surface. Vectorworks Spotlight Tutorial For Beginners 001.
Falak hőátbocsátási (U) értékei. 05.2. Mihez nem szükséges építési engedély? Www.pilisvorosvar.hu. Műemlékem.hu - műemlék keresése. Archilaic - Budapest építészete mindegykié | Artportal. Éptúra. RAJZ 6 2013 TAVASZ on Behance. Glink.hu. DUOX - Kolton. A fűtés jövője: komposzt fűtés | Komló Média. Faapríték tüzelésű kazánnal a fűtés 30-40 %-kal olcsóbb lehet | Passzívház magazin. Mobil Homok Team Kft. Catalogues ArchiExpo. Google Earth, SketchUp and Google 3D Warehouse Connections. AutoCAD DWG/DXF Import Plugin for Google SketchUp. Shapeways. DeviantART: where ART meets application! Free Vectors Gallery | Download Vector Free Art. My hdr1 - Download. Some Special Radial and Spiral Tilings. Postcard – Árverések. Kriza János Néprajzi Társaság Fotóarchívuma. Science Photo Library.
Earth Science Picture of the Day: Categories. Landscapes Wallpapers - wallcoo.net. Village dans les marais autour du Nil Blanc près de Bor, état de Jonglei, Soudan du Sud (6°31' N - 31°29' E. S Best Photos of architecture. Green Leaf With Water Drops 1600x1200 wallpapers download - Desktop Wallpapers, HD and iPhone Wallpapers, Free download. Free stock photos - high quality stock images | watercolor. Free Grunge Watercolor Stock Background Images ~ Backgrounds Etc. Digitalizált térképek | Cholnoky Jenő Hagyaték. Nevmutato.pdf (application/pdf objektum)
Orbán Balázs: A Székelyföld leírása / MALONYAI DEZSŐ: A MAGYAR NÉP MŰVÉSZETE. Diaszpóra Alapítvány. Gallery. Msc1. Nora szüts portfolio. Great Quotes By Architects « Serge Young, Architect | Hudson Valley Architects, Dutchess County Architects.
---