Networks
CIS370 class homepage
Welcome to The TCP/IP Guide!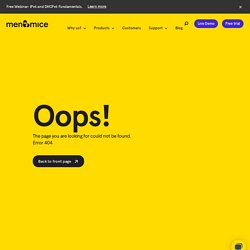 DNS help, DHCP help, IPAM help, IPv6 help,
Knowledge is power At Men & Mice we recognize the value of sharing our extensive knowledge with our customers and the networked community. Here you can get information or links to anything you might want to know about DNS, DHCP or IP Address Management, IPv6 and more. For your convenience, we recommend that you bookmark this page now. Men & Mice Blog The blog has educational, informational as well as product related material, both videos and articles for everyone and anyone interested in IP Address management, DNS, DHPC, IPv6, DNSSEC and more....
Real-Time Netflow Analyzer Our Real-Time NetFlow Analyzer captures and analyzes NetFlow, JFlow, and sflow data in real-time to show you exactly what types of traffic are on your network, where that traffic is coming from, and where it is going. Real-Time NetFlow Analyzer displays inbound and outbound traffic separately for granular analysis, making problem diagnosis quick and easy. Even better, you can view the historical flow data broken out by application, conversation, domain, endpoint, and protocol. That way you know exactly how your bandwidth is being used and by whom.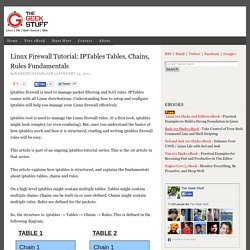 iptables firewall is used to manage packet filtering and NAT rules. IPTables comes with all Linux distributions. Understanding how to setup and configure iptables will help you manage your Linux firewall effectively. iptables tool is used to manage the Linux firewall rules. At a first look, iptables might look complex (or even confusing).
Linux Firewall Tutorial: IPTables Tables, Chains, Rules Fundamentals
DNS Sleuth
An online tool for checking of DNS zones Sleuth version 1.4.4 (21-05-08) This is an online version of Sleuth -- a detector of common errors in DNS zones.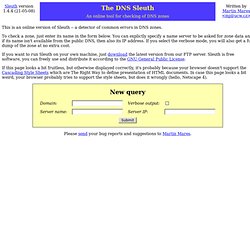 Networking Basics: Part 2 - Routers
The leader in open source network tutorial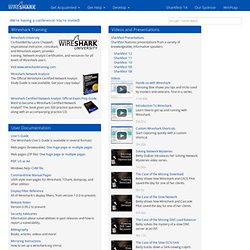 Documentation
User's Guide The Wireshark User's Guide is available in several formats: Web pages (browseable): One huge page or multiple pages Web pages (ZIP file): One huge page or multiple pages
Serio IT Service View - Server Monitoring Software | ITIL Availability Management Software
Welcome to OpenSMART
Network Monitoring Tools
Port Scanner
NetworkActiv Port Scanner is a network exploration and administration tool that allows you to scan and explore internal LANs and external WANs. Because of the versatility and choosable operating modes available in NetworkActiv Port Scanner, it may be used by experienced network administrators as well as by novices. NetworkActiv Port Scanner provides all the basic features that you'd expect in an advanced network scanner, but also provides many additional features and technologies, some of which being completely unique to this scanner. NetworkActiv Port Scanner provides scanning performance simply not found in other Windows based network scanners, but one will need to actually try it to understand just how fast a network scan can be.