Security
Völkermord in Ruanda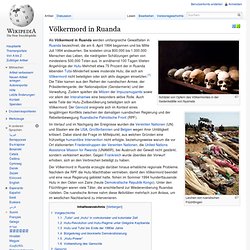 Schädel von Opfern des Völkermordes in der Gedenkstätte von Nyamata Als Völkermord in Ruanda werden umfangreiche Gewalttaten in Ruanda bezeichnet, die am 6. April 1994 begannen und bis Mitte Juli 1994 andauerten.
United Nations (UN) — History.com Articles, Video, Pictures and Facts
ited Nations Peacekeeping
ited Nations Department of Political Affairs - Peacebuilding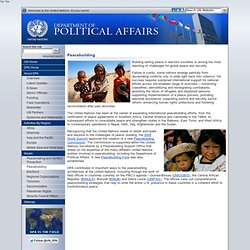 Building lasting peace in war-torn societies is among the most daunting of challenges for global peace and security. Failure is costly: some nations emerge painfully from devastating conflicts only to slide right back into violence. Yet success requires sustained international support for national efforts across the broadest range of activities -- monitoring ceasefires; demobilizing and reintegrating combatants; assisting the return of refugees and displaced persons; supporting implementation of a peace process; providing electoral assistance; supporting justice and security sector reform; enhancing human rights protections and fostering reconciliation after past atrocities.
LINKS TO OTHER WEB SITES: This is the United Nations cartographic web site. Links to other sites are provided for information only. The inclusion of these links and their content does not imply official endorsement or approval whatsoever by the United Nations. DESIGNATIONS USED: The depiction and use of boundaries, geographic names and related data shown on maps and included in lists, tables, documents, and databases on this web site are not warranted to be error free nor do they necessarily imply official endorsement or acceptance by the United Nations.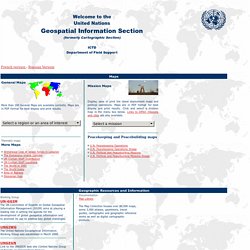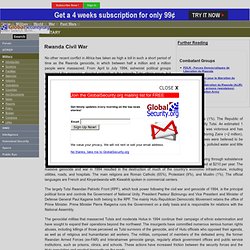 No other recent conflict in Africa has taken as high a toll in such a short period of time as the Rwanda genocide, in which between half a million and a million people were massacred. From April to July 1994, extremist political groups organized the massacre, directed primarily at the minority Tutsi ethnic group, but also against those from the Hutu majority who opposed the killings or had been active in the pro-democracy movement. The slaughter ended when rebel forces of the Rwandese Patriotic Front (RPF) overthrew the genocidal government.
Rwanda Civil War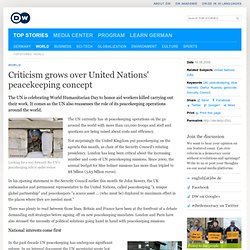 Criticism grows over United Nations' peacekeeping concept | World | Deutsche Welle | 19.08.2009
The UN is celebrating World Humanitarian Day to honor aid workers killed carrying out their work. It comes as the UN also reassesses the role of its peacekeeping operations around the world.
Friedenssicherungseinsätze - UNRIC
<p style="color:#FF1F00; font-size:120%; padding-bottom: 0; padding-top: 0; margin-top: 0px; margin-bottom: 2px;"><strong>Javascript is not enabled. <a href="slideshow.shtml">View accessible HTML version.</a></strong></p> The Peacebuilding Commission (PBC) is an intergovernmental advisory body that supports peace efforts in countries emerging from conflict, and is a key addition to the capacity of the International Community in the broad peace agenda. The Peacebuilding Commission plays a unique role in (1) bringing together all of the relevant actors, including international donors, the international financial institutions, national governments, troop contributing countries; (2) marshalling resources and (3) advising on and proposing integrated strategies for post-conflict peacebuilding and recovery and where appropriate, highlighting any gaps that threaten to undermine peace.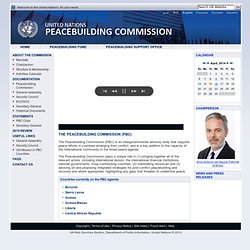 Countering terrorism requires addressing conditions conducive to the spread of terrorism All too often we are reminded that terrorism continues to inflict pain and suffering on people's lives all over the world. Almost no week goes by without an act of terrorism taking place somewhere in the world, indiscriminately affecting innocent people who just happened to be in the wrong place at the wrong time. Countering this scourge is in the interest of all nations and the issue has been on the agenda of the United Nations for decades. Eighteen universal instruments (fourteen instruments and four amendments) against international terrorism have been elaborated within the framework of the United Nations system relating to specific terrorist activities. Member States through the General Assembly have been increasingly coordinating their counter-terrorism efforts and continuing their legal norm-setting work.
Action to Counter Terrorism
ited Nations Disarmament ...strengthening peace and security through disarmament
Zusammenfassend muß man in Übereinstimmung mit den Schlußfolgerungen von Marc Bossuyt feststellen: Das Sanktionsregime gegen den Irak ist nach geltendem Völkerrecht eindeutig illegal. Es findet keine Rechtsgrundlage in der Charta, und verletzt das geltende humanitäre Völkerrecht wie die internationalen Bestimmungen zum Schutz der Menschenrechte. Völkerrechtliche Aspekte der Irak-Sanktionen Bernhard Graefrath Der Begriff Sanktion ist im allgemeinen Völkerrecht nicht eindeutig definiert. Übereinstimmung besteht aber dahingehend, daß unter Sanktionen Zwangsmaßnahmen verstanden werden, die von internationalen Organisationen im Rahmen ihrer Satzung gegen schwerwiegende Rechtsverletzungen angewandt werden.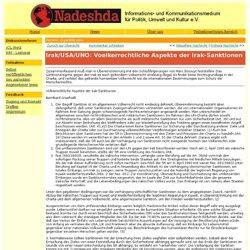 Irak/USA/UNO: Voelkerrechtliche Aspekte der Irak-Sanktionen - 07.11.02 - Gerhard Lange c/o GIV in cl.politik.uno
United Nations Peacemaker