Coiffure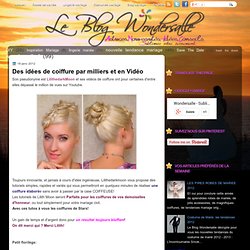 Des idées de coiffure par milliers et en Vidéo
Son pseudonyme est LilithedarkMoon et ses vidéos de coiffure ont pour certaines d'entre elles dépassé le million de vues sur Youtube. Toujours innovante, et jamais à cours d'idée ingénieuse, Lilithedarkmoon vous propose des tutoriels simples, rapides et variés qui vous permettront en quelques minutes de réaliser une coiffure élaborée sans avoir à passer par la case COIFFEUSE! Les tutoriels de Lilith Moon seront Parfaits pour les coiffures de vos demoiselles d'honneur, ou tout simplement pour votre mariage civil.Avec ces tutos à vous les coiffures de Stars! Un gain de temps et d'argent donc pour un résultat toujours bluffant!On dit merci qui ?
Coiffure : Chignon façon Audrey Hepburn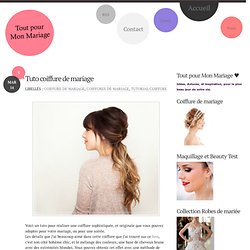 Tuto coiffure de mariage | Tout pour mon mariage
Tuto coiffure de mariage Voici un tuto pour réaliser une coiffure sophistiquée, et originale que vous pouvez adopter pour votre mariage, ou pour une soirée.Les détails que j'ai beaucoup aimé dans cette coiffure que j'ai trouvé sur ce lien, c'est son côté bohème chic, et le mélange des couleurs, une base de cheveux brune avec des extrémités blondes. Vous pouvez obtenir cet effet avec une méthode de coloration appelée ombré hair, ou tout simplement en utilisant des extensions comme la coiffure ci-dessous dont l'auteur n'est autre que la fameuse Mimi (spécialiste de la coiffure et du maquillage pour mariées, vous trouverez son adresse sur ce lien). Pour reproduire les étapes de ce tuto, vous aurez besoin d'un fer à friser, un élastique, des épingles à cheveux, un peigne, et de la laque pour cheveux. Les étapes : Commencez par boucler vos cheveux à l'aide du fer à friser pour ajouter de la texture.Divisez vos cheveux en 4 sections.
5 coiffures avec un foulard
I'm not the originator of this hair style but I've gotten so many requests for it, I thought I'd give it a go for you. I don't know what it's called either so I haven't researched it and/or found any other tutorials for it …thus, this is my version of it, and I've dubbed it the Partial French Braid w/ Cascading Hair. The photos I've seen online show the braid a little more straight across the back of the head and mine sort of braids at an angle, similar to my side/low french braid up-do. I'm sure this is 100% easier to do on someone else's hair than your own but it goes pretty quickly once you get the hang of it …I mean, it's my shortest hair video tutorial to date.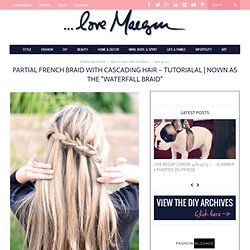 Sélection de tutos coiffure pour le retour des beaux jours Toi aussi, le retour des beaux jours te donne envie de tresser chaque poil de ton anatomie de façon... Par Virginie Les coiffures des filles de Girls : le tuto vidéo !
Coiffure | madmoiZelle.com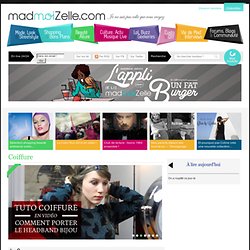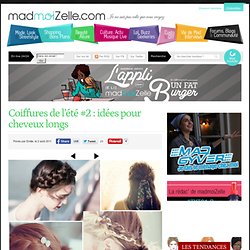 Pondu par Emilie. le 2 août 2011 Des cheveux longs c'est bien, c'est beau. C'est encore mieux si on sait quoi en faire. Car le brushing lisse ou le côté wild décoiffé, ça va bien deux secondes, mais ça ne suffit pas à changer de tête tous les jours. Après les coiffures pour cheveux courts, voici un tour d'horizon de ce que vous pouvez faire avec votre longue tignasse !
Coiffures de l'été #2 : idées pour cheveux longs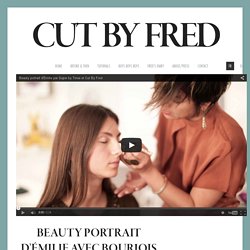 Aujourd'hui on rencontre Isabelle Caron, créatrice d'Absolution. Une marque Bio et sublime. Lire la suite La mode est un éternel recommencement on le sait, mais si on m'avait dit que j'aurais envie de remettre des bandanas un jour, j'aurais vomi de rire. Ce jour est arrivé.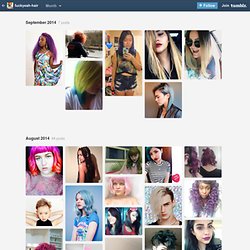 0 tags I'm making some slight changes to this blog and among them I'm considering changing the name (url), maybe for a little while or maybe permanently. It's not a for sure thing yet. The content will still remain the same, I promise. Would you guys mind giving me some hair related name ideas for this blog?
FuckYeah-Hair
Hair
Hair Inspiration: Double Braid Gibson Tuck Tutorial
I am growing out my bangs and it's getting awkward. No matter what I do with my hair, I have to work in a good way to sweep too-long bangs out of my face. After last week's hair inspiration post, I started playing around with a few styles. I came up with this look, which ingeniously pulls my bangs back while looking pretty fantastic, if I do say so myself.
We haven't done a hair tutorial in ages! So, my friend (and hair genius) Caroline, photographer Jamie Beck and I decided to come together to whip up this gorgeous mermaid tail. It's perfect for those lazy summer day (or date nights) when you want to surprise and awe people with your hair. I absolutely love it--in fact, it might be my favorite hair tutorial yet. How gorgeous is that braid, above?! Here are Caroline's steps, if you'd like to try it out...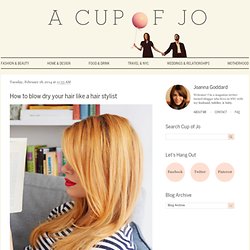 How to curl your hair using a Bohemian headband
Perfect hair
Trois tutos maquillage/coiffure pour Halloween Tu peux retrouver d'autres tutos maquillage de Sara sur madmoiZelle mais aussi sur sa chaine... Tuto vidéo : La tresse à 4 brins Pour son nouveau tuto vidéo, Sara vous explique comment réaliser une tresse avec 4 brins ! Tu... Tuto vidéo : un chignon inspiration vintage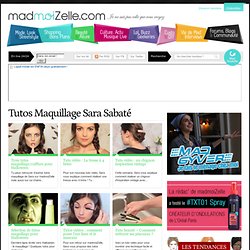 Tutos Maquillage et coiffures
By fashion contributor Mary. Denim on denim is a look that I love. In fact, it's a look that I've worn for the past three days. (My denim shirt somehow conceals all the spit-up stains that usually adorn my shoulders, so I'll be wearing it for the foreseeable future.)