HTML/CSS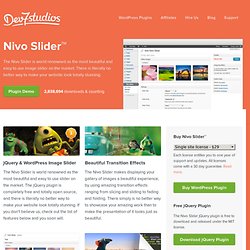 jQuery & WordPress Image Slider
20 Best Free HTML5 Website Templates Of Year 2011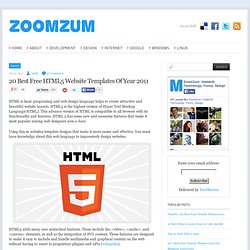 HTML is basic programing and web design language helps to create attractive and beautiful website layouts. HTML5 is the highest version of Hyper Text Markup Language(HTML). This advance version of HTML is compatible to all browser with its functionality and features. HTML 5 has some new and awesome features that make it most popular among web designers now a days.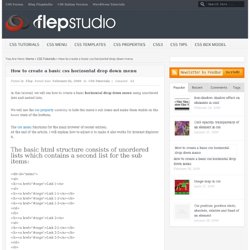 How to create a basic css horizontal drop down menu
In this tutorial, we will see how to create a basic horizontal drop down menu using unordered lists and nested lists. We will use the css property visibility to hide the menu's sub items and make them visible on the hover state of the buttons. The css menu functions for the main browser of recent edition. At the end of the article, I will explain how to adjust it to make it also works for Internet Explorer 6. The basic html structure consists of unordered lists which contains a second list for the sub items: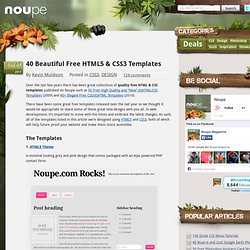 Dec 01 2011 Over the last few years there has been great collections of quality free HTML & CSS templates published on Noupe such as 50 Free High-Quality and "New" (X)HTML/CSS Templates (2009) and 40+ Elegant Free CSS/(X)HTML Templates (2010). There have been some great free templates released over the last year so we thought it would be appropriate to share some of these great new designs with you all. In web development, it's important to move with the times and embrace the latest changes. As such, all of the templates listed in this article were designed using HTML5 and CSS3; both of which will help future proof your website and make them more accessible. The Templates
Como hacer un formulario de contacto III: Validar y enviar con PHP | WebTursos
Actualización: Acabo de publicar un tutorial para usuarios avanzados de como hacer un formulario de contacto similar a este, capaz de enviar mensaje sin recargar la pagina usando AJAX, todo en un solo tutorial.