Clear
Free Venice RV Park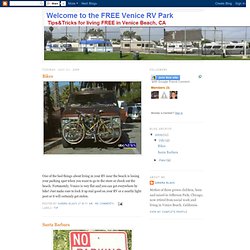 Technically you can't camp overnight in the beach lots, but you can certainly park there until 10pm for only $3 a day and that's a lot less than the almost $50 per day they want at the Dockweiler beach RV Park. I love Venice! My buddy Ibrahim Butler (shown here) demonstrates that you can park every day in the lot at Rose Ave and the police can't do a thing about it. Dockweiler only allows you to stay 60 days a year total, not so in Venice.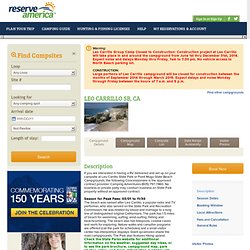 If you are interested in having a RV delivered and set up on your campsite at Leo Carrillo State Park or Point Mugu State Beach Campgrounds, the following Concessionaire is the approved contract provider: Camping Adventures (805) 797-7460. No business or private party may conduct business on State Park property without an approved contract. Season for Peak Fees: 03/01 to 11/30 The beach was named after Leo Carrillo, a popular radio and TV performer, who also served on the State Park and Recreation Commission. He was related by blood and marriage to a long line of distinguished original Californians.
Campground Details - Leo Carrillo SB, CA - ReserveAmerica - [CA]
FAQs What factors may affect my coverage? Coverage maps do not guarantee coverage, but rather approximate your anticipated coverage at a particular location.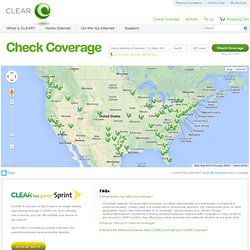 4G WiMAX Internet Coverage Map with Service Area.
Malibu Beach RV Park | Online Reservations