Olika tankar runt det digitala lärandet
Det jag skulle ha sagt, men aldrig sa... SixthSense. Steve Mann wearing a camera+projector dome in 1998, which he used as one node of the collaborative Telepointer system Pranav Mistry wearing a similar device in 2012, which he and Maes and Chang named "WUW", for Wear yoUr World.[1] SixthSense HMD prototype by Pranav Mistry, MIT Media Lab.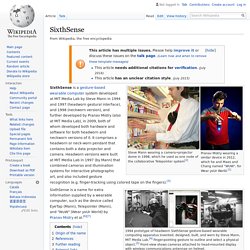 Pranav Mistry | Profile on TED.com. Pranav Mistry: The thrilling potential of SixthSense technology.
---