Olika tankar runt det digitala lärandet
Det jag skulle ha sagt, men aldrig sa...
SixthSense is a usable gestural interface device comprising a neckworn pendant that contains both a data projector and camera. The neckworn projector and camera combination was first proposed by MIT Media Lab student Steve Mann [ 1 ] . The concept was further developed by Pranav Mistry , while he was also a student at the MIT Media Kab.
SixthSense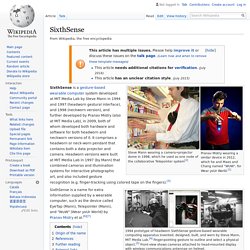 Pranav Mistry | Profile on TED.com