Academia
Proposed Revision | APA DSM-5
Brian Rice's Contributor Profile - Associated Content - associatedcontent.com
7 Signs You're An Empath
5.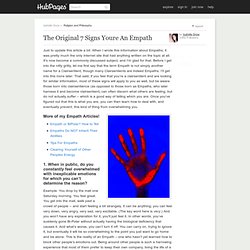 Rare but Real: People Who Feel, Taste and Hear Color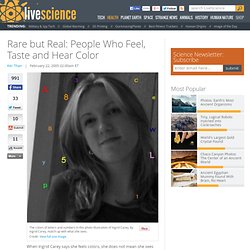 When Ingrid Carey says she feels colors, she does not mean she sees red, or feels blue, or is green with envy. She really does feel them.
Empathy allows us to feel the emotions of others, to identify and understand their feelings and motives and see things from their perspective. How we generate empathy remains a subject of intense debate in cognitive science.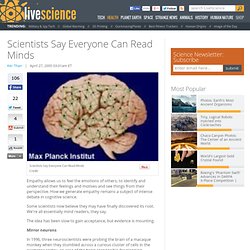 Scientists Say Everyone Can Read Minds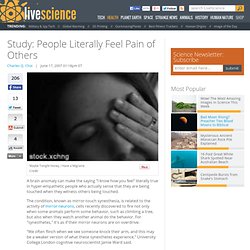 Study: People Literally Feel Pain of Others
A brain anomaly can make the saying "I know how you feel" literally true in hyper-empathetic people who actually sense that they are being touched when they witness others being touched.
The University of Chicago Magazine
A basic human impulse affecting the course of history, culture, and personal connections, empathy is also a neuro-logical fact—and one that's increasingly understood. TO NEUROSCIENTIST JEAN DECETY, empathy resembles a sort of minor constellation: clusters of encephalic stars glowing in the cosmos of an otherwise dark brain. "See how they flash," Decety says, pointing to the orange-lit anterior cingulate cortex and anterior insula on an fMRI scan.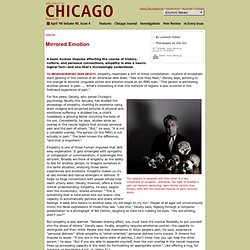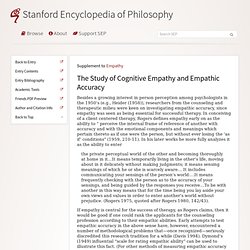 Empathy > The Study of Cognitive Empathy and Empathic Accuracy
Besides a growing interest in person perception among psychologists in the 1950's (e.g., Heider (1958)), researchers from the counseling and therapeutic milieu were keen on investigating empathic accuracy, since empathy was seen as being essential for successful therapy. In conceiving of a client centered therapy, Rogers defines empathy early on as the ability to " perceive the internal frame of reference of another with accuracy and with the emotional components and meanings which pertain thereto as if one were the person, but without ever losing the 'as if' conditions" (1959, 210-11). In his later works he more fully analyzes it as the ability to enter
Cross-cultural reflections on the mirror self-recognition test
The performance of young children on the 'mirror self-recognition test' varies hugely across cultures, a new study has shown. This is the test that involves surreptitiously putting a mark on a child's forehead and then seeing how they react when presented with their mirror image.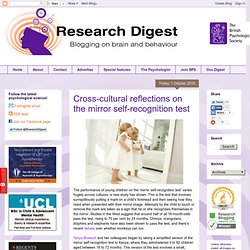 Empathic people remember your smell
If you're an empathic person, able to tune into other people's feelings, then the chances are you've also got a keen sense of what other people smell like! We've known for some time that the brain areas involved in empathy and recognising facial emotions partially overlap with the brain areas associated with smell. Wen Zhou's and Denise Chen's new finding shows that this overlap extends to behavioural performance.
People with borderline personality disorder (BPD) are emotionally fragile, impulsive, suffer from low mood, have intense unstable personal relationships and - according to a handful of studies - they also have enhanced empathy. But new research by Judith Flury and colleagues shows the idea that BPD patients have enhanced empathy is a spurious finding reflecting the methodological design of prior studies combined with the fact BPD patients are particularly difficult to read.
Are people with borderline personality really more empathic?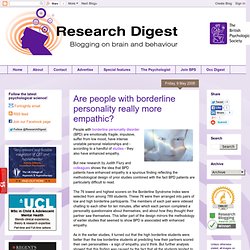 Find your Spirit Animal - an online quiz - Jeri Smith-Ready
Discover your Spirit Animal! Find out which Spirit Animal would bestow its magic on you. Pick the best answers from the choices below, then click "Find My Animal!"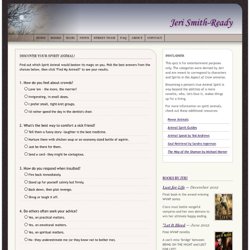 Dissociative Identity Disorder (Multiple Personality Disorder): Signs, Symptoms, Treatment
Why do I need to register or sign in for WebMD to save? We will provide you with a dropdown of all your saved articles when you are registered and signed in. Dissociative identity disorder (previously known as multiple personality disorder) is an effect of severe trauma during early childhood, usually extreme, repetitive physical, sexual, or emotional abuse.
Technology Review: A Working Brain Model
Scientists Map the Brain, Gene by Gene
The Human Brain Project - Denmark
The Human Brain Project - Homepage
Proposed Revision | APA DSM-5
ASPERGER'S SYNDROME AND ADULTS - DEFINITION OF ASPERGER'S SYNDROME AND RELATED DEVELOPMENTAL DISORDERS
From DSM IV (p77):
What is Aspergers Syndrome? - Diagnostic Criteria and Links to Other Definitions
Asperger's disorder - children, causes, DSM, functioning, therapy, adults, person, people, used, medication, brain, personality, skills, health, traits, Definition, Description
Photo by: Cheryl Casey
Free Personality Test by LearnMyself
Telling apart SPD vs Asperger's? : Schizoid Personality Disorder Forum
A few years ago, I was diagnosed with Asperger's. However, through some browsing at Wikipedia, I've come across SPD, and calling myself "SPD, Languid subtype" seems to describe my behaviour much better than pure Asperger's does. (According to the quiz at http://rdos.net/eng/Aspie-quiz.php , my most Aspie-like qualities are 'talent/special interests' (21 of 23), Social (27 of 34), with the rest at best middling.)
Borderline Personality Disorder Forum
Report
Neuroticism Neuroticism refers to the tendency to experience negative feelings. Those who score high on Neuroticism may experience primarily one specific negative feeling such as anxiety, anger, or depression, but are likely to experience several of these emotions. People high in neuroticism are emotionally reactive.
Swansea Metropolitan University