Web2.0
Mister Wong | Outil de bookmarking social. Zamzar - Free online file conversion. Redliner – Solve the Frustrations of Document Collaboration and. Teachers Lead Adoption of Web 2.0, but Perceptions Stifle Social. Teachers Lead Adoption of Web 2.0, but Perceptions Stifle Social Networking Web 2.0 tools are now in use at most schools, and teachers have been largely responsible for making this happen, according to a national K-12 technology survey released this week.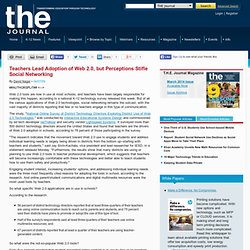 But of all the various applications of Web 2.0 technologies, social networking remains the outcast, with the vast majority of districts reporting that few or no teachers engage in this type of communication. The study, "National Online Survey of District Technology Directors Exploring District Use of Web 2.0 Technologies," was conducted by Interactive Educational Systems Design and commissioned by ed tech developer netTrekker and security vendor Lightspeed Systems. It surveyed more than 500 district technology directors around the United States and found that teachers are the drivers of Web 2.0 adoption in schools, according to 78 percent of those participating in the survey.
Elgg. Cet article est incomplet.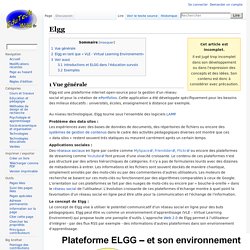 Il est jugé trop incomplet dans son développement ou dans l'expression des concepts et des idées. Son contenu est donc à considérer avec précaution. 1 Vue générale Elgg est une plateforme internet open-source pour la gestion d'un réseau social et pour la création de ePortfolios. Cette application a été développée spécifiquement pour les besoins des milieux éducatifs : universités, écoles, enseignement à distance par exemple.
---