Firefox
AutoPager. Grab and Drag. Textarea Backup for Greasemonkey. Script Summary: Retains text entered into textareas.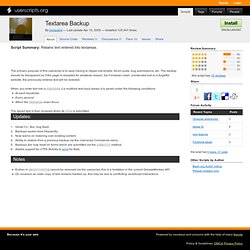 The primary purpose of this userscript is to save having to retype lost emails, forum posts, bug submissions, etc. The backup should be transparent so if the page is reloaded for whatever reason, be it browser crash, unintended exit or a forgetful website, the previously entered text will be restored. Firebug. Greasefire. Web Developer. For Firefox - Eyedropper, Color Picker and much more. ColorZilla for Firefox is an add-on that assists web developers and graphic designers with color related tasks - both basic and advanced.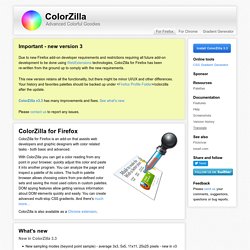 With ColorZilla you can get a color reading from any point in your browser, quickly adjust this color and paste it into another program. You can analyze the page and inspect a palette of its colors.
---