Conseils
Handbook of Emerging Technologies for Learning - Emerging Techno. FRONTLINE: digital nation: watch the full program. I wanted to wait a bit because it seemed like it'd be more interesting to listen to all of you.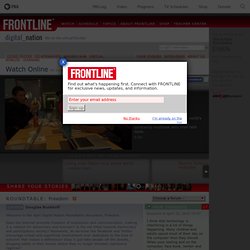 There used to be a name for what I was doing, "lurking" -- it dates back to a very different time in the net's history, when usenet and mailing lists were the main forms of communication. It was hard to talk about lurkers then, for the obvious reason that no one knew much about them; it hasn't gotten much easier since. Les indispensables du web 2.0 : del.icio.us. Après Netvibes, nous continuons notre d'horizon des indispensables du web 2.0.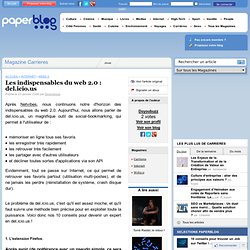 Aujourd'hui, nous allons parler de del.icio.us, un magnifique outil de social-bookmarking, qui permet à l'utilisateur de : Evidemment, tout se passe sur Internet, ce qui permet de retrouver ses favoris partout (utilisation multi-postes), et de ne jamais les perdre (réinstallation de système, crash disque dur). Le problème de del.icio.us, c'est qu'il est assez moche, et qu'il faut suivre une méthode bien précise pour en exploiter toute la puissance.
---