Visual Inspiration
Top 25 Most Amazing Abandoned Corners of Earth. It doesn't matter how beautiful are the new tourist destinations, those that are curious will always go to visit some historical places, and when those are abandoned and not touched by the human hand for a long time, they become a mysterious riddles.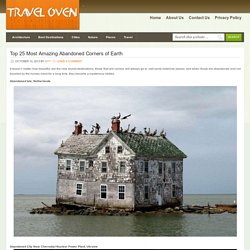 Abandoned Isle, Netherlands Abandoned City Near Chernobyl Nuclear Power Plant, Ukraine Boat from 2nd World War, Homebush, Australia. The Coolest Nature Video Ever [Edited By Roen Horn] Pop Culture Coins - Hijacking coins with some paint. - StumbleUpon. The Most Astounding Fact. EVER. 38 Maps You Never Knew You Needed. - StumbleUpon. We declare the world as our canvasChalk Art by David Zinn - A Collection. Shower by James Puttick. Photos du journal. - StumbleUpon. Magical Long-Exposure Firefly Photos Go Viral | Raw File. June 19, 2011Photo: Tsuneaki HiramatsuJuly 8, 2011Photo: Tsuneaki Hiramatsu July 8, 2008Photo: Tsuneaki HiramatsuJune 6, 2008Photo: Tsuneaki HiramatsuJune 16, 2009Photo: Tsuneaki HiramatsuJully 7, 2009Photo: Tsuneaki HiramatsuJune 27, 2010Photo: Tsuneaki HiramatsuJuly 9, 2010Photo: Tsuneaki HiramatsuJune 15, 2011Photo: Tsuneaki HiramatsuJune 19, 2011Photo: Tsuneaki HiramatsuJuly 8, 2011Photo: Tsuneaki Hiramatsu Tsuneaki Hiramatsu knew something was up.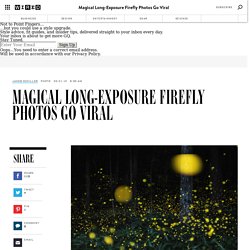 It was the end of December and his amateur photo blog had suddenly jumped from a handful of visitors a day to thousands. The telephone customer service agent and hobby photographer was surprised. Untitled. Pictures of Moments Speak More than Thousand Words...... Picture can speak thousands of words.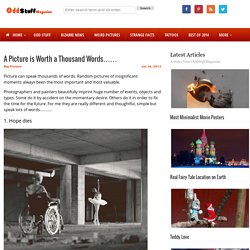 Random pictures of insignificant moments always been the most important and most valuable. Photographers and painters beautifully imprint huge number of events, objects and types. Some do it by accident on the momentary desire. - StumbleUpon. Crossing by Tom Eikrem - StumbleUpon. Themakeupgallery | actresses in character and prosthetic makeup. Cooking. Maria-Luisa (dite Coré) In this design, John Galliano for Dior combined the elements of a robe à la française with the vast crinolined silhouettes of the mid-nineteenth century.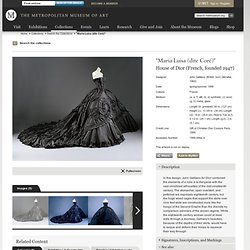 The stomacher, open overskirt, and petticoat are expressly eighteenth century, but the huge wired cages that support the skirts over nine feet wide are constructed more like the hoops of the Second Empire than the discrete by comparison panniers of the ancien régime. While the eighteenth-century woman could at least sidle through a doorway, Galliano's beauties, because of the depths of their skirts, would have to torque and deform their hoops to squeeze their way through. The Rare White Lion, a photo from Attiki, Attica.
Critiques | Translate carper hoi Panos, This is a great head of a lion.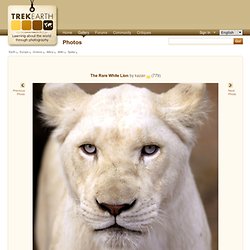 My compliments for it. AaronWeissArt.com - Home.
---