Castles
Waterfall-Castle-Poland. The 12 Most Beautiful Castles in Europe. For centuries, people have been fascinated with castles.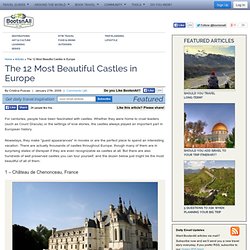 Whether they were home to cruel leaders (such as Count Dracula) or the settings of love stories, the castles always played an important part in European history. Nowadays, they make "guest appearances" in movies or are the perfect place to spend an interesting vacation. There are actually thousands of castles throughout Europe, though many of them are in surprising states of disrepair if they are even recognizable as castles at all. Carrigeen Castle, County Tipperary - Irelands Most Historic Castle Hotels Slideshow at Frommers.
Ashford Castle Luxury Hotel in Ireland Hotels. For over 700 years, Ashford Castle and its 350 acre private estate have offered a myriad of ways to enjoy the hospitality of a castle in Ireland.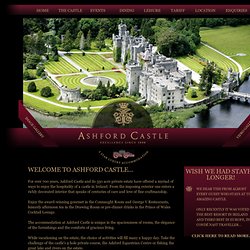 From the imposing exterior one enters a richly decorated interior that speaks of centuries of care and love of fine craftmanship. Enjoy the award-winning gourmet in the Connaught Room and George V Restaurants, leisurely afternoon tea in the Drawing Room or pre-dinner drinks in the Prince of Wales Cocktail Lounge. The accommodation at Ashford Castle is unique in the spaciousness of rooms, the elegance of the furnishings and the comforts of gracious living.
While vacationing on the estate, the choice of activities will fill many a happy day. Mansfield Castle Hotel - Directions. By Air For full timetable information on flights to and from the Highlands, Orkney, Shetland and the Western Isles, visit the Highlands & Islands Airports Ltd web-site www.hial.co.uk Services to and from Inverness include: Birmingham - Inverness, Eastern Airways, tel: 01652 680600, www.easternairways.com Edinburgh - Inverness, British Airways, tel: 0870 850 9850, www.ba.com Glasgow - Inverness, British Airways, tel: 0870 850 9850, www.ba.com London Gatwick - Inverness, British Airways, tel: 0870 850 9850, www.ba.com London Gatwick - Inverness, easyJet, tel: 0870 600 0000, www.easyjet.com London Heathrow - Inverness, BMI, tel: 0870 607 0555, www.flybmi.com London Luton - Inverness, easyJet, tel: 0870 600 0000, www.easyjet.com Manchester - Inverness, Eastern Airways, tel: 01652 680600, www.easternairways.com By Rail Services to and from Inverness connect the Highlands with all major UK cities including Aberdeen, Edinburgh, Glasgow and London.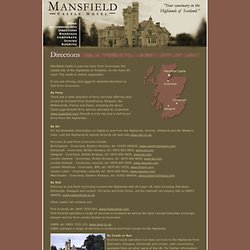 Cabra Castle Hotel County Cavan Ireland offers excellent Irish Hotel Castle Stays. Cabra Castle Hotel boasts a proud history dating as far back as 1760.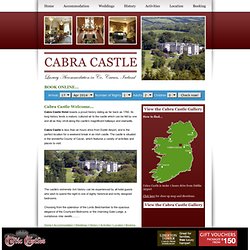 Its long history lends a mature, cultured air to the castle which can be felt by one and all as they stroll along the castle's magnificent hallways and stairwells. Cabra Castle is less than an hours drive from Dublin Airport, and is the perfect location for a weekend break in an Irish castle. The castle is situated in the wonderful County of Cavan, which features a variety of activities and places to visit. The castle's extremely rich history can be experienced by all hotel guests who wish to spend the night in one of eighty historical and richly designed bedrooms.
Choosing from the splendour of the Lords Bedchamber to the spacious elegance of the Courtyard Bedrooms or the charming Gate Lodge, a sumptuous stay awaits.......... Culcreuch Castle Hotel, Scotland. Culcreuch Castle, the home of the Barons of Culcreuch since 1699, was previously the ancestral fortalice of the Galbraiths and indeed Clan Castle of the Galbraith chiefs for over three centuries (1320 to 1630).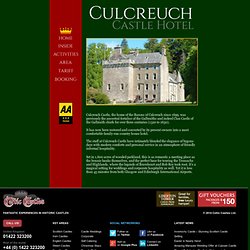 It has now been restored and converted by its present owners into a most comfortable family-run country house hotel. The staff at Culcreuch Castle have intimately blended the elegance of bygone days with modern comforts and personal service in an atmosphere of friendly informal hospitality. - StumbleUpon. 15 Amazing Castles from Around the Globe - StumbleUpon. Although designed and built for the prominent purpose of defense, today the castles seem like somewhat unrealistic constructions straight from the fairytale world.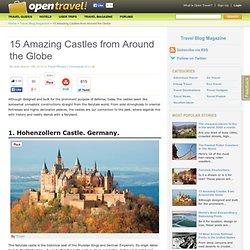 From solid strongholds to oriental fortresses and highly decorative palaces, the castles are our connection to the past, where legends mix with history and reality blends with a fairyland. This fairytale castle is the historical seat of the Prussian Kings and German Emperors. Its origin dates back to the Middle Ages - it was built in the 11th century, then completely destroyed in 1423 and reconstructed in 1461.
---