Reading Writing Workshop
Wordwizard Home. Online Etymology Dictionary. Quotes of the Day. Selected from Michael Moncur's Collection of Quotations - April 16, 2014 If the world should blow itself up, the last audible voice would be that of an expert saying it can't be done.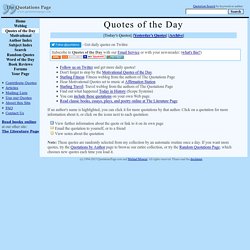 Peter Ustinov (1921 - 2004) Eccentricity is not, as dull people would have us believe, a form of madness. Quote of the Day  ::  Welcome. Homepage. Free Book Excerpts : Free Book Excerpts showcases excerpts from fiction and non-fiction books.
---