Reading Writing Workshop
LEARNING a foreign language and speaking it regularly offers greater protection against Alzheimer's disease than any drug yet available, research suggests. Bilingual people tend to be diagnosed with the most common form of dementia more than four years later than those who are fluent in only a single language, scientists in Canada have found. The results suggest the mental skills involved in juggling two languages may stimulate the brain so it becomes more resilient. Scientists behind the research believe bilingual skills strengthen the brain's "cognitive reserve"-- its ability to perform under stressful conditions. Bilingual people may be better able to cope with Alzheimer's effects on the brain, they said.
Wordwizard Home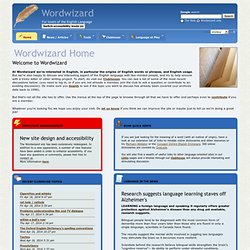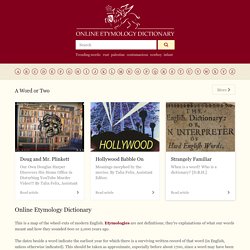 This is a map of the wheel-ruts of modern English. Etymologies are not definitions; they're explanations of what our words meant and how they sounded 600 or 2,000 years ago. The dates beside a word indicate the earliest year for which there is a surviving written record of that word (in English, unless otherwise indicated). This should be taken as approximate, especially before about 1700, since a word may have been used in conversation for hundreds of years before it turns up in a manuscript that has had the good fortune to survive the centuries.
Selected from Michael Moncur's Collection of Quotations - April 16, 2014 If the world should blow itself up, the last audible voice would be that of an expert saying it can't be done. Peter Ustinov (1921 - 2004) Eccentricity is not, as dull people would have us believe, a form of madness.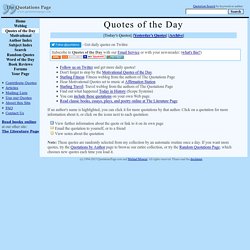 Quote of the Day  ::  Welcome
to Quote of the Day website. With your help we will try to become the best place on the internet to get good quotes. We not only provide you a reliable database with famous and not so famous quotes, but also with a bit of backgound... after all, what are those quotes anyway?
Free Book Excerpts : Free Book Excerpts showcases excerpts from fiction and non-fiction books.