Interesting Sites
Brain Pickings
By: Maria Popova What a 13,000-year-old eucalyptus tree reveals about the meaning of human life. "Our overblown intellectual faculties seem to be telling us both that we are eternal and that we are not," philosopher Stephen Cave observed in his poignant meditation on our mortality paradox And yet we continue to long for the secrets of that ever-elusive eternity. For nearly a decade, Brooklyn-based artist, photographer, and Guggenheim Fellow Rachel Sussman has been traveling the globe to discover and document its oldest organisms — living things over 2,000 years of age. Her breathtaking photographs and illuminating essays are now collected in The Oldest Living Things in the World (public library) — beautiful and powerful work at the intersection of fine art, science, and philosophy, spanning seven continents and exploring issues of deep time, permanence and impermanence, and the interconnectedness of life. Llareta
Text 2 Mind Map – The text-to-mind-map converter
How to Study: Reading Effectively
Lifehacker Australia, tips and downloads to help you at work and play
The Free Cummings Study Guides Are Maintained as a Public Service by Michael J. CummingsJune 2012 . Shakespeare Study Guide:.This site, called ShakeSphere, contains guides for every play and poem Shakespeare wrote, as well as literary works Shakespeare was reported to have written. This site also includes essays, glossaries, quotations, historical background, a complete description and history of the Globe Theatre, and other information related to Shakespeare.
Free Study Guides for Shakespeare and Other Authors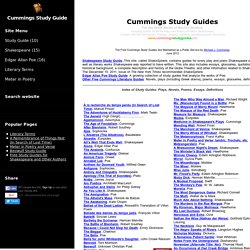 Resources for Language and Literature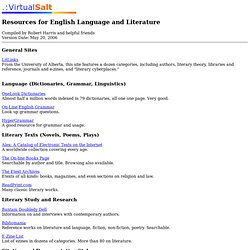 .:VirtualSalt Compiled by Robert Harris and helpful friends Version Date: May 20, 2006
Recommended
How to Avoid the Freshman 15 WellCast shows you how to avoid the hum-drums of the Freshman 15. Ask a question about Beauty & Lifestyle here...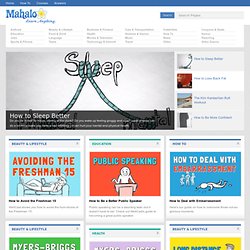 Mahalo.com
How-To Help and Videos
Instructables - Make, How To, and DIY