Interesting Sites
Brain Pickings
By: Maria Popova "Through our scopes, we see ourselves. Every new lens is also a new mirror." Given my longtime fascination with the so-termed digital humanities and with data visualization, and my occasional dabbles in the intersection of the two, I've followed the work of data scholars Erez Aiden and Jean-Baptiste Michel with intense interest since its public beginnings. Now, they have collected and contextualized their findings in the compelling Uncharted: Big Data as a Lens on Human Culture (public library) — a stimulating record of their seven-year quest to quantify cultural change through the dual lens of history and digital data by analyzing the contents of the 30,000 books digitized by Google, using Google's Ngram viewer tool to explore how the usage frequency of specific words changes over time and what that might reveal about corresponding shifts in our cultural values and beliefs about economics, politics, health, science, the arts, and more.
Text 2 Mind Map – The text-to-mind-map converter
How to Study: Reading Effectively
Lifehacker Australia, tips and downloads to help you at work and play
The Free Cummings Study Guides Are Maintained as a Public Service by Michael J. CummingsJune 2012 . Shakespeare Study Guide:.This site, called ShakeSphere, contains guides for every play and poem Shakespeare wrote, as well as literary works Shakespeare was reported to have written. This site also includes essays, glossaries, quotations, historical background, a complete description and history of the Globe Theatre, and other information related to Shakespeare.
Free Study Guides for Shakespeare and Other Authors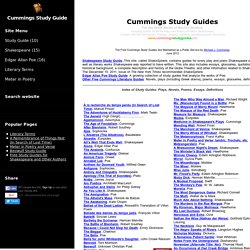 Resources for Language and Literature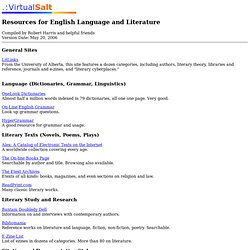 .:VirtualSalt Compiled by Robert Harris and helpful friends Version Date: May 20, 2006
Recommended
How to Avoid the Freshman 15 WellCast shows you how to avoid the hum-drums of the Freshman 15. Ask a question about Beauty & Lifestyle here...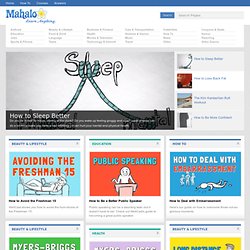 Mahalo.com
How-To Help and Videos
Instructables - Make, How To, and DIY