Tools
Chrome Web Store - TwistedWave
Online anonymity is very important. It provides you with privacy and security for your online sessions and activities.
Stop Being a Sheep: How to Stay Anonymous Online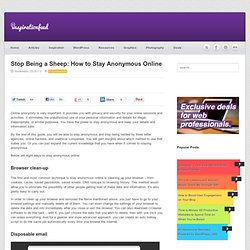 Decrap - Windows PC De-crapifier, remove bloatware with ease!
Whether your goal is to make your desktop look beautiful or you want an information-rich desktop that provides constant track of your system status, RSS feeds, and other info, Rainmeter is the best tool for the job. Here's how to use Rainmeter to create an attractive, customizable heads-up display on your Windows desktop. Windows customization app Rainmeter won our recent Hive Five for best desktop customization tool , and with good reason.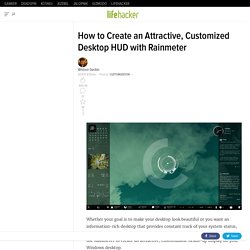 How to Create an Attractive, Customized Desktop HUD with Rainmeter
Peace of Mind You're safe with us. The privacy and security of your financial information is our top priority. Free.
Cash - Email money to anyone | Square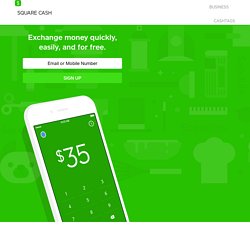 Five Best Language Learning Tools
Reading Made Awesome: The Features of Ebook Apps You Should Be Using
Mailstrom: Clean Up Your Inbox Now.
Trying to crush a bloated inbox with Mailstrom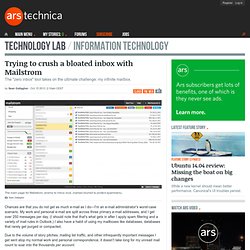 Chances are that you do not get as much e-mail as I do—I'm an e-mail administrator's worst-case scenario.
Web Served, the finale: Congrats, you have a Web server! What's next?
Welcome, dear readers, to the final piece in our long-running "Web Served" series.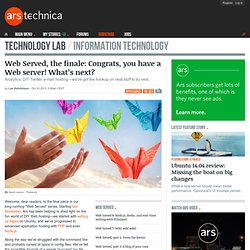 VUE/VUE
What this example does :
WireIt - jsBox example
Notational Velocity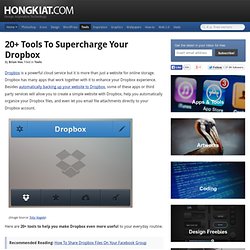 Dropbox is a powerful cloud service but it is more than just a website for online storage. Dropbox has many apps that work together with it to enhance your Dropbox experience. Besides automatically backing up your website to Dropbox , some of these apps or third party services will allow you to create a simple website with Dropbox, help you automatically organize your Dropbox files, and even let you email file attachments directly to your Dropbox account.
20+ Tools To Supercharge Your Dropbox
Cirrus: Edit Files In Dropbox On The Web
Dropbox is a great way for sharing files if you travel between multiple computers. If you have the Dropbox app installed, you simply edit and save the file, and everything just works. However, what if you are somewhere that you can't install Dropbox?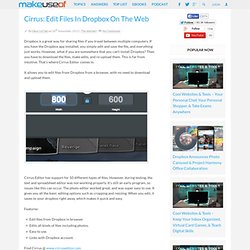 How to Easily Edit Text Files in Dropbox Online In a Browser
Seven Time-Saving Android Shortcuts
The Best About:Config Tweaks That Make Firefox Better
Flutter | Control music and movies with gestures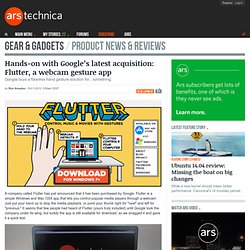 A company called Flutter has just announced that they've been purchased by Google. Flutter is a simple Windows and Mac OSX app that lets you control popular media players through a webcam. Just put your hand up to stop the media playback, point your thumb right for "next" and left for "previous."
Hands-on with Google's latest acquisition: Flutter, a webcam gesture app
The TOR Project provides free, distributed worldwide proxies for anonymous browsing and private downloading . TOR comes with a built-in Firefox add-on, but Chrome users can get a handy on/off button for TOR with this setup, explained by commenter brssnkl. • Step 1: Install TOR ( Note: The "Installation Bundle" packages for Windows and Mac are the preferred downloads ).
Create a TOR Button in Chrome for On-Demand Anonymous Browsing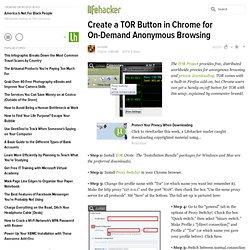 The Six Best YouTube URL Tricks
Aperçu - Gummi - Midnight coding..
L'électronique en pratique : 36 expériences ludiques: Amazon.fr: Charles Adams Platt, Xavier Guesnu, Eric Bernauer, Antoine Derouin
DatasheetLib.com - The Ultimate Datasheet Library
In the world of blogging, WordPress is the undisputed leader—the PHP-based application is everywhere. Once a light-weight blogging platform, WordPress has grown and mutated. It's now more properly a full-fledged content management system than a simple blog, and it's sprawled all over the Web.
Fancy Node.js-based blogging app Ghost goes live to backers
Pour les besoins d'une formation réalisée en intra-entreprise , et d'un article dans Netsources , je me suis intéressée à la "galaxie" des applications twitter , afin de sélectionner des outils susceptibles d'optimiser, pour un professionnel de l'information, son usage du site de microblogging. Cette sélection ne s'est pas faite sans peine, tant les outils sont nombreux et diversifiés. On trouvera dans cet article une présentation relativement rapide de dix outils, pour la plupart choisis parmi ceux qui sont décrits (en détail) dans le n°104 de Netsources. Lorsque l'on souhaite optimiser son usage de Twitter, la première question qui se pose est celle de l'interface que l'on va employer pour veiller et communiquer sur la twittosphère.
10 outils indispensables pour le twitteur-veilleur
Par Korben Si vous êtes sous Mac OSX et que vous avez essayé d'ouvrir un ENOOOORME fichier afin de l'éditer, le parcourir ou rechercher une donnée à l'intérieur, vous avez surement dû être confronté à un truc moche comme ça : Heureusement, la solution existe et s'appelle Hex Fiend. Ce soft est capable de gérer des fichiers d'une taille de plusieurs centaines de Go (oui, plusieurs centaines), et propose même un mode hexadécimal, un inspecteur de données et la possibilité de comparer plusieurs fichiers afin de trouver leurs différences.
Comment ouvrir un gros fichier sous Mac ?
Writing a novel can be difficult. The very act of staring at a blank page and then coming out with intricately woven stories can be an arduous task. And, if that wasn't enough, after you finish writing your novel, you have to organize your manuscript, format it, and then mail it to your agent. Oh, what a pain! Though we can't help you with the writing part, we can definitely suggest some tools that will help you better organize your manuscript. These tools, which work perfectly on Linux, let you write your novel, organize it, and then format it according to publishing standards.
Handy Linux Applications That Will Help You Write Your First Novel
Best Android Apps for Learning Foreign Languages
Many of us have 'learn a foreign language' written on our bucket list somewhere. Be it French, Spanish, or even Swahili, learning a new language not only makes you multilingual, but also introduces to another culture. That said, despite the fact that most of us want to learn a new language, only few of us succeed in doing so. The main reason for this is that learning a language takes a lot of self-discipline, and more importantly, immersion.
5 Pomodoro Apps For Linux Users
Planetary for iPad on the iTunes App Store
Sshuttle – Le VPN à l'arrache
Darling – Pour lancer des applications OSX sous Linux
RSS Bridge – Retrouvez les flux RSS de Twitter, Google, Flickr, Youtube…etc…
Easystroke – Bougez votre souris
Brackets – L'éditeur open source d'Adobe
Brackets – L'éditeur open source d'Adobe
Receiptmate Scans Your Receipts and Saves Them to Evernote
Sauvegarde et recupération de données
The Conversation Prism v4.0 by Brian Solis and JESS3 (2013)
Data Science Toolkit
Noisy Typer – a typewriter for your laptop
Turn Your Rooted Nook Into the Ultimate Ereader with These 10 Apps
Kaggle, we're making data science a sport
Say command: How speech recognition will change the world
Flash Doctor va soigner vos petits problèmes avec Flash
The Best Plugins to Supercharge Thunderbird
Filling A Search Engine Blind Spot
Caisse Square
Expensify
How to Never Miss a Deal with IFTTT
Et si vous appreniez à rechercher efficacement sur Google ?
Best Text Editors
The Best Time-Saving AutoHotkey Tricks You Should Be Using
How to Use Text Expansion to Save Yourself Hours of Typing Every Week
Any.DO | Make Things Happen
Créer un flux RSS à partir de Put.io
Talk to your computer
Screensharing with getUserMedia
Transformez un PC en serveur Synology (avec DSM 4.2)
How To Read Kindle Books In iBooks, And Keep Your Library In The Cloud [How-To
Notebook and task management comparison between Evernote and Springpad | It's Worth Noting
How to Turn YouTube Channels into Subscribable Podcasts
Lancer des applications Android sur Mac, c'est désormais possible
Jouer à StarCraft sur son smartphone Android
LinuxLive USB Creator
Scanadu, votre médecin de poche
Un périphérique pour réveiller bébé s'il ne bouge pas
Top 10 Tools That Are Better in the Command Line
Sync and Integrate Google Drive, Gmail, Dropbox, Box, SkyDrive, Evernote, Basecamp
Constant & Endless
PDFUnlock! - Unlock secured PDF files online for free.
Create a TOR Button in Chrome for On-Demand Anonymous Browsing
SuperSU for Android Manages Root Permissions So You Don't Have To
Lazytruth, l'extension qui vérifie l'authenticité des faits
20 + Organizing Resources | GIF Peanut Butter
Readefine
Top 10 Gadgets You Should Have In Your Go Bag
How to Block Any Site from Showing Up in Google Search Results