Tools
Just Delete Me | A directory of direct links to delete your account from web services. Use a Google Wallet Card to Withdraw Cash from Visa Gift Cards. 6 outils pour cloner un disque dur sous Windows et Linux. Cloner c'est facile...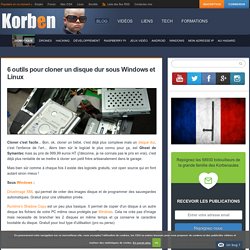 Bon, ok, cloner un bébé, c'est déjà plus complexe mais un disque dur, c'est l'enfance de l'art... Alors bien sûr le logiciel le plus connu pour ça, est Ghost de Symantec mais au prix de 999,99 euros HT (j'déconne, je ne connais pas le prix en vrai), c'est déjà plus rentable de se mettre à cloner son petit frère artisanalement dans le garage. TwistedWave. Rackmount RasPi Leaves No Excuse to Lose Data. Smallx264 Transcodes Videos In Batch With Handbrake. Video Editing on Linux Just Got Better With PiTiVi. Linux has long lacked a good video editor, but that is no longer a problem.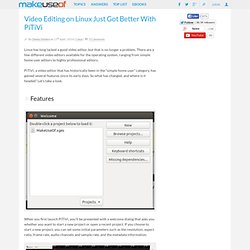 There are a few different video editors available for the operating system, ranging from simple home user editors to highly professional editors. PiTiVi, a video editor that has historically been in the "simple home user" category, has gained several features since its early days. Das Referenz Declutters Wikipedia, Summarizes Related Articles. VideoStream for Google Chromecast Streams Any Video to the Big Screen. Standards. Nutty Shares Your Terminal Through Chrome. Simple free learning tools for students and teachers | Quizlet.
How to Stream Your Movie Collection Anywhere with Google Drive. 6 Useful Graphical Git Client for Linux. Slack: Be less busy. Seven Downloads and Extensions to Make Dropbox Even More Awesome. Linux and Open source Linux Terminal: Manage Processes with killall and kill. Original article by Sometime a process "hang" both if you are using Gnu/Linux on your desktop (maybe a game ?)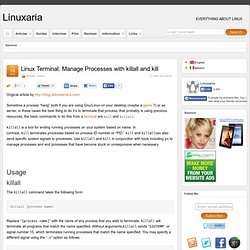 Or as server, in these cases the best thing to do it's to terminate that process, that probably is using precious resources, the basic commands to do this from a terminal are kill and killall. LUTIm - Un script pour héberger vos images. LUTIm – Un script pour héberger vos images Si vous cherchez un outil pour héberger vous-même vos images simplement, sans avoir à les confier à un service américain ou autre, j'ai ce qu'il vous faut.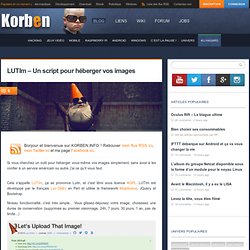 Cela s'appelle LUTIm, ça se prononce Lutin, et c'est libre sous licence AGPL. LUTIm est développé par le français Luc Didry en Perl et utilise le framework Mojolicious, JQuery et Bootstrap. Niveau fonctionnalité, c'est très simple... Vous glissez-déposez votre image, choisissez une durée de conservation (supprimée au premier visionnage, 24h, 7 jours, 30 jours, 1 an, pas de limite...)
Un assistant pour télécharger vos séries sous Mac OSX. Un assistant pour télécharger vos séries sous Mac OSX Si vous êtes fan de séries des Amériques, vous devez surement en pomper des tonnes sur The Pirate Bay tel un petit porc accro à la cocaïne.
Le hic, c'est qu'à force, on se mélange, on oublie ce qu'on a vu, on loupe des mises en ligne...etc. Too long; didn't read pour vos man pages. Too long; didn't read pour vos man pages tldr est une application (un module npm plus exactement) qui permet d'obtenir des infos de type "man" sur une commande, mais uniquement des exemples clair et utiles dans la vie de tous les jours, sans tout le blabla technique (qui a aussi son utilité dans d'autres cas évidemment).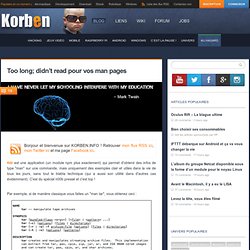 C'est du spécial n00b pressé et c'est top ! Par exemple, si de manière classique vous faites un "man tar", vous obtenez ceci : Gargl - Créer des API à partir de n'importe quel site web. Gargl – Créer des API à partir de n'importe quel site web Attention, les amis, je crois que je tiens l'outil de la semaine.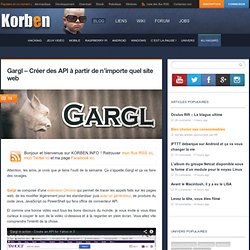 Ça s'appelle Gargl et ça va faire des ravages. Gargl - Créer des API à partir de n'importe quel site web. Gimp - Donnez lui un air de Photoshop. Gimp – Donnez lui un air de Photoshop Si vous êtes habitué à l'ergonomie de Photoshop et que sous Linux, vous êtes un peu dérouté par Gimp, j'ai ce qu'il vous faut.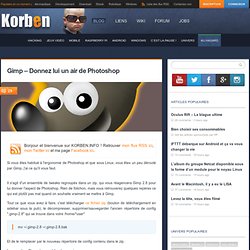 Il s'agit d'un ensemble de tweaks regroupés dans un zip, qui vous réagencera Gimp 2.8 pour lui donner l'aspect de Photoshop. Rien de folichon, mais vous retrouverez quelques repères ce qui est plutôt pas mal quand on souhaite vraiment se mettre à Gimp. Easy Context Menu Adds Useful Options to Right-Click Menus. The 2014 Google tracker—Everything we know Google is working on this year. While some companies pride themselves on secrecy, Google doesn't seem interested in surprises.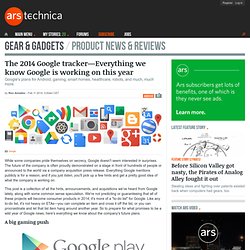 The future of the company is often proudly demonstrated on a stage in front of hundreds of people or announced to the world via a company acquisition press release. Everything Google mentions publicly is for a reason, and if you just listen, you'll pick up a few hints and get a pretty good idea of what the company is working on. This post is a collection of all the hints, announcements, and acquisitions we've heard from Google lately, along with some common sense speculation. We're not predicting or guaranteeing that all of these projects will become consumer products in 2014; it's more of a "to-do list" for Google. OwnCloud.org | Your Cloud, Your Data, Your Way! Welcome to Tumblr! Pour surfer anonymement et sans referrer ... Si vous voulez anonymiser tous les liens externes sur votre site, nous vous offrons un script pour rendre cette opération automatique.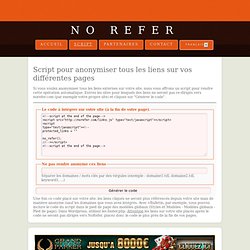 Entrez les sites pour lesquels des liens ne seront pas re-dirigés vers norefer.com (par exemple votre propre site) et cliquez sur "Générer le code". Une fois ce code placé sur votre site, les liens cliqués ne seront plus référencés depuis votre site mais de manière anonyme (sauf les domaines que vous avez intégrés. Avec vBulletin, par exemple, vous pouvez inclure le code du script dans le pied de page des modèles globaux (Styles et Modèles - Modèles globaux - Pied de page).
Stolen Camera Finder - find your photos, find your camera. UnityPDF - The ultimate free PDF software. Simple Visual Enhancements for Better Coding in Sublime Text. Sublime Text offers thousands of extensions and settings to make a personalized code editor available for everyone. Right now, I'm going to show you some settings, plugins, themes, and color schemes to help make the coding experience more visually appealing. This won't just make your screen prettier, it'll make you a better coder!
Settings. SoX - Sound eXchange | HomePage. Baudline signal analyzer - FFT spectrogram. Babbel.com. Select $ 12.95 charged every month $ 26.85 charged every 3 months $ 44.70 charged every 6 months. LibreOffice upgrade targets Windows integration and power users. LibreOffice 4.2 is now out, featuring improved integration with Windows and new features for power users and the enterprise. "LibreOffice 4.2 offers two Windows-specific improvements for business users: a simplified custom install dialog to avoid potential mistakes, and the ability to centrally manage and lock-down the configuration with Group Policy Objects via Active Directory," the Document Foundation wrote in an announcement today.
"All users benefit from better integration with Windows 7 and 8, with thumbnails of open documents now grouped by application and a list of recent documents, both showing on the task bar. " Windows users aren't the only ones to benefit from the latest release of the open source office suite, which is also available on OS X and Linux. Sublime Text: The text editor you'll fall in love with. Projects. Choix de la langue : GeekTool 3.0 GeekTool est une application pour Mac OS 10.6+ qui permet d'afficher sur votre bureau toute sorte d'informations, grâce à 3 modules fournis : Le mode Fichier permet de surveiller l'activité de MacOS X via /var/log/system.log par exemple, ou tout autre fichier dont ous souhaitez suivre l'évolution.
Iomap - A Visual Memory for Evernote. Nudge Tracks All Your Health Information in One App. Quickr Adds Quick Action Tabs to Android, Makes Multitasking Easy. Flavors.me : Create and share your digital world. Houzz - Home Design, Decorating and Remodeling Ideas and Inspiration, Kitchen and Bathroom Design. GetGoing - Cheap Flights, Travel Deals, Airline Tickets. Trello. Coffitivity - Increase Your Creativity! SigFig - The easiest way to manage & improve your investments | Free online personal finance investment software. A Student's Guide to Using the Kindle for Research. Télécharger Gimp Mode - The Gimp optimisé et simplifié pour Windows : gratuit. Sublime Text: The text editor you'll fall in love with. Confidentialité et anonymat, pour tous et partout. Tails est un système d'exploitation live, que vous pouvez démarrer, sur quasiment n'importe quel ordinateur, depuis un DVD, une clé USB, ou une carte SD. Son but est de préserver votre vie privée et votre anonymat, et de vous aider à : utiliser Internet de manière anonyme et contourner la censure ; toutes les connexions sortantes vers Internet sont obligées de passer par le réseau Tor ; ne pas laisser de traces sur l'ordinateur que vous utilisez sauf si vous le demandez explicitement ; utiliser des outils de cryptographie reconnus pour chiffrer vos fichiers, emails et messagerie instantanée.
Cheap Alternatives to Expensive Creative Mac Software. Cheap Alternatives to Expensive Creative Mac Software. The Best Collaboration Tools for Small Groups and Teams. What's the Best Way to Sync Music Between My Computers? Operator. Convert Everything Seriously Converts Any Unit of Measurement to Another. Know My App. Mindly. Actions for iPad Turns Your Tablet Into a Hotkey Menu. Ganttify Turns Your Google Calendar or Trello Board into a Gantt Chart. How to Use Google Calendar as a Project Management Tool. Plotly | Analyze and visualize data, together. Glogg — glogg - the fast, smart log explorer. Clumsy, an utility for simulating broken network for Windows Vista / Windows 7 and above. The Gambas Project: It's Like Visual Basic On Linux. VETUSWARE.COM - the biggest free abandonware collection in the universe. Surfly. Stop Being a Sheep: How to Stay Anonymous Online.
Decrap - Windows PC De-crapifier, remove bloatware with ease! How to Create an Attractive, Customized Desktop HUD with Rainmeter. Cash - Email money to anyone | Square. Five Best Language Learning Tools. Reading Made Awesome: The Features of Ebook Apps You Should Be Using. Mailstrom: Clean Up Your Inbox Now. Trying to crush a bloated inbox with Mailstrom. Web Served, the finale: Congrats, you have a Web server! What's next? VUE/VUE. Notational Velocity. 20+ Tools To Supercharge Your Dropbox. Cirrus: Edit Files In Dropbox On The Web. How to Easily Edit Text Files in Dropbox Online In a Browser. Seven Time-Saving Android Shortcuts. The Best About:Config Tweaks That Make Firefox Better. Hands-on with Google's latest acquisition: Flutter, a webcam gesture app.
Create a TOR Button in Chrome for On-Demand Anonymous Browsing. The Six Best YouTube URL Tricks. Aperçu - Gummi - Midnight coding.. L'électronique en pratique : 36 expériences ludiques: Amazon.fr: Charles Adams Platt, Xavier Guesnu, Eric Bernauer, Antoine Derouin. DatasheetLib.com - The Ultimate Datasheet Library. Fancy Node.js-based blogging app Ghost goes live to backers. 10 outils indispensables pour le twitteur-veilleur. Comment ouvrir un gros fichier sous Mac ? Handy Linux Applications That Will Help You Write Your First Novel. Best Android Apps for Learning Foreign Languages.
5 Pomodoro Apps For Linux Users. Planetary. Sshuttle – Le VPN à l'arrache. Darling – Pour lancer des applications OSX sous Linux. RSS Bridge – Retrouvez les flux RSS de Twitter, Google, Flickr, Youtube…etc… Easystroke – Bougez votre souris.
---