Game theory
Les humains sont-ils moins égoïstes, calculateurs et méfiants que ne le supposent certaines théories économiques lorsqu'ils agissent en société? Les chercheurs Menusch Khadjavi et Andreas Lange du département d'économie de l'université de Hambourg ont testé, sans doute pour la première fois, le célèbre dilemme du prisonnier sur des prisonnières d'un pénitencier de Basse-Saxe ainsi que sur des étudiants , relate Business Insider.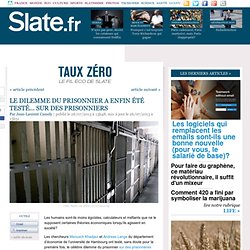 Le dilemme du prisonnier a enfin été testé... sur des prisonniers
Catégorie:Théorie des jeux
Jouer pour ne pas perdre ou jouer pour gagner : une question de perfectionnisme?
Un article de Wikipédia, l'encyclopédie libre. La théorie des jeux est un ensemble d'outils pour analyser les situations dans lesquelles ce qu'il est optimal de faire pour un agent (personne physique, entreprise, animal...) dépend des anticipations qu'il forme sur ce qu'un ou plusieurs autres agents vont faire. L'objectif de la théorie des jeux est de modéliser ces situations, de déterminer une stratégie optimale pour chacun des agents, de prédire l'équilibre du jeu et de trouver comment aboutir à une situation optimale. La théorie des jeux est très souvent utilisée en économie , en sciences politiques , en biologie ou encore en philosophie .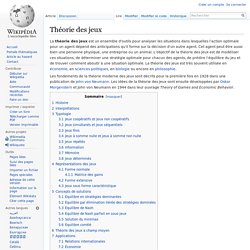 jeux
manueljeux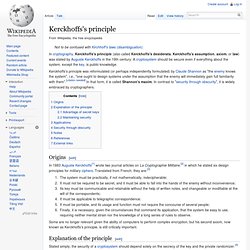 Kerckhoffs's Principle
In cryptography , Kerckhoffs's principle (also called Kerckhoffs's Desiderata , Kerckhoffs's assumption , axiom , or law ) was stated by Auguste Kerckhoffs in the 19th century: A cryptosystem should be secure even if everything about the system, except the key , is public knowledge. Kerckhoffs's principle was reformulated (or perhaps independently formulated) by Claude Shannon as "The enemy knows the system," i.e. , "One ought design systems under the assumption that the enemy will immediately gain full familiarity with them."
Bringing Down the House (book)
Bringing Down the House: The Inside Story of Six MIT Students Who Took Vegas for Millions is a book by Ben Mezrich about a group of MIT card counters commonly known as the MIT Blackjack Team . While represented as non-fiction by Mezrich and Free Press , the book contains significant fictional elements. Many of the key events propelling the drama did not occur in real life; others were exaggerated greatly. [ 1 ] The book was adapted into the movie 21 .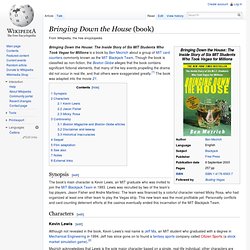 The JSTOR site requires that your browser allows JSTOR ( http://www.jstor.org ) to set and modify cookies. JSTOR uses cookies to maintain information that will enable access to the archive and improve the response time and performance of the system. Any personal information, other than what is voluntarily submitted, is not extracted in this process, and we do not use cookies to identify what other websites or pages you have visited.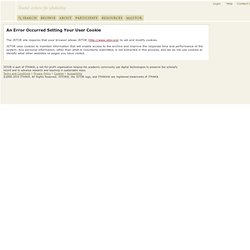 For those who are interested in the theory, here are the mathematical steps I used to generalize the above problem. Let's define some variables: F = % of your bankroll that you invest in A
Advance Stock Pattern Scanner -- Kelly Criterion For Investors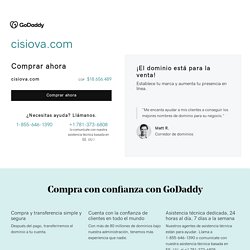 Kelly criterion (long, but give it a chance!) ;-) - rec.gambling.poker
Calculates Kelly stakes for bets on up to either 15 simultaneous events or 15 mutually exclusive outcomes of a single event. More Information: Inputs Event Type Selector: Either simultaneous independent events (as in several distinct games) or mutually exclusive outcomes (as in a single event that can have one of several winners, e.g., a horse race or the American Idol competition). # Events/Outcomes: The number of either simultaneous independent events or mutually exclusive outcomes. Consecutive Series: The number of times that this set of bets is to be sequentially repeated.
Kelly Calculator | Betting Tools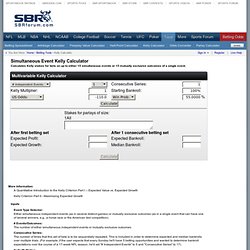 kelly
Proebsting's paradox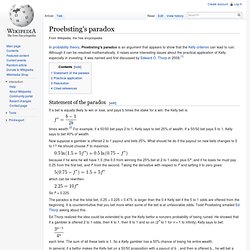 In probability theory , Proebsting's paradox is an argument that appears to show that the Kelly criterion can lead to ruin. Although it can be resolved mathematically, it raises some interesting issues about the practical application of Kelly, especially in investing. It was named and first discussed by Edward O. Thorp in 2008. [ 1 ] [ edit ] Statement of the paradox If a bet is equally likely to win or lose, and pays b times the stake for a win, the Kelly bet is: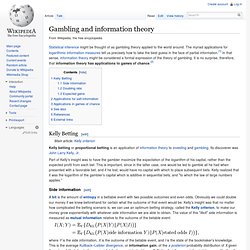 Statistical inference might be thought of as gambling theory applied to the world around. The myriad applications for logarithmic information measures tell us precisely how to take the best guess in the face of partial information. [ 1 ] In that sense, information theory might be considered a formal expression of the theory of gambling. It is no surprise, therefore, that information theory has applications to games of chance . [ 2 ] [ edit ] Kelly Betting
Gambling and information theory
In probability theory , the Kelly criterion , Kelly strategy Kelly formula , or Kelly bet , is a formula used to determine the optimal size of a series of bets. In most gambling scenarios, and some investing scenarios under some simplifying assumptions, the Kelly strategy will do better than any essentially different strategy in the long run. It was described by J. L. Kelly, Jr in 1956. [ 1 ] The practical use of the formula has been demonstrated. [ 2 ] [ 3 ] [ 4 ] Although the Kelly strategy's promise of doing better than any other strategy seems compelling, some economists have argued strenuously against it, mainly because an individual's specific investing constraints override the desire for optimal growth rate. [ 5 ] The conventional alternative is utility theory which says bets should be sized to maximize the expected utility of the outcome (to an individual with logarithmic utility, the Kelly bet maximizes utility, so there is no conflict).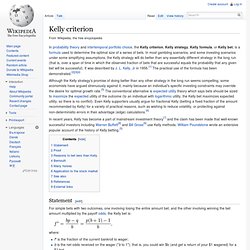 Kelly criterion