Construct 2
Construct 2 | En español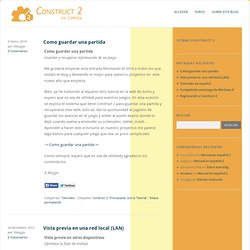 5 enero, 2014 por Xmoggo 0 Comentarios Como guardar una partidaGuardar y recuperar información de un juego Me gustaría empezar esta entrada felicitando el 2014 a todos los que visitáis el blog y deseando lo mejor para vuestros proyectos en este nuevo año que empieza.
Physics in Construct 2: The basics
Construct 2 includes the Physics behavior, powered by Box2DWeb. This allows you to have objects moving with real-world physics - here's a demo to show the idea. Physics can make your games really fun and engaging!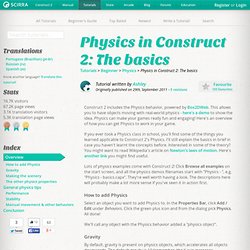 On Screen Touch Controls For Button Games
Making an iOS web app with Construct 2
Publishing and promoting your Construct 2 game
Touch controls and a trick to detect input method
Making a Sword Character
Making a Fancy Lifebar
Beginner's Basics For Construct 2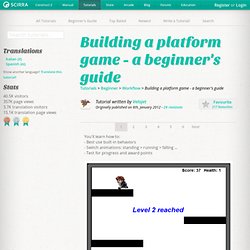 You'll learn how to:- Best use built-in behaviors- Switch animations: standing > running > falling ...- Test for progress and award points Building blocks - the objects to insert Key to a platform game are two types of objects: Solids and Platforms. Solids are obvious: they form the floors and walls that restrict players' movements.
Building a platform game - a beginner's guide