Construct 2
Construct 2 | En español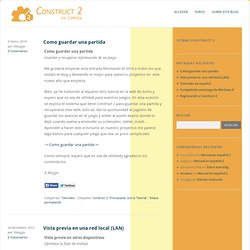 19 diciembre, 2012 por Xmoggo 2 Comentarios Manual en español, capítulo 2 Una visión general del programa Pues ya he completado la traducción y revisión del segundo capítulo del manual de Construct 2, una sección muy interesante de leer donde se explica de forma rápida todas las partes que componen la interfaz de este programa enfocado a la creación de videojuegos o aplicaciones educativas en formato HTML 5.
Physics in Construct 2: The basics
Construct 2 includes the Physics behavior, powered by Box2DWeb . This allows you to have objects moving with real-world physics - here's a demo to show the idea. Physics can make your games really fun and engaging!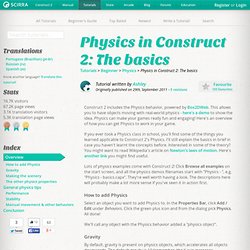 On Screen Touch Controls For Button Games
Making an iOS web app with Construct 2
Publishing and promoting your Construct 2 game
Touch controls and a trick to detect input method
Making a Sword Character
Making a Fancy Lifebar
Beginner's Basics For Construct 2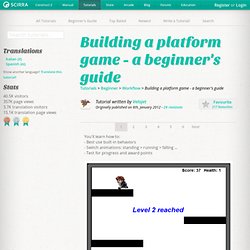 You'll learn how to: - Best use built-in behaviors - Switch animations: standing > running > falling ... - Test for progress and award points Building blocks - the objects to insert Key to a platform game are two types of objects: Solids and Platforms . Solids are obvious: they form the floors and walls that restrict players' movements.
Building a platform game - a beginner's guide