Computers
Idle-time
Invention kit takes tech design to kids - CNET News.com. SIMILE Project. Gmail Filesystem. Gmail Filesystem - GmailFS Gmail Filesystem provides a mountable Linux filesystem which uses your Gmail account as its storage medium.
Gmail Filesystem is a Python application and uses the FUSE userland filesystem infrastructure to help provide the filesystem, and libgmail to communicate with Gmail. GmailFS supports most file operations such as read, write, open, close, stat, symlink, link, unlink, truncate and rename. This means that you can use all your favourite unix command line tools to operate on files stored on Gmail (e.g. cp, ls, mv, rm, ln, grep etc. etc.).
Teach Yourself Programming in Ten Years. The Metasploit Project. Put the right edition of our penetration testing software to work for you today Pro Enterprise Security Programs & Advanced Penetration Tests For Mid-sized and Enterprise IT Security Teams Express features plus: Closed-loop Vulnerability Validation Phishing Simulations & Social Engineering Web App Testing Automation through Wizards, Task Chains, MetaModules Out of the Box and Custom Integrations through API Free 14-Day Trial Express Baseline Penetration Tests.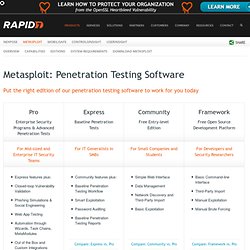 Transparent Desktop Icons - Making Desktop Icons Transparent - S. How To Restore Desktop Icons Back To Their Transparent State The labels to the icons on your Desktop are set to transparent in Windows XP to give them a smoother look and make them blend in better with the background you are using.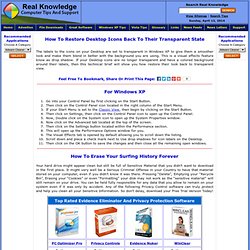 This is a visual effects feature know as drop shadow. If your Desktop icons are no longer transparent and have a colored background around their labels, then this technical brief will show you how restore their look back to transparent view. Want to get 2 different wallpapers on dual monitor set up in XP. View Full Version : Want to get 2 different wallpapers on dual monitor set up in XP Rabones Using XP Pro Primary card- ATI AIW 9800 Pro Second card- ATI (by Power Color) Radeon 7000 64MB Using Wallmaster Pro.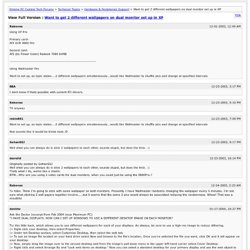 Visual Studio .NET Editions. Coding techniques incorporate many facets of software development.
Although they usually have no impact on the functionality of the application, they contribute to an improved comprehension of source code. All forms of source code are considered here, including programming, scripting, markup and query languages. The coding techniques defined here are not proposed to form an inflexible set of coding standards. Rather, they are meant to serve as a guide for developing a coding standard for a specific software project.
The coding techniques are divided into three sections: Aleks / Dotnet-Project Framework / CSharp / Librairies | VB.NET,