Jquery
What's new Version 2 is completely rewritten with new features and updated graphics.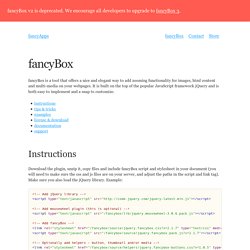 jQuery PageSlide Demo by Scott Robbin
Advertisement a simple jQuery plugin that allows you to add a dynamically-resized, slideshow-capable background image to any page or element by Scott Robbin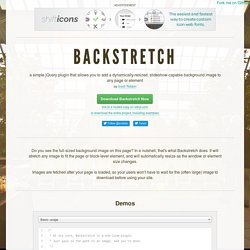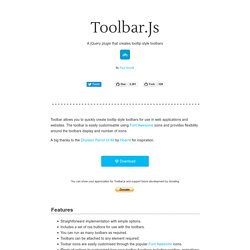 Toolbar allows you to quickly create tooltip style toolbars for use in web applications and websites. The toolbar is easily customisable using the twitter bootstrap icons and provides flexability around the toolbars display and number of icons. Download Features Straightforward implementation with simple options Can run as many toolbars as required Toolbars can be attached to any element required Toobar icons are easily customised through the popular twitter bootstrap framework Toolbars are responsive and follow the element on resize Examples
cloudfour/hideShowPassword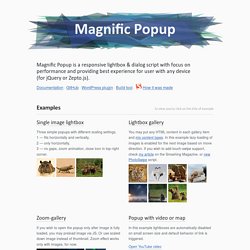 Magnific Popup is a responsive lightbox & dialog script with focus on performance and providing best experience for user with any device(for jQuery or Zepto.js). Examples Single image lightbox Three simple popups with different scaling settings. 1 — fits horizontally and vertically, 2 — only horizontally, 3 — no gaps, zoom animation, close icon in top-right corner. Lightbox gallery You may put any HTML content in each gallery item and mix content types.
Building an interactive map with jQuery instead of Flash - New M
At the end of last year, we launched a website for Coastal & Marine Sciences in North Carolina with one of our Agency Partners, Liaison Design Group. As a part of the project, the website was supposed to have an interactive map that showed some information and the location of the various Marine Science outposts across the state.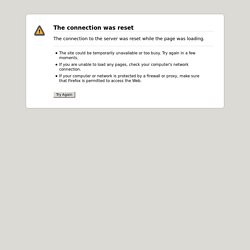 jQuery.ScrollTo by Ariel Flesler
jQuery plugin: Tablesorter 2.0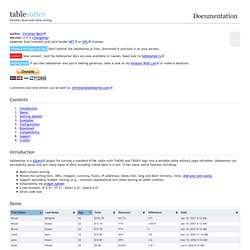 Author: Christian Bach Version: 2.0.5 (changelog) Licence: Dual licensed (just pick!)under MIT or GPL licenses.
Add comments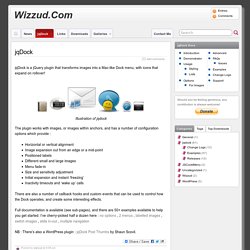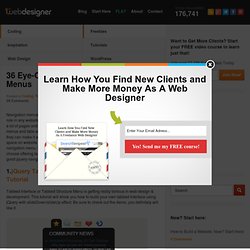 Navigation menus have really important role in any website. For big sites full with a lot of pages and articles, drop down menus and tabs are popular because they can make it a lot more easier to navigate and move through site, also you can save space on website displaying content on dynamic tabs.
Quicksand Reorder and filter items with a nice shuffling animation.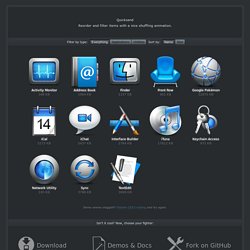 Ketchup is a small (3.4KB minified & gzipped) jQuery Plugin that helps you to validate your forms. Out of the box it has 18 basic validations and a bubble like style. But truly this Plugin wants to be hacked to fit your needs.
Ketchup Plugin