Gadges
Cowboys And Transformer? A Sneak Peek On Freddie Wong Adventure. 15 Unusual and Creative Doorstops. Modern door stoppers and creative doorstop designs that will hold your door open or closed in style.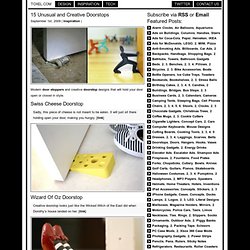 Swiss Cheese Doorstop Sadly, this piece of cheese is not meant to be eaten. It will just sit there holding open your door, making you hungry. [link] Wizard Of Oz Doorstop. Gadgets :: Electronic Gadgets. Flaske lås. Clock mechanical gadgets robotic. Wholesale Technolgy Giftware Gadgets Gifts Pricethriller UK.
Lifestyle Gadgets - Cool Gadgets at Lowest Prices, Free Worldwide Shipping. Davinci Code Cryptex | Toys & Collectibles. iPod Nano Watch (6 pics + video) Finally...a reason to get the new iPod Nano!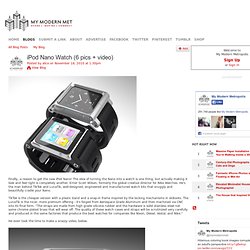 The idea of turning the Nano into a watch is one thing, but actually making it look and feel right is completely another. Enter Scott Wilson, formerly the global creative director for Nike Watches. Modern Innovative Technology | Interesting, Phone, Actually, Have, Air. Gadgets are more unusual and more clever than normal technological objects and that makes them gain popularity.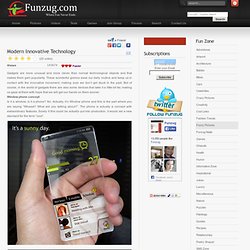 These wonderful gizmos ease our daily routine and keep us in contact with the innovative movement, making sure we don't get stuck in the past. But of course, in the world of gadgets there are also some devices that take it a little bit far, making us gaze at them with hope that we will get our hands on them sooner.Window phone concept Is it a window, is it a phone? No. Actually, it's Window phone and this is the part where you are saying "Whaaat?
Get_smart_swiss_knife.jpg (JPEG Image, 789x515 pixels) Since 1999 home of design culture, leading independent publication for design, architecture, art, photography and graphics. Eight great gadgets for college dorms | All the latest gadgets: the Gadget Guy | tampabay.com & the St. Petersburg Times. It's almost time for college students to begin fall classes, so I thought it would be good to compile a list of gadgets for college dorms and apartments.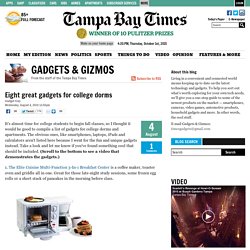 The obvious ones, like smartphones, laptops, iPads and calculators aren't listed here because I went for the fun and unique gadgets instead. Take a look and let me know if you've found something cool that should be included. (Scroll to the bottom to see a video that demonstrates the gadgets.) Replace Your Bulky Keychain - Keyport Slide and Blades | Keyport, Inc. Keyport products are proudly designed, manufactured, and assembled in the USA.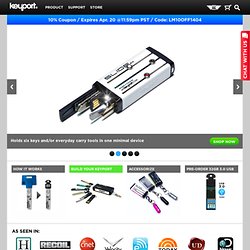 Keys have been around for centuries and they aren't going anywhere anytime soon. Keychains however, are a thing of the past. Each Slide has a unique serial number. Home. SpyNet Mission Video Watch. Gadget News from The Gadget Show. This silicone sleeve turns your iPhone into a Game Boy!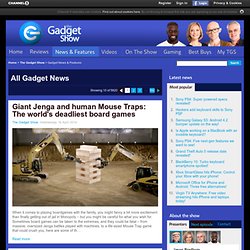 When it comes to gaming on your phone, it's either swiping bliss or on-screen button rage, but luckily, there's a fix on the way to make the latter pains go away. It's called the G-Pad, a simple silicone sleeve that slides around your iPhone, and brings a d-pad and physical buttons to turn your iPhone into the ultimate Game Boy handheld. Fancy one of these? Designer Aws Jan is attempting to … Spy Cameras. Gadget | TechnoGadge. Gadgets. LG Tech Show India Full Coverage LG Electronics exhibited its Technology products at New Delhi on April 23rd, 2013 revealing some of the groundbreaking products.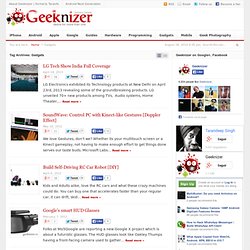 LG unveiled 70+ new products among TVs, Audio systems, Home Theater,… Gadgets on Geeky Gadgets - Page 3. Wholesale Hardware Tools from Sourcingmap - Page 1. Home Narrow by Category Automotive Parts & Tools Beauty, Health & Personal Care.
Metal Gadgets. Awesome flexible concept computer – Integral Cord | Sclick. June 8th, 2011 admin Advertisements Regardless of desktop computer or laptop, both with the shape of traditional style, but this flexible concept computer 'Integral Cord' designed by Raphael Lang, Yu-Lin Hou and Stephen Chan Win Tak from Germany is absolutely refreshing, the designers integrate all the hardware devices into flexible coil.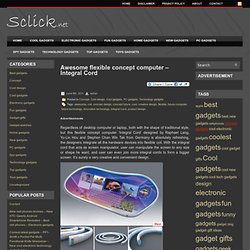 With the integral cord that acts as screen manipulator, user can manipulate the screen to any size or shape he want, and user can even join more integral cords to form a bigger screen. Metal Gear Solid 4 Bluetooth Headset Takes Crown For Best Headset Ever - Gizmodo. Cool Mods – Metal Gear Solid 4 rubber band gun. Check out this fun rubber band gun, which is based on the game, Metal Gear Solid 4 for the PS3.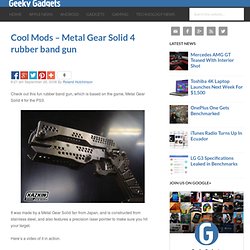 It was made by a Metal Gear Solid fan from Japan, and is constructed from stainless steel, and also features a precision laser pointer to make sure you hit your target. Here's a video of it in action. Very cool, it certainly looks like a lot of work went into making this fun rubber band gun. Kazkin (Japanese) via Fanboy and Slippery Brick. GadgetHeat - Hottest Tech Gadgets On The Web. Untitled. Sony Nextep Computer Concept for 2020 by Hiromi Kiriki. In 2020 We Can Wear Sony Computers On Our Wrist Our present need for internet connectivity is so profound that secondary devices like the Nextep Computer are bound to happen.
Developed to be worn as a bracelet, this computer concept is constructed out of a flexible OLED touchscreen. Video. Radiostyrt på CoolStuff.
---