Dictionaries
Vocabular
plege : Englisch-Deutsch
Wie kann ich Übersetzungen in den Vokabeltrainer übernehmen? Sammeln Sie die Vokabeln, die Sie später lernen möchten, während Sie im Wörterbuch nachschlagen. Die gesammelten Vokabeln werden unter "Vokabelliste" angezeigt. Wenn Sie die Vokabeln in den Vokabeltrainer übernehmen möchten, klicken Sie in der Vokabelliste einfach auf "Vokabelliste übertragen". Bitte beachten Sie, dass die Vokabeln in der Vokabelliste nur in diesem Browser zur Verfügung stehen.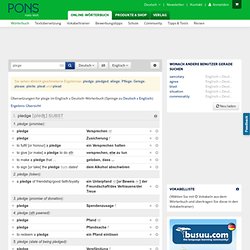 We have corpus-informed dictionaries for English language learners at all levels. They're ideal for anyone preparing for Cambridge English exams and IELTS. New Chinese, Polish and Russian dictionaries It's now easier than ever to find the meaning you want. For speakers of Chinese, Polish and Russian we've added three new bilingual dictionaries to Cambridge Dictionaries Online.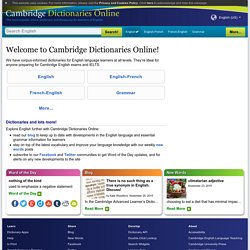 Top Contributors What's this? This list shows the most active German-English contributors. If you want your name and link to appear here, please read the introduction, sign up and add or review translations, inflections or audio recordings. Your user name, linked to your profile page, will appear here one minute after you reach position 10 or better. If you add a link to your account information, it will be displayed here as soon as you reach a voting power of 3.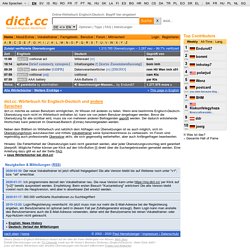 Kostenlose Übersetzungen beim Deutsch-Englisch online Wörterbuch odge.de - Aktuell mit mehr als 420.000 Begriffen. Das kostenlose Wörterbuch im Internet Das odge (Online Dictionary German-English) bietet Ihnen mehr als 210.000 Wörter und die dazu passenden Übersetzungen. Mit unserem Service müssen Sie nicht mehr Wörterbücher aus Papier wälzen - ein Klick genügt. Dieser Service ist garantiert völlig kostenlos für Sie.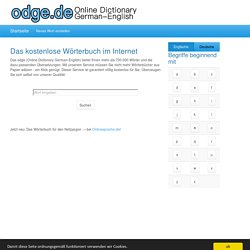 odge Wörterbuch - Übersetzung Deutsch-Englisch
Online Wörterbücher Englisch, Französisch, Spanisch, Russisch, D
- Englisch Übersetzung | Technik-Wörterbuch
Dictionary with example sentences
Wörterbuch Englisch - Deutsch Spanisch - Deutsch
Kurz vor Weihnachten haben wir noch ein kleines Schmankerl: die Flexionstabellen für die deutschen Nomen stehen ab sofort wieder zur Verfügung. Die ursprüngliche Version war leider zu fehlerbehaftet, so dass wir diese erst komplett überarbeiten wollten, um einen echten Nutzen bieten zu können. Ab sofort können Sie also wieder durch einen Klick auf das Tabellenbildchen (siehe links) diese Zusatzinformationen erreichen.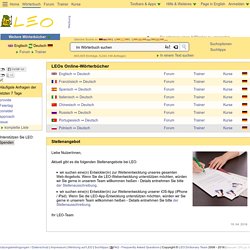 Visuwords™ online graphical dictionary — Look up words to find their meanings and associations with other words and concepts. Produce diagrams reminiscent of a neural net. Learn how words associate. Enter words into the search box to look them up or double-click a node to expand the tree.