Dictionaries
Vocabular. Plege : Englisch-Deutsch. Wie kann ich Übersetzungen in den Vokabeltrainer übernehmen?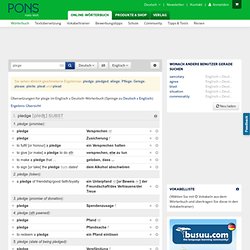 Sammeln Sie die Vokabeln, die Sie später lernen möchten, während Sie im Wörterbuch nachschlagen. Die gesammelten Vokabeln werden unter "Vokabelliste" angezeigt. Wenn Sie die Vokabeln in den Vokabeltrainer übernehmen möchten, klicken Sie in der Vokabelliste einfach auf "Vokabelliste übertragen". Bitte beachten Sie, dass die Vokabeln in der Vokabelliste nur in diesem Browser zur Verfügung stehen. Cambridge Dictionary Online: Free English Dictionary and Thesaurus - Cambridge University Press - Cambridge Dictionaries Online - Cambridge University Press. German-English dictionary.
Odge Wörterbuch - Übersetzung Deutsch-Englisch. Online Wörterbücher Englisch, Französisch, Spanisch, Russisch, D. - Englisch Übersetzung | Technik-Wörterbuch. BusinessDictionary.com - Online Business Dictionary. Dictionary with example sentences. Wörterbuch Englisch - Deutsch Spanisch - Deutsch. LEO Deutsch-Englisches Wörterbuch. Free online Dictionary of English Pronunciation - How to Pronounce English words. Visuwords™ online graphical dictionary. The Urban Dictionary.
---