Skhan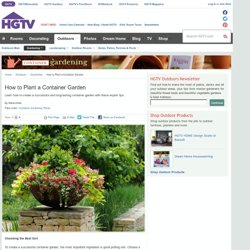 How to Plant a Container Garden : Outdoors
Choosing the Best Soil To create a successful container garden, the most important ingredient is good potting soil. Choose a mixture that provides a good combination of excellent drainage and aeration.
Bocce Ball court - modern - landscape - san francisco - by Huettl Landscape Architecture
WinnipegSept
Easy%20as%201%202%203
Quiet_Mouth_SocialStory
Raising_Hand_Social_Story
ChoicesandHaveToDo
7-up Sentences
www.ttms.org/PDFs/01 Writing Strategy Guide v001 (Full).pdf
Words Their Way Games and Activities
Power+Of+Ten+Workshop+SETSA
WinnipegN-2
GCU5_FG_MultiplyingDividing
distributive property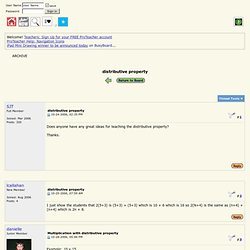 i have my kiddos memorize the "key/clue" words that go along with each property ... for example distributive - key clue "pass out" ... i give the example that the number on the outside of the parenthesis is like a stack of papers to be "passed out" and the numbers on the inside of the parenthesis are the students receiving the papers ... 4(3+2) = (4*3) + (4*2) is like ....
Big+Idea+K-3Part+3
AlbertaK-3
GCU5_SB_MultiDividing
Marian%20Small%20April%202009%20DI%20-%20final
9780807753200_tasks
9780807753910_K2
Overview - modern - landscape - san francisco - by Arterra LLP Landscape Architects
Gorgeous Landscapes : Outdoors
Sunol Landscape - modern - landscape - san francisco - by Huettl Landscape Architecture
What is Modernist Garden Style? : Outdoors
Landscape Update: From Weedy Backyard to Geometric Design : Outdoors
An awkward and barren backyard is transformed into a geometric-inspired entertaining area. Tools E-mail This Page to Your Friends x Success! A link to Landscape Update: From Weedy Backyard to Geometric Design was e-mailed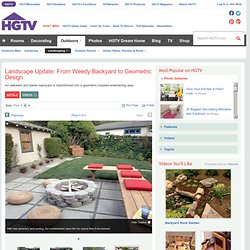 Quotes / Words of wisdom
Greek-Style Stuffed Peppers Recipe
For the longest time my quick, go-to Chicken Pot Pie recipe involved canned cream of chicken soup and a homemade biscuit topping. I"m *trying* to stay away from processed foods and to feed my family more naturally, so I came up with this recipe. Which, in my mind, tastes way better then the original anyways. I simplified it with an even easier biscuit topping, using the homemade bisquick mix that I always keep on hand in my fridge. The cheesy sauce is such a breeze to make that it honestly hardly takes any longer then throwing in a can of soup, and the yummy taste and healthful benefits more then make up for it. The added cheese in the crust really puts this over the top for me, making it that much more hearty and comforting.
Quick & Cheesy Chicken Pot Pie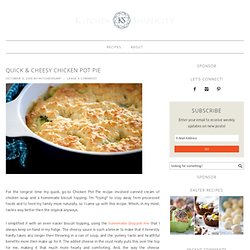 Though close to the real deal, this recipe is NOT how traditional saltfish buljol is made. My dad would tell us that his grandparents buljol was very simple.. shredded saltfish topped with hot oil. Sliced onions, hot peppers and tomato if you were lucky enough to have those things. In the Caribbean saltfish is "king". Used on it's own or as a flavour enhancer, it's now found in many dishes up and down the Caribbean chain of islands.
My take on saltfish buljol.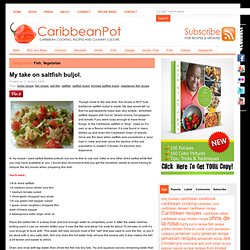 Vegetarian Thai Curry with Udon Noodles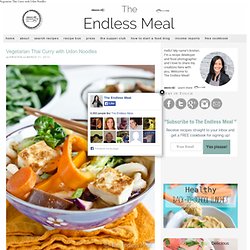 Thai curry is one of my go-to comfort meals. I'm almost embarrassed to admit how often I eat it. The rich, slightly spicy, and super flavourful coconut broth does it for me every time. One of the best things about this recipe is how flexible it is. You can add any veggie you like and switch the tofu for chicken, beef or even seafood. Instead of the udon noodles you can serve it with rice, quinoa or any other grain.
A delectable stewed beef recipe, the Caribbean way. 
If you've been reading this blog for a while you may have come to the conclusion that the majority of dishes we prepare includes the process of "stewing". Unlike what's considered a stew in places like Canada and the US, our stews are based on the principle of caramelizing the meats to give it that so-unique brown colour and that marvelous flavour. But that very far from the truth, as our food culture is highly influenced by the many different races that make up the vibrant melting pot the Caribbean is. Today we'll take a look at one of my dad's most beloved dishes, stew beef! Similar in every aspect of the other stewed dishes I've posted, except this one will take a bit longer to cook (to ensure that the meat is fall-off-the-bone tender) and we're using beef, rather than chicken or pork. You'll need…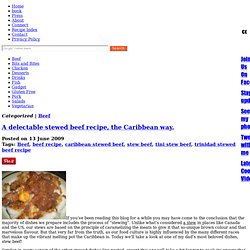 After posting the geera pork recipe a while back, there were several emails from people who don't eat pork wanting a different option. Though I'm a bit late with this geera chicken recipe, this one is for all the pork haters. Geera (aka cumin) is used to give this sort of bar food (similar to how you'd find tapas in Spain) a strong 'spice' base and the garlic, herbs and habanero (scotch bonnet peppers are normally used) pepper gives it that unique Caribbean kick. As I've mentioned in the past, geera is one of those few spices I just don't appreciate, so this dish is not made often in our kitchen.
How To Make Geera Chicken.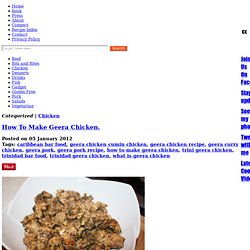 Banana Bread Pudding.  
Banana bread pudding is one of those things I don't recall being made in our home growing up as the dessert of choice was always cake. My mom is a serious baker when it comes to cakes… but traditional stuff and not those fancy ones you see in the cookbooks and on the Food Network. I'm still to find a cake which rivals her fruit cake. Not the heavy rum/fruit cake that's so famous in the Caribbean, but a much lighter version. Maybe I'll get her to share the recipe when she's back from the Caribbean where they (mom and dad) usually do their winters.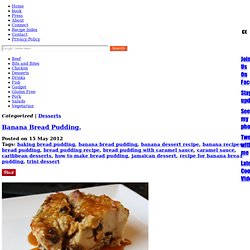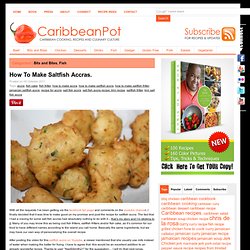 How To Make Saltfish Accras. 
With all the requests I've been getting via the facebook fan page and comments on the youtube channe l, I finally decided that it was time to make good on my promise and post the recipe for saltfish accra. The fact that I had a craving for some salt fish accras had absolutely nothing to do with it – that's my story and I'm sticking to it . Many of you may know this as being cod fish fritters, saltfish fritters and/or fish cake, as it's common for our food to have different names according to the island you call home. Basically the same ingredients, but we may have our own way of personalizing the overall recipe. After posting the video for this saltfish accra on Youtube , a viewer mentioned that she usually use milk instead of water when making the batter for frying. I have to agree that this would be an excellent addition to an already wonderful recipe.
I think it was about 6 years ago when for my birthday, we (my sister and I) surprised our parents with a visit down the islands. That visit marked the first time in about 15 years that my mom had all of her children in the country at the same time. My sister who lives in Trinidad knew of our planned visit, but my mom, dad and brother (who now lives in NY) didn't – Yea! it was a good birthday gift for me… to all be under one roof. On that trip, we spent a couple days on the sister island of Tobago and one night while out a bar called "Shade" I recall my sister asking me if I'd like a cup of corn soup.
A Delectable Corn Soup Recipe. 
Pinterest
Jonesing for Pineapple Chow
Okay guys. Last Thursday night, I finished off my own test version of a Maracas beach style pineapple chow. (Insert shameless belch here.) I told myself there wouldn't be any photos, because I didn't know how the result would turn out, but I knew how I hoped it would turn out. Was this a night vaps? Definitely yes, and all the more weird because I came home tired as hell from another draining workdayintoevening and stepped into the kitchen to find these… well, they were actually a trio before I hewed into the smallest of the three.
Game day tomato and saltfish? 
Raspberry Oatmeal Crumb Pie
Pinterest
Pinterest
6. share
1. install the pearler