Tech
Make your Mac Emulate the Verizon 'Droid' Robot Voice - PCWorld. Verizon has a good thing going with its Droid branding for its lineup of Android-powered smartphones.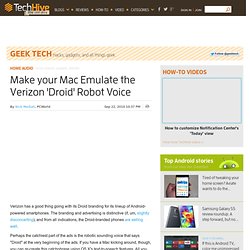 The branding and advertising is distinctive (if, um, slightly disconcerting), and from all indications, the Droid-branded phones are selling well. Perhaps the catchiest part of the ads is the robotic sounding voice that says "Droid" at the very beginning of the ads. If you have a Mac kicking around, though, you can re-create this catchphrase using OS X's text-to-speech features.
All you need to do is open the Terminal in the utilities folder, enter the following command (via Twitter), and hit the Enter key: say -v cellos droid. Mozilla Firefox. Automate Your Home With Four Easy Projects - PCWorld. The home of the future unlocks the door and turns on the lights when you arrive, brews coffee to wake you up, and automatically waters the garden.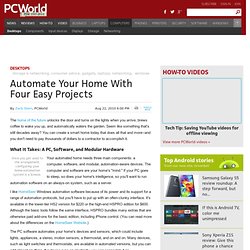 Seem like something that's still decades away? You can create a smart home today that does all that and more--and you don't need to pay thousands of dollars to a contractor to accomplish it. What It Takes: A PC, Software, and Modular Hardware Your automated home needs three main components: a computer, software, and modular, automation-aware devices. How to Choose a Desktop Linux Distribution - PCWorld Business Center. With all the many reasons to use Linux today--particularly in a business setting--it's often a relatively easy decision to give Windows the boot.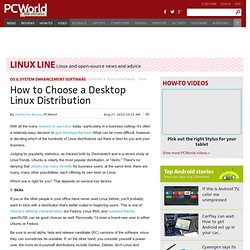 What can be more difficult, however, is deciding which of the hundreds of Linux distributions out there is best for you and your business. Judging by popularity statistics, as tracked both by Distrowatch and in a recent study at LinuxTrends, Ubuntu is clearly the most popular distribution, or "distro. " There's no denying that Ubuntu has many benefits for business users; at the same time, there are many, many other possibilities, each offering its own twist on Linux. How To Troubleshoot Your Home-Built PC - PCWorld. Building a PC is a little like walking a tightrope without a net.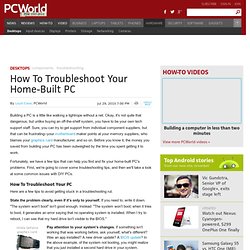 Okay, it's not quite that dangerous, but unlike buying an off-the-shelf system, you have to be your own tech support staff. Sure, you can try to get support from individual component suppliers, but that can be frustrating--your motherboard maker points at your memory suppliers, who blames your graphics card manufacturer, and so on. Before you know it, the money you saved from building your PC has been outweighed by the time you spent getting it to work.
Fortunately, we have a few tips that can help you find and fix your home-built PC's problems. First, we're going to cover some troubleshooting tips, and then we'll take a look at some common issues with DIY PCs. How to Use SSH to Transfer File on iPhone | The iPhone and iPad. If you ask me the top reason for jailbreaking iPhone, the ability to use SSH to transfer files between iPhone and computer via WiFi is my answer.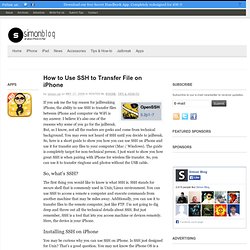 I believe it's also one of the reasons why some of you go for the jailbreak. But, as I know, not all the readers are geeks and come from technical background. You may even not heard of SSH until you decide to jailbreak. So, here is a short guide to show you how you can use SSH on iPhone and use it for transfer any files to your computer (Mac / Windows). The guide is completely target for non-technical person. Www.dd-wrt.com | Unleash Your Router. The Heartbleed vulnerability in discovered in OpenSSL 1.0.1 - 1.0.1f is one of the most serious matters in encrypted data communication during the last years.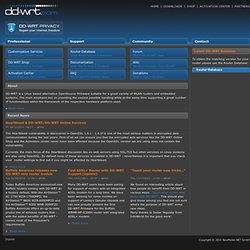 First of all we can ensure you that the encrypted web services like the DD-WRT Online Shop and the Activation center never have been affected because the OpenSSL version we are using does not contain the vulnerability. Currently the main focus of the Heartbleed discussion lies on web servers using SSL/TLS but other services on Linux systems are also using OpenSSL. JTAG Cables - OpenWrt Wiki. Forum :: View topic - JTag debricking guide for WRT54G. Hello nice people who have WRT54G's and DD-WRT!
I made this JTag Cable Debricking Guide because I bricked my router this week uploading DD-WRT v24 RC2 and spend several hours reading this forum and asking to RedHawk's (thanks buddy!) Until I figure out how to unbrick it! First of all let me be clear: 1- I'm sort of a beginner on flashing things!
---