WIkipedia
Ohana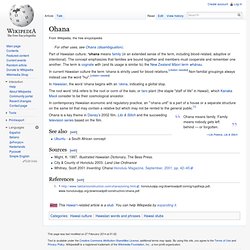 Part of Hawaiian culture, ʻ ohana means family in an extended sense of the term, including blood-related, adoptive or intentional.
The word Mamihlapinatapai (sometimes spelled mamihlapinatap e i ) is derived from the Yaghan language of Tierra del Fuego , listed in The Guinness Book of World Records as the "most succinct word", and is considered [ who?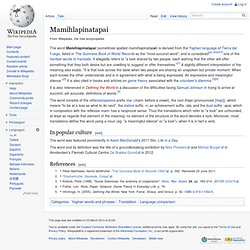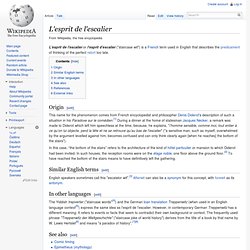 L'esprit de l'escalier or l'esprit d'escalier (literally, staircase wit ) is a French term used in English that describes the predicament of thinking of the perfect comeback too late. [ edit ] Origin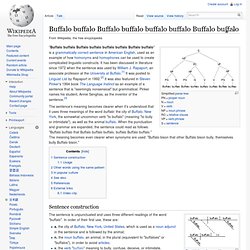 " Buffalo buffalo Buffalo buffalo buffalo buffalo Buffalo buffalo " is a grammatically valid sentence in American English , used as an example of how homonyms and homophones can be used to create complicated linguistic constructs. It has been discussed in literature since 1972 when the sentence was used by William J.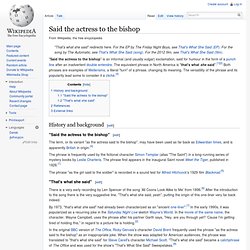 " Said the actress to the bishop " is an informal (and usually vulgar) exclamation, said for humour in the form of a punch line after an inadvertent double entendre . The equivalent phrase in North America is " that's what she said ". [ 1 ] [ 2 ] Both phrases are examples of Wellerisms , a literal "turn" of a phrase, changing its meaning.
Said the actress to the bishop
The Lion-Eating Poet in the Stone Den ( simplified Chinese : 施氏食狮史 ; traditional Chinese : 施氏食獅史 ; pinyin : Shī Shì shí shī shǐ ) is a 92-character modern poem written in Classical Chinese by Yuen Ren Chao (1892–1982), in which every syllable has the sound shi (in different tones ) when read in modern Mandarin Chinese .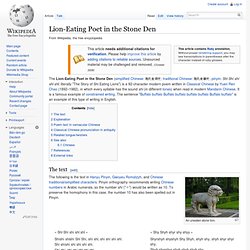 Lion-Eating Poet in the Stone Den