Web Development
Ajax (programming)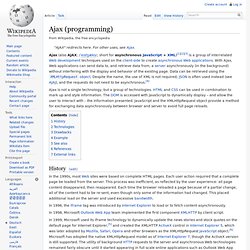 Ajax (also AJAX ; / ˈ eɪ dʒ æ k s / ; an acronym for Asynchronous JavaScript and XML ) [ 1 ] is a group of interrelated web development techniques used on the client-side to create asynchronous web applications . With Ajax, web applications can send data to, and retrieve data from, a server asynchronously (in the background) without interfering with the display and behavior of the existing page. Data can be retrieved using the XMLHttpRequest object . Despite the name, the use of XML is not required ( JSON is often used instead), and the requests do not need to be asynchronous . [ 2 ] Ajax is not a single technology, but a group of technologies. HTML and CSS can be used in combination to mark up and style information.
AJAX Matters - Asynchronous JavaScript and XML and XMLHTTP devel
DHTMLSite - Ultimate Resource on DHTML/AJAX Scripts and Tutorials
About Backbase Portal We help financials and large enterprises to upgrade their portal without replacing the current systems in use. Most portals are outdated and lack customer focus. Backbase delivers next generation portal software with powerful Web 2.0 e-business functionalities to increase revenue and acquire and retain customers. With Backbase you can turn your portal into a Customer Engagement Platform.
Rich Internet Applications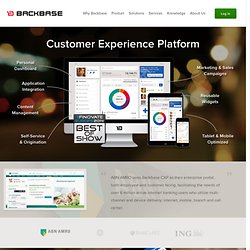 web2py - Google Code
Deciding to become a freelance worker can be a scary proposition. Sure there is an allure to picking what projects you work on, but it can also be stressful not knowing where your next paycheck will come from. Luckily there are numerous resources out there that not only help you find more work, but also loads of tools to help you do your job more efficiently with a professional edge. We've gathered over 85 tools and job sites for a variety of freelancers and web workers. While a lot of these items are focused on web design elements such as photography, programming and writing, we made sure to include something for everyone.
Avoid The 7 Deadly Web Design Sins
"Whether or not the site is designed elegantly, what really matters to me is whether the navigation is intuitive, and whether the information is organized well. Design, for as much time as we spend on it, if it's all about the visual elements, that can quickly get someone out of that site. I always try to focus on making sure the information makes sense before putting mouse on screen. Plan ahead. Get the answers before laying anything down. "Get together with your project manager and design team, and get all the info from the client before start designing.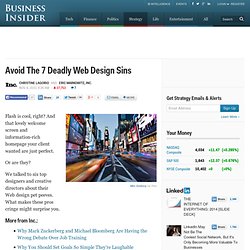 Eight ways to avoid common website design mistakes
Posted on 28 '11 Mar Posted on March 28, 2011 along with 51 JUST™ Creative Comments This article has been contributed by John K Taylor*. Everyone has a website these days, but not every website is equal. As the online environment becomes ever more crowded, you don't just need to have a website, you need to have an outstanding website. In pursuit of the perfect page, here are some of the top web design mistakes to avoid. 1.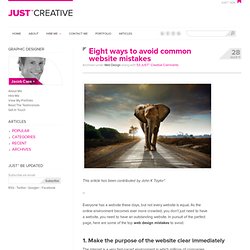 1.5.2 HTML5 Canvas Shape Fill 形状填充教程_CSS3-HTML5教程网,中文CSS3,HTML5资源网站 - 52HTML5.COM
3.7.1 HTML5 Canvas Set Stage Size with KineticJS