Self-improvement
You're Bored? That's So AWESOME. So…I saw your tweet.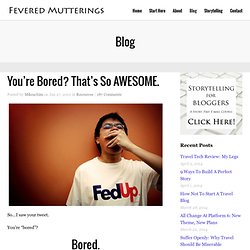 You're "bored"? I am…absolutely floored. Hopelessly lost in admiration! You are everything I aspire to be. No Excuse List. Top 40 Useful Sites To Learn New Skills | This and That... The web is a powerful resource that can easily help you learn new skills.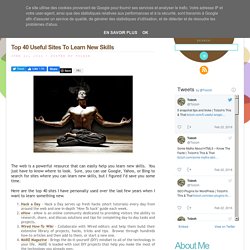 You just have to know where to look. Sure, you can use Google, Yahoo, or Bing to search for sites where you can learn new skills , but I figured I'd save you some time. Here are the top 40 sites I have personally used over the last few years when I want to learn something new. Hack a Day - Hack a Day serves up fresh hacks (short tutorials) every day from around the web and one in-depth 'How-To hack' guide each week.eHow - eHow is an online community dedicated to providing visitors the ability to research, share, and discuss solutions and tips for completing day-to-day tasks and projects.Wired How-To Wiki - Collaborate with Wired editors and help them build their extensive library of projects, hacks, tricks and tips.
50 Things Everyone Should Know How To Do. Email Self-reliance is a vital key to living a healthy, productive life.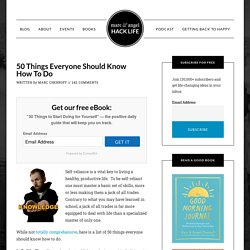 To be self-reliant one must master a basic set of skills, more or less making them a jack of all trades. Brain Training, Brain Games And Memory Programs, Brain Fitness - CogniFit. How to Win Friends and Influence People by Dale Carnegie. Rules of Life, Life Quotes, Tumblr Quotes, Relatable Quotes, Inspirational Quotes.
---