Women
by Katherine L. Record Last week, the Supreme Court attracted lots of attention when it heard arguments about whether a corporation can exclude mandatory preventive benefits from its employee health plan, based on a religious objection to certain types of healthcare. This is a tale as old as time; religion has long been the basis for opposition to reproductive (i.e., women's) health – including the preventive healthcare now in question, contraception. Yet this argument has nothing to do with government infringement on the practice of religion.
Welcome back to Rebecca, a fellow abortioneer who's agreed to spin us a MOTA (mates of the abortioneers) romance for the ages. You can go back here to read about how they first had "the A-word talk." When you're done with that, read on below for Chapter II, which in my head I've unofficially but fondly titled "My Husband Sleeps With One Eye Open
The Abortioneers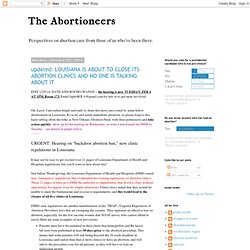 Hello Ladies | The intersection of feminism and life
Cool Mom - Funny videos on parenting and pop culture
We are back from a spring break trip to Washington DC. It was great except it snowed the first day, the last day and rained the others. Wait, there was ONE day we had clear skies. So much for "Spring". Viv, sis and I ready for sightseeing.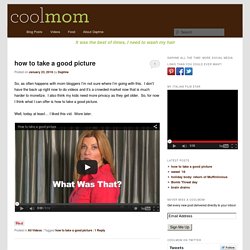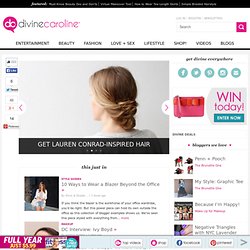 3 hours ago If you think the blazer is the workhorse of your office wardrobe, you'd be right. But this power piece can hold its own outside the office as this collection of blogger examples shows us.
"Get Out of My Exam Room" Ohio women and feminists across the nation fight back against outrageous anti-woman state restrictions and send legislators a simple message: "We Won't Go Back." Check out this in-depth update of how pro-choice activists are standing up for their rights and get on-the-ground reports of what you can do to fight back, too. Read more...
Ms. Magazine Online | More Than A Magazine - A Movement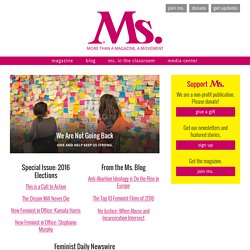 Bizzie Living | Bizzie Mommy | Tech Mom Blog | Photography | Mommy Blogger | Work at Home Mom