Sites with quotes
Motivational and Inspirational Quotes. "Never assume that your successes of yesterday will give you victory today.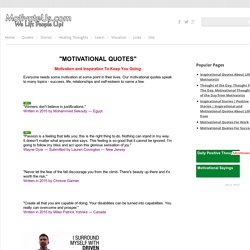 Never assume that your skills today will be relevant tomorrow. You need to continuously stay on top of your game. Keep redefining your life, keep redefining your ways, acquire more skills, you are in the game for tomorrow not for yesterday's glory. If all you can boast of are yesterday's laurels then you are done for. Your tomorrow should never be a slave to your yesterday. Wisdom. Status Den - online archive of funny Facebook status messages, Myspace quotes, Friendster shoutouts and witty one liners for use on any social profile.
1,000,000 Famous Quotes and Quotations | QuotesDaddy. LYRICS TO LIVE BY. Fred O'Bryant's Quote Collection - Volume 1.
---