To Review & Evaluate
Person.com: Free webcam chat and dating site. Crowdfunding for BugMeNot Firefox Addon | Fundry. Firefox Add-ons by InBasic. Konica by Jerod Gibson. Jeteye. Diigo - Web Highlighter and Sticky Notes, Online Bookmarking and Annotation, Personal Learning Network. What are you working on?
Ntact. Contact Relatively few of the mails I receive are legitimate, so in order to help me spot that your mail is a legitimate one, please put the word "stickies" somewhere in the subject.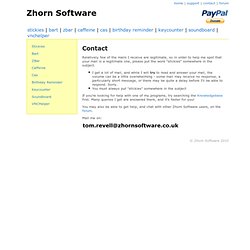 I get a lot of mail, and while I will try to read and answer your mail, the volume can be a little overwhelming - some mail may receive no response, a particularly short message, or there may be quite a delay before I'll be able to respond. Sorry. You must always put "stickies" somewhere in the subject.
---