Training and Rollout
Static.googleusercontent.com/external_content/untrusted_dlcp/www.google.com/en/us/support/enterprise/static/gapps/docs/admin/en/gapps_pilot/gapps_pilot_guide. Apps for Education - Mister Sill. 742tech.weebly.com/uploads/2/8/3/5/2835521/google_apps_manual.pdf. Www.wpcc.edu/uploads/file/pdfs/WPGoogle_instructions.pdf. Www.northcantonschools.org/files/Introduction_to_Google_Apps_for_Students.pdf. Mr. B's Google Training Site. This site is designed to help you learn about Google Apps for Education (GAFE) and other technological tools that Google (and others) have created.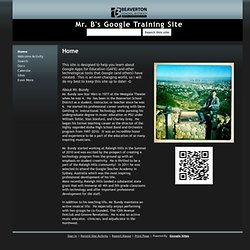 This is an ever-changing world, so I will do my best to keep this site up to date! -G About Mr. Bundy. Getting Started Modules (replaced) Video Training: Rolling Out Google Apps.
---