Mathematics
Mathematics Common Core State Standards and Model Curriculum. Skip navigation Skip to main content SAFE | State Agencies | Online Services Follow Home > Academic Content Standards > Mathematics Mathematics.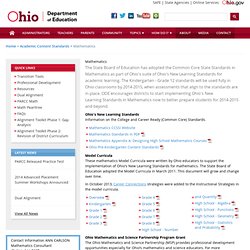 Tools for the Common Core Standards | News about tools that are being developed to support implementation of the Common Core State Standards. Welcome to the Inside Mathematics Website. The University of Arizona - Institute for Mathematics & Education.
The Common Core State Standards in Mathematics (CCSSM) provide a unique opportunity in the history of education in our country.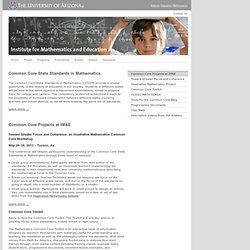 Students in different states will be held to the same rigorous achievement expectations, aimed to prepare them for college and careers. This consistency in desired achievement leads to the possibility of increased collaboration between different states involving teachers and school districts as we all work towards the same set of standards. Mathematics.
---