Mathematics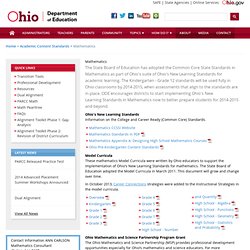 Skip navigation Skip to main content SAFE | State Agencies | Online Services | ODE Website Archive Follow Home > Academic Content Standards > Mathematics Mathematics
This is a guest post by Morgan Saxby, a fifth grade teacher in Chesterfield County, Virginia, who works with Illustrative Mathematics. Morgan has begun writing lesson plans to accompany published mathematics tasks. A clear step after developing high-quality mathematical tasks is to develop accompanying lesson plans.
The University of Arizona - Institute for Mathematics & Education
The Common Core State Standards in Mathematics (CCSSM) provide a unique opportunity in the history of education in our country. Students in different states will be held to the same rigorous achievement expectations, aimed to prepare them for college and careers. This consistency in desired achievement leads to the possibility of increased collaboration between different states involving teachers and school districts as we all work towards the same set of standards.