Blogs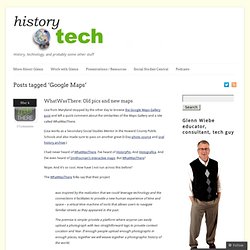 WhatWasThere: Old pics and new maps Lisa from Maryland stopped by the other day to browse the Google Maps Gallery post and left a quick comment about the similarities of the Maps Gallery and a site called WhatWasThere. (Lisa works as a Secondary Social Studies Mentor in the Howard County Public Schools and also made sure to pass on another great D-Day photo source and oral history archive.) I had never heard of WhatWasThere. I've heard of HistoryPin. And Histografica.
Google Maps
Vytheeshwaran Vedagiri's Blog | My blog on science, teaching and education
This post is dedicated to classrooms which are shielded from the influence of Web 2.0, technophobes, and those who want to take a break from the LCD screens. I like these games in particular because they are very simple and moreover can be applied in any subject, ranging from mathematics to social sciences to languages. While theoretical subjects can capitalize on these games to improve the knowledge of the learners, languages can focus on the speaking skills, fluency and vocabulary aspects. Although, I'm writing this with young learners in my mind, these games can also be used for adult learners. I'm listing some of my favourite games in this post.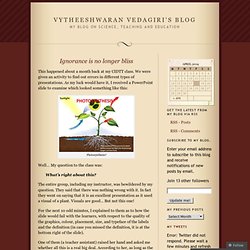 A Screencast and tutorial on Navigating this site is available here and on the Video Pagehttp://edupln.ning.com/video/a-screencast-on-how-to-1 Please feel free to make suggestions for improvement of this site. Profile PictureTo add a picture to your profile simply use any picture you have filed. If you need one, take a cellphone shot of yourself and email it to your own email account. Download the Pic file and then upload it to your ning profile picture. Page Navigation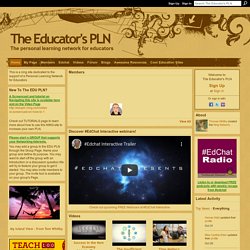 Better Beginnings: how to start a presentation, book, article...
« Dilbert and the zone of mediocrity | Main | Why does engineering/math/science education in the US suck? » Better Beginnings: how to start a presentation, book, article... You are in a dimly lit room. You are alone on a stage before an audience of 1,000. 10 minutes into your presentation, your hands no longer shake or sweat. This is going well, you think.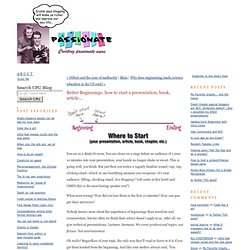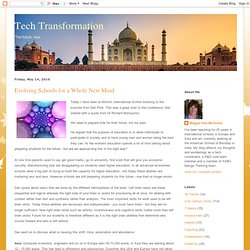 Evolving Schools for a Whole New Mind
Today I have been at Munich International School listening to the keynote from Dan Pink. This was a great start to the conference. Dan started with a quote from Dr Richard Moniuszko: We need to prepare kids for their future, not our past.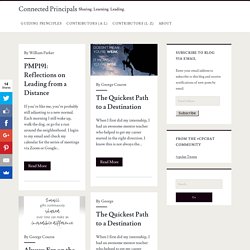 In our continued quest to gain more information about students' learning, growth and progress, a standards/competency-based grading system has provided our school and our district timely, detailed information regarding the specific competencies that students have (or have not) demonstrated proficiency… Read more → A few months ago I was planning to attend a principal's meeting near my state capital. Since I was going alone, I asked a principal friend from a neighboring district if we could ride together. Little did I know how…
Will Richardson's Wiki - Information Literacy
Skype is a free downloadable software that lets you do voice and video calls combined with instant messaging for free. The possibilities of Skype to flatten your classroom are endless.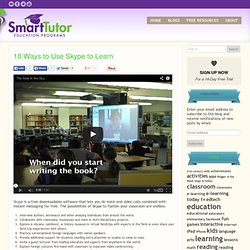 10 Ways to Use Skype in the Classroom
Community | Edublogs - teacher and student blogs
New members, please sign up with your school email account. Third-party internet email accounts, such as Gmail, Yahoo, MSN, etc., cannot be approved at this time due to our SPAM settings. Thank you, and we welcome you all to Curriculum 21! HOST A GUEST TEACHER The Teachers of Critical Languages Program (TCLP) places EFL teachers from China and Egypt in U.S. K-12 host schools for an academic year where they teach Arabic or Mandarin language and culture. This program aims to increase the number of Americans teaching and learning these critical languages.
Welcome to GETideas.org – A Community for Education Leaders | GETideas.org