Blogs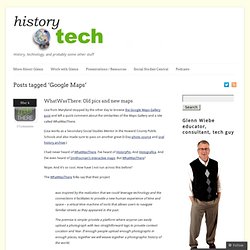 Tip of the Week: Updated Google Earth Tour Guide Feature is Sweet The title should really read Sweeeeet – with a lot of extra eeee's. Because Google Earth's latest update incorporates an incredibly tasty feature. Called Tour Guide, the feature provides guided excursions to and through a wide variety of geographic places, both famous and obscure. There are over 100,000 tours in 200 countries with more than 1,000,000 photos now available – from flying tours of the Roman Coliseum to Dodge City's Boot Hill. Read more
Google Maps
Vytheeshwaran Vedagiri's Blog | My blog on science, teaching and education
Better Beginnings: how to start a presentation, book, article...
« Dilbert and the zone of mediocrity | Main | Why does engineering/math/science education in the US suck? » Better Beginnings: how to start a presentation, book, article... You are in a dimly lit room. You are alone on a stage before an audience of 1,000. 10 minutes into your presentation, your hands no longer shake or sweat. This is going well, you think.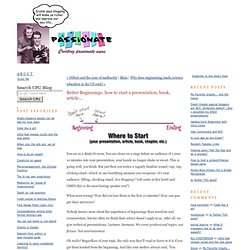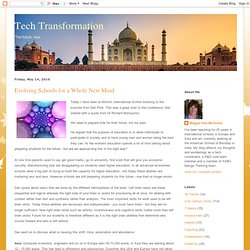 Evolving Schools for a Whole New Mind
Today I have been at Munich International School listening to the keynote from Dan Pink. This was a great start to the conference. Dan started with a quote from Dr Richard Moniuszko: We need to prepare kids for their future, not our past.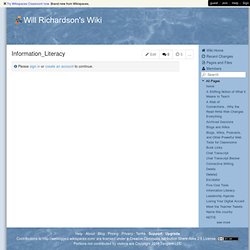 Will Richardson's Wiki - Information Literacy
You are not a member of this wiki. Join now Dismiss guest | Join | Help | Sign In
Skype is a free downloadable software that lets you do voice and video calls combined with instant messaging for free. The possibilities of Skype to flatten your classroom are endless. Interview authors, astronauts and other amazing individuals from around the world. Collaborate with classrooms, businesses and more in multi-disciplinary projects.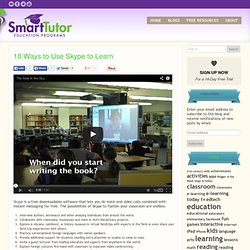 10 Ways to Use Skype in the Classroom
Community | Edublogs - teacher and student blogs
Teachers | Welcome to NCS-Tech!
Curriculum21
Welcome to GETideas.org – A Community for Education Leaders | GETideas.org