Videos/Independent Learning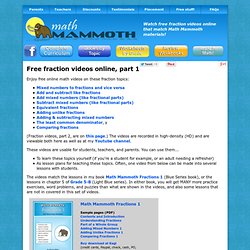 Enjoy free online math videos on these fraction topics: (Fraction videos, part 2, are on this page .) The videos are recorded in high-density (HD) and are viewable both here as well as at my Youtube channel . These videos are usable for students, teachers, and parents. You can use them...
Free fraction videos online
WiredMath.ca is a free math website with games, lessons, challenges and enrichment. It is created for middle or junior high school grade 7, grade 8, grade 9, and grade 10 students, teachers, parents and tutors. Many of the exercises increase enjoyment, confidence and ability in mathematics and are good for homework and test preparation. The exercises can also be used for enrichment with students in grades 4, 5 and 6.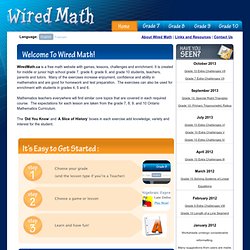 Wired Math - Games, Lessons, and Resources for Grades 7, 8, 9, and 10
Waldomaths - mathematical applets and videos for 11- to 19-year-olds
Tweets From December & January October 31, 2012 Pat McKeague will present a lecture today at Harper College in Illinois to celebrate International Education Week. McKeague will present the lecture " Islam and Mathematics: A Story of Cooperation and Peace," focusing on the way cultures have cooperated to advance the study of mathematics. June 21, 2012 Some Advice for New Teachers The first in a series of videos on teaching.