KONY 2012
Alexander Smith. Kony 2012: the reaction | Politics. The Kony 2012 film about the Ugandan warlord Joseph Kony and his child abductions has become a Facebook phenomenon, viewed nearly 76m times, and prompting reactions from the British, American and Ugandan governments.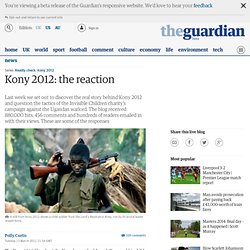 But it has also triggered fierce debate online. While advocates say it has brought attention to the plight of child soldiers in Africa, many Ugandans have questioned the tactic claiming that the portrayal of their country is out of date. The blog we ran on the story last week, Kony 2012: what's the real story? Has been read 880,000 times. KONY 2012 Update: Al Jazeera Launches "Uganda Speaks" In light of the worldwide spotlight on the non-profit organization Invisible Children and its viral YouTube video Kony 2012, Al Jazeera English has launched "Uganda Speaks," an initiative to track down the voices of the people who have largely been missing from the debates regarding the viral video and its organizers.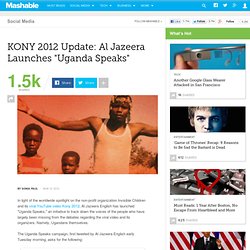 Namely, Ugandans themselves. The Uganda Speaks campaign, first tweeted by Al Jazeera English early Tuesday morning, asks for the following: Al Jazeera's online platform for Uganda Speaks features an interactive map showing the different locations where views are filtering in from, as well as highlights the crowd-sourced, time-stamped views — cited as "reports" — on a stream. At the time of writing, the majority of reports were coming from Kampala, the largest city and capital of Uganda. "It is now too little too late," "Skeptical about Kony 2012," "African Forces Should Stop Kony" and "Hysteria" were just some of the headlines on the stream. Joseph Kony. Joseph Kony (pronounced IPA: [koɲ];[7] born sometime between July and September 1961)[1] is the leader of the Lord's Resistance Army (LRA), a guerrilla group which used to operate in Uganda.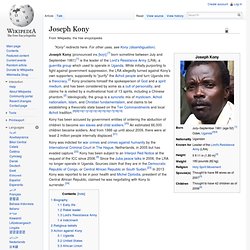 While initially purporting to fight against government suppression, the LRA allegedly turned against Kony's own supporters, supposedly to "purify" the Acholi people and turn Uganda into a theocracy.[2] Kony proclaims himself the spokesperson of God and a spirit medium, and has been considered by some as a cult of personality, and claims he is visited by a multinational host of 13 spirits, including a Chinese phantom.[2] Ideologically, the group is a syncretic mix of mysticism, Acholi nationalism, Islam, and Christian fundamentalism, and claims to be establishing a theocratic state based on the Ten Commandments and local Acholi tradition.[8][9][10][11][12][13][14][15][16][17][18][19]
Kony 2012 video screening met with anger in northern Uganda | World news. It had been viewed more than 77m times around the world, but not by those who know the Joseph Kony best: his victims in northern Uganda.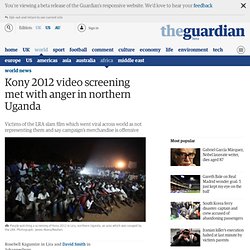 That changed on Tuesday night when thousands flocked to watch Kony 2012, the video made by a US charity urging a grassroots campaign against the fugitive warlord that has gone viral. The film was projected on to an ersatz cinema screen fashioned from a white sheet, held up by metal poles, in a town park.
The reaction? Puzzlement, then anger, which boiled over into scuffles and stone-throwing that sent organisers fleeing for cover. Joseph Kony's victims aghast at 'white' campaign. Kony victims jeer 2012 film Victims of warlord Joseph Kony question the motives behind the film Kony 2012 after a screening in northern Uganda. 15, 2012 It had been viewed more than 77million times around the world, but not by those who know Joseph Kony best: his victims in northern Uganda.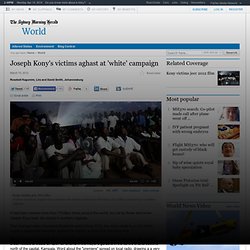 Joseph Kony 2012: film passes 100 million views as it becomes most successful viral video of all time.
---