3d related sites
Render Farm - Cloud Render Farm with 2,000 Render Nodes | Fox Render Farm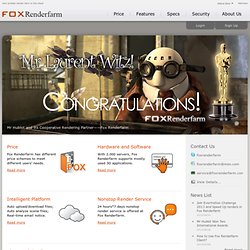 The New 'Cloud' Era With 2.000 powerful render nodes, Fox Renderfarm aims at providing state-of-the-art cloud render service with the whole CG industry. By using the cloud computing technology, Fox Renderfarm is able to fulfill clients' demands and help them deliver quality works before deadline. Though the Cloud technology develops and changes rapidly, Fox Renderfarm will keep up with the pace of the Cloud era and provide better and faster cloud render service with our clients.
2.61 Cycles render benchmark
Blender Cycles Benchmark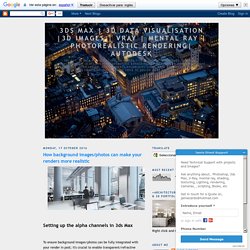 The above 3D Images were created and rendered whilst at Glass Canvas Productions Lighting a scene realistically is one the most challenging aspects of producing photorealistic renders. The following article/tutorial will focus mainly in easy techniques to help users achieve acceptable results, even when working on relatively bare/simple scenes. One of the preliminary steps often taken to light up a scene realistically, is to create a clear definition between dark and bright areas: Depth. To achieve this, simply ensure that, there's enough distance between each light in the scene.
Here is the full version with more images. Last year we did some background animations for Britney Spears Femme Fatale Tour, the first number we worked on was for the song Big Fat Bass. Here is a quick explanation of the methods i used to get animations and renders done in a very short deadline time frame required by the client without loosing the quality and look expected for the show. We used 3ds Max 2011 with Mental Ray and After Effects CS5 through the whole process.
Britney Spears Big Fat Bass Backdrop Making Of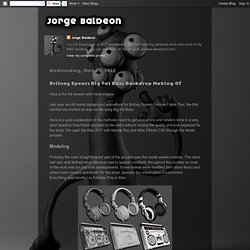 3ds Max Tutorial « Polygon Blog 3D – 3ds Max Tutorials
Here are all tutorial posts. Each of them includes a step by step 3ds Max tutorial. 3D Snow 07 Jan 2012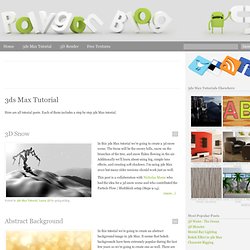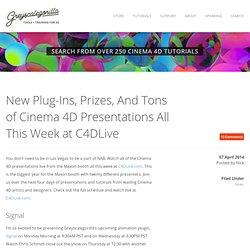 Congratulations to Michael Rinnan for winning the Five Second Project for March. His entry had a great concept and was outfitted with excellent lighting, atmosphere, camera movements and sound design. We wanted to know a little bit more about Michael's entry, so we asked him a few questions regarding his workflow and the process for creating his winning piece. Where do you work?
Hello World! As promised (but later than I promised), some news about the new 3ds Max 2014 release that may not be immediately obvious. One thing we changed in 3ds max 2014 was the thread priority of the mental ray render threads - they now default to "Below Normal", and when rendering in the background (i.e. via Backburner), one notch lower than that. Most people praise this, and say things like "Woohoo, I can finally read my email while rendering" or "When we use the sales departmens machines as render slaves, they don't even know we are doing it any more, mouhahaha, hahaha, ha ha ha haaaaaaaaaaaaaa" However, once or twice someone says things like "Hey, my 3d screen saver on my render slave took all the CPU and now my render is still at 1% a week later, you suck!!" So the question is - can this behaviour be changed?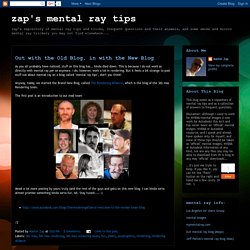 r a m y h a n n a . c o m: Efficient Interior Lighting with mental ray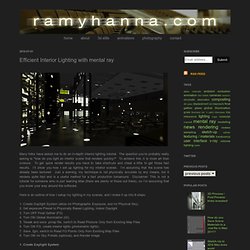 Many folks have asked me to do an in-depth interior lighting tutorial. The question you're probably really asking is "how do you light an interior scene that renders quickly?" To achieve this, it is more art than science. To get quick render results you have to take shortcuts and cheat a little to get those fast results. I'll show you how I set up lighting for my interior scenes.
Following up on the 52 Weekly Best Visualizations posted two days ago, I'm proud to present now the selected 12 BEST of MONTH visualizations of 2013! It was far from easy to make this selection of the 12… but for each month – There can be only one! Each will get a 100 Euro Voucher, to spend on great looking 3D furniture models by Designconnected. the BEST OF YEAR is coming next! Read More You have seen these during the year on the newsletter (signup), but here they all are – The 52 Best Visualizations of 2013, selected each week from the works posted on the forums Finished Work Section.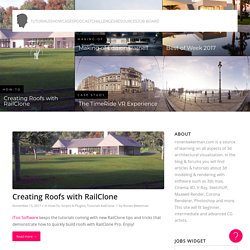 Architectural Rendering, Automotive and Product Illustration Community - 3DAllusions - Home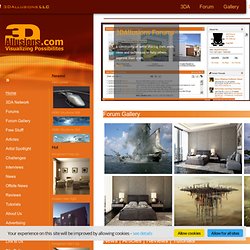 Hyundai has released the preview renderings of the all-new Santa Fe, that will debut at the 201... Read more The first photo and information of the i-oniq Concept, the electric sports hatchback that will ... Read more