Vegetable fries, side dishes, dips
Spiced Apple Sauce with Red Wine
Kimchi Recipe (Hot, Sour, Salty & Easy)
Almond Spinach Basil Pesto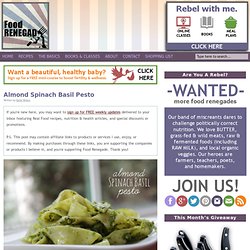 Are you hoping to get pregnant soon? Are you pregnant already? Learn about how to boost your fertility & have a happier pregnancy in this FREE mini-course. Sign up here. P.S.
Homemade Mild Kimchi | The Dabblist
Note: This post contains an updated recipe after numerous trials and some obsessive tweaking, as well as a note about the updates at the end of the intro, before the recipe itself. If I had to sum this post up in two words, those words would be "F#@% YES." Sorry, that's a bit of an aggressive way to start off a post! But seriously, can you blame me? I have been obsessing over making this stuff for nearly eight months, ever since Joshua Bousel detailed his experiments with homemade Sriracha on Serious Eats.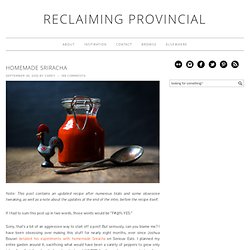 Homemade Sriracha
feta cheese, brown sugar, pears, olive oil, cinnamon, unsalted butter, salt and 2 MORE B 40 mins, 9 ingredients iceberg lettuce, bosc pears, feta cheese, asian pears and 1 MORE B 15 mins, 5 ingredients
Cheese Feta Pears Recipes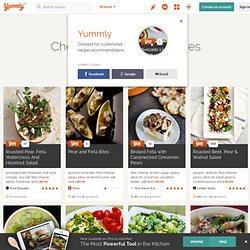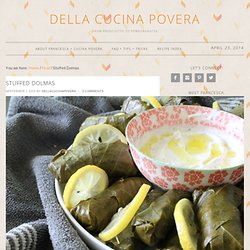 Stuffed Dolmas | Della Cucina Povera
It happens often that when I find something I really like that is not native to wherever I'm living, I go a little overboard. When I was in Korea, I found myself buying a 10 liter jar of pickles (that is A LOT of pickles) and a small jar of Kraft's Parmesan cheese for the equivalent of 20 USD. Part of this overspending was my homesickness manifesting itself, but the other part was pure craving. (Almost) every Saturday, I bike to the market on the Ten Katerstraat and stock up on insanely cheap veggies, beautiful deli meats, and artisan cheeses that make me feel like I'm walking through Wegmans, which I miss with all my heart. Some of the best stuff there is sold by lovely Turkish folk, including stuffed olives of every kind, beautiful breads and DOLMAS.
For the past a few year, I have tried to plan for a trip to visit, a place that I've ever been, at least once a year. I love to experience new things, getting new inspirations for life, by just being in a different city or country. Next week, my parents and I are visiting Hong Kong and Beijing for 2 weeks. Even thought I have been to both places before, I am still looking forward to go there again. For HK, I have visited so many times.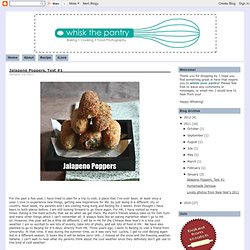 Jalapeno Poppers, Test #1
Juicy and delicious, gyoza are Japan's take on these delicious dumplings, popular across the world. Made without meat, our Vegetable Gyoza recipe is lower in fat but full of flavour! Vegetable Gyoza are very tasty on their own, but are also amazing with ramen noodles or fried rice for a true Chinese fusion meal. Gyoza can seem tricky to make, but with our recipe we hope to show that not only are gyoza easy to make, but lots of fun too! Why not invite your friends round and have a gyoza party? 1-2 people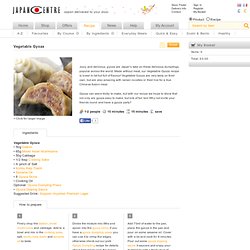 Vegetable Gyoza
Cooking with Wasabi
Ah, the spice of life! Even a little pinch of this amazing stuff can give you a kick in the nose, but wasabi also adds amazing flavour to a wide range of dishes, not least of which is sushi! However, it's not just sushi that wasabi is delicious with! You can use it to add a real punch or a subtle accent to dips and sauces, pasta, chicken, tofu and more!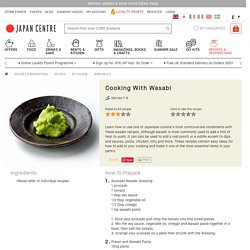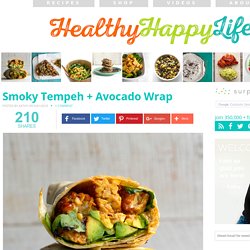 Is black the new brown? In my house it is! Well, sort've. I still adore my beloved, simple, nutty, fluffy, go-to short-grain brown rice.
Side Dishes
Creamy Mexican Cheese Dip — Without Velveeta!
If you're new here, you may want to sign up for FREE weekly updates delivered to your inbox featuring Real Food recipes, nutrition & health articles, and special discounts or promotions. P.S. This post may contain affiliate links to products or services I use, enjoy, or recommend. By making purchases through these links, you are supporting the companies or products I believe in, and you're supporting Food Renegade.
This past weekend we celebrated Tom's birthday. Well sort of. Since we will be leaving for our Mexico vacation in FOUR DAYS… last week was really tough to fit a birthday party.
Spiced Indian Rice with Peas - Home - Sweetbites Blog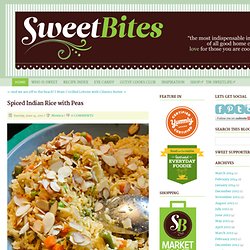 This is Week #41 of my 2011 cooking challenge! Click on the above graphic to view all P&TC recipes. All recipes created for this challenge come from the Food and Wine Annual Cookbook 2010: An Entire Year of Recipes
Spicy dill quick pickles
Pear and serrano salsa [Vegan]
Bosc pears make a fantastic ingredient for a unique salsa. They have their own delicately sweet flavor without being too sweet, are crunchy and so maintain their structure even when chopped into a salsa, and work well with herbs and spices. The brightness that mint adds to this recipe is not to be under estimated -- it really is a key ingredient. However, mint can be overwhelming, so feel free to add a little at a time, tasting as you go to make sure you don't overpower the other flavors with mint.
Serves / Yields 2 cups Preparation Instructions
Sesame Sumac Pesto Recipe
Doreen Virtue ~ Weekly Oracle Report September 23-29, 2013 | Laura Bruno's Blog
I'm definitely resonating with Doreen's message so far for Monday and Tuesday. Waves and waves of relief about nothing in particular. I just feel fabulous and like a weight I didn't know I was carrying has suddenly, inexplicably been lifted off my chest. In my case, it's not so much about career as just about everything clicking together. I love how she uses a kitchen analogy for the early part of the week, because despite being extremely busy with sessions today, I also spent a lot of time in the garden and kitchen and had some unexpected blessings that I wouldn't have realized without being open to things not going according to plan. After processing huge amounts of basil and using up many key ingredients, I goofed and added way too much Parma to my original recipe (I corrected the amount for the ingredients listed below).
by: Joy From The Maple Syrup Cookbook by Ken Haedrich, pg 73 Ingredients 1 cup finely chopped fresh pineapple2 tbsp. finely minced red onion or scallion1 tbsp. chopped fresh cilantro or mint1 serrano pepper, seeded and finely mincedOptional – juice of 1 small lime (about 1 tbsp)1 tbsp. pure maple syrup
Pineapple Salsa
Spicy strawberry avocado salsa [Vegan]
Mango Avocado Salsa [Vegan]
Spiced Black Bean Hummus with Marinated Peaches Recipe
Roasted Garlic & Kale Hummus – Gluten-Free + Vegan
The world's best guacamole recipe [Vegan]
The Hummus That Changed Everything
Spicy Chipotle Hummus
Buddha's Hot Sauce | Natural Farmacy
Easy white bean dip with sun-dried tomatoes [Vegan]
Muhammara: Syrian Red Pepper Spread | From Away
Recipe: Miso Tahini Dressing Recipes from The Kitchn
Recipe: Marinated Summer Vegetables :: Kelly Myers
Roasted Green Bean Fries
Sauteed Radishes with Mint recipe from food52
Spicy Tomato Pickle » Divine Taste
Celeriac with Green Apple and Orange : Cafe Fernando – Food Blog - celeriac - green apple - orange - Fruit
Spinach with Sesame and Garlic Recipe
Macadamia Nut and Sundried Tomato Mash Recipe
Recipe: Honey-Orange Carrots
Natural Farmacy: Messy Apron Recipes: Swedish Potato and Beet Salad
Recipage
LISTEN BUBB!
The Best New Way to Bring Your Lunch
Really Really Good Candied Sweet Potatoes Recipe - Food.com - 41541
Fried Green Tomatoes Recipe
Easy Salt and Vinegar Veggie Chips | ebakerie.com
Tasty Tandoori Sweet Potatoes Recipe - Food.com - 415193
Herb Roasted Root Vegetables
Sweet Potatoes and Apples
Apple Cider Glazed Sweet Potatoes Recipe