Maintenance homemade
Top 10 DIY Posts of 2013
PRIMAL PIT PASTE
Homemade Toothpaste Recipe: Remineralizing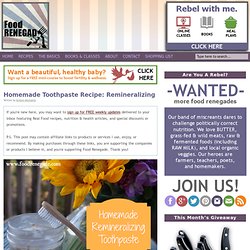 If you're new here, you may want to sign up for FREE weekly updates delivered to your inbox featuring Real Food recipes, nutrition & health articles, and special discounts or promotions. P.S. This post may contain affiliate links to products or services I use, enjoy, or recommend. By making purchases through these links, you are supporting the companies or products I believe in, and you're supporting Food Renegade. Thank you!
Erin Schumacher, Guest WriterWaking Times When you pick up a product to clean, you expect it to clean. You don't, however, expect the product to irritate the skin, cause cancer or disrupt hormones. The same goes with personal care products. You may think you are cleaning your body and hair, but in addition you are slathering on hundreds of toxic volatile organic compounds. Cleaning ingredients vary in the type of health hazard they pose.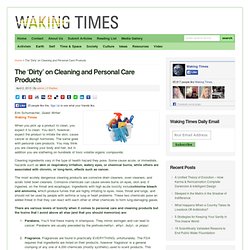 The 'Dirty' on Cleaning and Personal Care Products
Confessions of a Stinky Girl: 3 Tips to Naturally Control Body Odor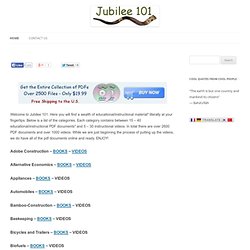 Welcome to Jubilee 101. Here you will find a wealth of educational/instructional material* literally at your fingertips. Below is a list of the categories.
Most people are familiar with the traditional uses for lemons to soothe sore throats and add some citrus flavor to our foods. However the diversity of applications for lemons far exceeds general knowledge and once you read the following list, you'll likely want to stock at least a few lemons in your kitchen 24-7. 1. Freshen the Fridge Remove refrigerator odors with ease. Dab lemon juice on a cotton ball or sponge and leave it in the fridge for several hours. Make sure to toss out any malodorous items that might be causing the bad smell.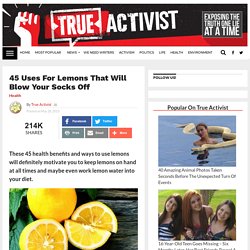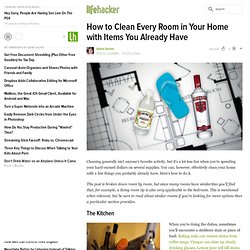 *Gasp! LookatthatWeim!* Ahem. Ok, I'm rational now. To be honest, Weimaraner hair is probably the best pet hair to have to deal with.
During their childhood, kids use a large amount of glue. Most of them are chemical mixtures with no ingredients listed on the packaging. You can only imagine what's in there. Preschoolers love pasting and collage, as well as tasting anything that comes close to their mouths. Besides the awful taste, shop bought glue might not be the perfect substance for their tummies. School kids have (hopefully) learned not to lick the glue, but having it on their skin and, occasionally, all over them, isn't good either as we know that our skin absorbs anything that's put on it.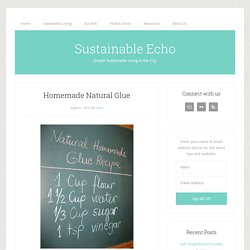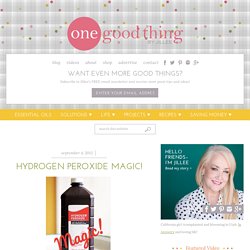 This post is brought to you by Amazon where you can get deals on health & personal care products Ever since I started using Hydrogen Peroxide to get rid of armpit stains, to clean cookie sheets, as a miracle cleaner in my kitchen and bathroom, and to make my own "oxi clean"…I ALWAYS have at least one bottle of the stuff under my kitchen sink, under my bathroom sink, AND in the laundry room. This stuff is amazingly versatile! But it wasn't until recently, after doing some IN DEPTH research on the subject, that I came to realize what a "miracle substance" hydrogen peroxide really is!
OK…I promised I would share my experience with the homemade OxiClean recipes I found….and I am now sufficiently prepared to do so. :-) I couldn't bring myself to post about it until I had given it a thorough test. I made my first batch on Saturday.
Move over OxiClean®…there's a MUCH CHEAPER stain remover in town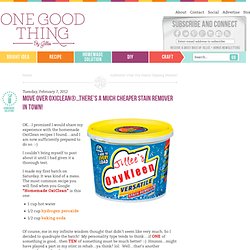 Several months ago I posted a recipe for making your own deodorant. It was mainly in response to discovering that those hard to remove armpit stains (see how to get rid of them here!) are caused by the aluminum in commercial antiperspirants!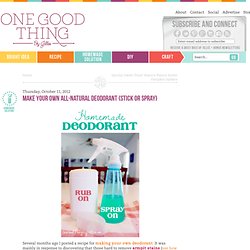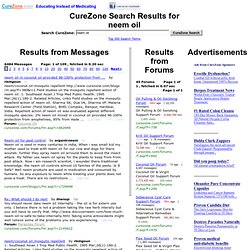 neem oil in coconut oil provided 96-100% protection from ... by risingsun 9y neem/coconut oil:mosquito repellent http://www.curezone.com/blogs/m.asp?f=380&i=2 Field studies on the mosquito repellent action of neem oil. 1: Southeast Asian J Trop Med Public Health. 1995 Mar;26(1):180-2. Related Articles, Links Field studies on the mosquito repellent action of neem oil. Sharma SK, Dua VK, Sharma VP. Malaria Research Center (Field Station), BHEL Complex, Ranipur, Hardwar, India.
Search Results: neem oil: page:
DID YOU KNOW… » 7th House on the Left
You've probably heard all about the amazing uses of distilled vinegar, using olive oil to condition leather and even that nifty trick of using a potato to loosen a broken light bulb. But today, we are going to talk about some of the not-so-known uses for everyday items like coffee filters, marshmallows and dryer sheets. COFFEE FILTERS – The little paper-like liners that make your morning cup of joe possible have many more uses than just getting your morning started. Because coffee filters are lint-free and absorb oil very well, there are many, many uses for these little guys. Did you know…
While out roving you aren't always (or even often) anywhere near a hospital or pharmacy. But, if you pack these nutritional supplements and natural medications wherever you go, you'll be able to cope just fine. #1: Kratom
Treat Asthma Naturally With Khella
Ammi visnaga (Bishop's weed), published under the GNU Free Documentation License. This is an update of an article from the original Gaia Health: Asthma is a heartbreaking condition that has become frighteningly common among children. Standard medical treatment uses steroids, exceptionally harsh drugs that tend to have diminishing returns over time, often leaving the sufferer in worse condition, and carrying enormous health risks, including diabetes, osteoporosis, high blood pressure, and mental illness.
Welcome back to "You're Welcome" Wednesday, where I share a creative tip with you that's bound to make you say…THANKS! My most popular post of 2011 was my Deep Cleaning Agenda (see the other contenders HERE). The theory behind it is that you "zone" your house and tackle one task per day, rather than one room per day. It's a lot of work the first week, but by staying on top of the tasks you can keep your house cleaned in just minutes a day.
The Fun Cheap or Free Queen: "Spare-second cleaning jar": Keeping your house deep cleaned, one chore at a time. Includes printable list.
I'm sure we've all gotten the email before. You know what I'm talking about, the spam email that you actually happened to read. You know, the one with tons of random home remedy tips in it that you think, "Huh…I should remember this…."
soapnut recipes: soapnut liquid, soapnut shampoo, soapnut powder foam
Jo Dunning, a tap-along on moving forward, astrology updates, and making toothpaste. What an interesting mix! « Evolution Made Easier
Homemade Natural Diaper Rash Cream Recipe | #ClothDiapers Safe Salve
Natural Cleaning Recipes
Homemade Beauty Products
MAKE YOUR OWN TOOTHPASTE
Soaps candles lip balms perfumes scrubs by LittleBatch on Etsy
Banish Mosquitos With Beautiful DIY Kokedama String Gardens Design*Sponge
Readers' Tips: Getting Rid of Mosquitoes
Natural air fresheners: 9 nontoxic options that really work
Good Ideas for Dryer Sheets–Bounce |
All-Natural Bug Spray Recipe
The Whole Crunchy Blog