Oauth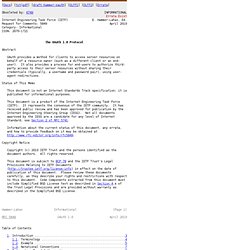 [ Docs ] [ txt | pdf ] [ draft-hammer-oauth ] [ Diff1 ] [ Diff2 ] [ Errata ] Obsoleted by: 6749 INFORMATIONAL Errata Exist Internet Engineering Task Force (IETF) E. Hammer-Lahav, Ed. Request for Comments: 5849 April 2010 Category: Informational ISSN: 2070-1721 Abstract OAuth provides a method for clients to access server resources on behalf of a resource owner (such as a different client or an end- user).
RFC 5849 - The OAuth 1.0 Protocol
OAuth Playground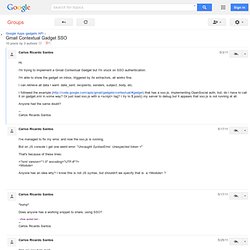 David, Gadgelt ( dev.gadglet.com ) prévoit que SSO "out-of-the-box» pour les développeurs de gadgets ..... vous invite tous à essayer. La seule chose qui est différent, c'est que Gadgelt jeton est faite avec demande à la fois signé et OAuth. OAuth est fait parce que sur Google App Engine vous obtenez l'ID utilisateur (non opensocial_owner_id) uniquement avec OAuth et cet identifiant est exactement le même ID utilisateur que vous obtenez de openid. Cette traiter s'assurer que les utilisateurs ne changeraient pas leur compte pendant le processus d'enregistrement .... Le 26 mai, 23:09, David Albrecht < da...
Gmail Contextual Gadget SSO - Google Apps gadgets API
This document describes what Gmail contextual gadgets are, how to write them, how to install them, and how to diagnose and fix some common issues. Gmail contextual gadgets can be listed for sale in the Google Apps Marketplace or used within in-house applications installed through the Google Apps console . Prerequisites
Gmail Contextual Gadgets Developer's Guide - Gmail APIs and Tools - Google Code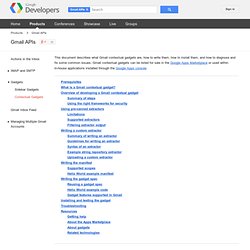 Abstract This specification extends the OAuth signature to include integrity checks on HTTP request bodies with content types other than application/x-www-form-urlencoded . Table of Contents 1.
Final: OAuth Request Body Hash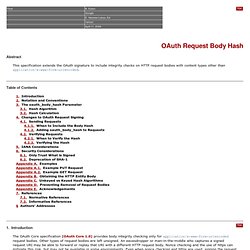 Authentication Best Practices - Google Apps Marketplace - Google Code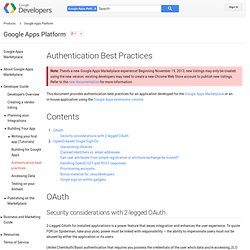 Security considerations with 2-legged OAuth 2-Legged OAuth for installed applications is a power feature that eases integration and enhances the user experience. To quote FDR (or Spiderman, take your pick), power must be linked with responsibility — the ability to impersonate users must not be abused by either the application or its users.
OAuth Playground
Validating Signed Requests - OpenSocial Documentation - OpenSocial Wiki
Remote Data Requests Developer's Guide (v0.9) - OpenSocial Documentation - OpenSocial Wiki
s Internet Identity Research
Authentication and authorization for Google APIs allow third-party applications to get limited access to a user's Google accounts for certain types of activities. This document explains the available auth mechanisms and describes what each one provides for your application. OAuth 2.0 is a new, simplified authorization protocol for all Google APIs. OAuth 2.0 relies on SSL for security instead of requiring your application to do cryptographic signing directly.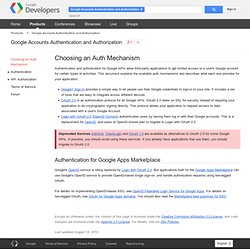 Choosing an Auth Mechanism - Authentication and Authorization for Google APIs - Google Code
Beginner's Guide to OAuth – Part IV: Signing Requests
This post contains obsolete or incorrect information. For a more recent update, please visit The OAuth 1.0 Guide Time to put the previously discussed concepts into action.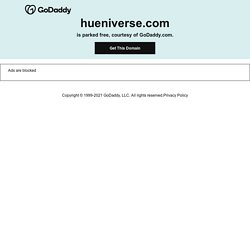 Posted by Simple Code | Filed under Gmail Contextual Gadget , Google , Signed request , OpenSocial Gadget , App Engine This first post is to share some experience we acquired building our Google Apps Profile Gmail Gadget. A good pratice when you build a Gmail contextual Gadget that communicates with a backend is to secure this communication.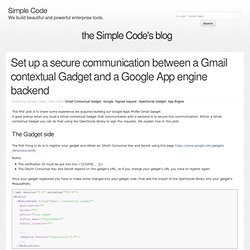 Set up a secure communication between a Gmail contextual Gadget and a Google App engine backend - the Simple Code's blog
Lesson 10: Interact with your own Backend - VZ Developer Wiki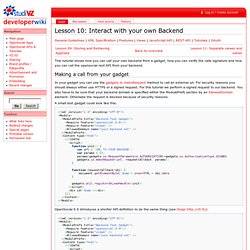 From VZ Developer Wiki General Guidelines | XML Specification | Features | Views | JavaScript API | REST API | Tutorials | OAuth This tutorial shows how you can call your own backend from a gadget, how you can verify the calls signature and how you can call the opensocial rest API from your backend.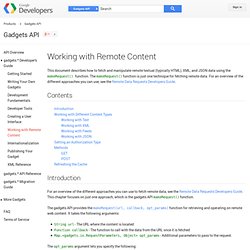 Working with Remote Content - Gadgets API - Google Code
En este documento se describe cómo extraer y manipular datos de feeds remotos textuales (normalmente HTML), XML, JSON y RSS/Atom. Contenido Introducción
Important: OAuth 1.0 has been officially deprecated as of April 20, 2012. It will continue to work as per our deprecation policy , but we encourage you to migrate to OAuth 2.0 as soon as possible. This document describes Google's implementation of the OAuth open standard for authorization, and explains how to implement OAuth in your application. For more information on OAuth, see the OAuth.net documentation . You should already be familiar with the principles behind OAuth, and be aware of any service-specific authorization issues for the API you are using.
OAuth 1.0 API Reference - Authentication and Authorization for Google APIs - Google Code
Warning : Most newer Google APIs are not Google Data APIs. The Google Data APIs documentation applies only to the older APIs that are listed in the Google Data APIs directory . For information about a specific new API, see that API's documentation. For information about authorizing requests with a newer API, see Google Accounts Authentication and Authorization . Third-party applications often require limited access to a user's Google Account for certain types of activity. To ensure that user data is not abused, all requests for access must be approved by the account holder.
Authentication and Authorization in the Google Data Protocol - Google Data Protocol - Google Code
DJ's Weblog » Blog Archive » Getting started with Gmail Contextual Gadgets
Gmail contextual gadgets were announced by Google a few months back and were made available to developers in May this year , just before making a strong appearance at Google IO . Expanding upon the concept of an earlier contextual project called Dashboard , Gmail contextual gadgets give a clear message that email, as a universal information carrier and workflow pipeline, is not only here to stay, but is being given a new lease of life as it plays a foundational role in Google's enterprise scale application platform strategy. A Gmail contextual gadget enhances email messages by providing information or functionality that is relevant to the context of that email … right inside the email itself. Context is exposed by content extractors in the form of 'clues' in Gmail (akin to Dashboard's ' cluepackets ') and matched content is provided to the gadget at runtime.
manifests at master from qmacro/qmacro-contextual - GitHub
Most webmasters are familiar with HTML tags on their pages. Usually, HTML tags tell the browser how to display the information included in the tag. For example, <h1>Avatar</h1> tells the browser to display the text string "Avatar" in a heading 1 format.
DPI Dots Per Inch For Printing - SitePoint Forums
The Megapixel Myth
The Megapixel Myth © 2008 KenRockwell.com. All rights reserved. See me interviewed on KCBS TV2, Los Angeles, about this (click the "video" link to see and hear the segment.) Also in Italian , Russian and Serbian. Resolution Comparisons among 6, 8 and 10 MP DSLRs . Introduction