XML
SKOS Ontologie. Un article de Wikipédia, l'encyclopédie libre.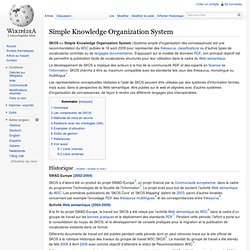 SKOS ou Simple Knowledge Organization System (Système simple d'organisation des connaissances) est une recommandation du W3C publiée le 18 août 2009 pour représenter des thésaurus, classifications ou d'autres types de vocabulaires contrôlés ou de langages documentaires. S'appuyant sur le modèle de données RDF, son principal objectif est de permettre la publication facile de vocabulaires structurés pour leur utilisation dans le cadre du Web sémantique. Le développement de SKOS a impliqué des acteurs à la fois de la communauté RDF et des experts en Science de l'information. Feed43 (Feed For Free) : Convert any web page to news feed on the fly. Microformats: What They Are and How To Use Them.
Advertisement Web 2.0 has its positive and its negative sides.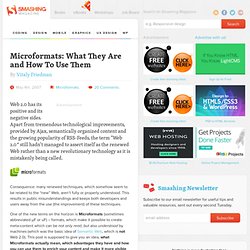 Apart from tremendous technological improvements, provided by Ajax, semantically organized content and the growing popularity of RSS-Feeds, the term "Web 2.0″ still hadn't managed to assert itself as the renewed Web rather than a new revolutionary technology as it is mistakenly being called.
---