XML
Un article de Wikipédia, l'encyclopédie libre. SKOS ou Simple Knowledge Organization System ( Système simple d'organisation des connaissances ) est une famille de langages formels permettant une représentation standard des thésaurus , classifications ou tout autre type de vocabulaire contrôlé et structuré. Construit sur la base du modèle de données standard RDF , son principal objectif est de permettre la publication facile de vocabulaires structurés pour leur utilisation dans le cadre du Web sémantique . SKOS est, depuis le 18 août 2009, une recommandation du W3C .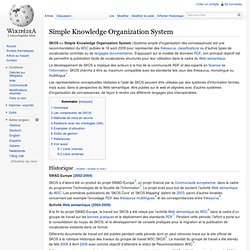 SKOS Ontologie
100 idées pour utiliser rss
le web sémantique en entreprise : comment et à quels niveaux ?
Web 2.0 has its positive and its negative sides. Apart from tremendous technological improvements, provided by Ajax, semantically organized content and the growing popularity of RSS-Feeds, the term "Web 2.0″ still hadn't managed to assert itself as the renewed Web rather than a new revolutionary technology as it is mistakenly being called. Consequence: many renewed techniques, which somehow seem to be related to the "new" Web, aren't fully or properly understood.
Microformats: What They Are and How To Use Them