Wednesday 2011-01-12
Ryanair stoppar 13 flygrutter - i protest - Resor - Resor Resetips Reseguider Tips om din nästa resa | Expressen Res
Lågprisbolaget Ryanair stoppar rutter från Marseille till 13 destinationer i Europa och Marocko från och med tisdagen.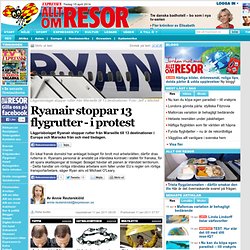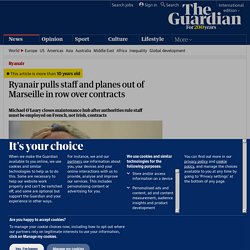 Ryanair pulls staff and planes out of Marseille in row over contracts | Business
Michael O'Leary, the head of Ryanair, is closing his Marseille maintenance hub in a row over employment contracts. Photograph: Carl De Souza/AFP/Getty Images Ryanair boss Michael O'Leary , the unflinching king of cost-cutting, may finally have met his match in the strictness of French employment law. The Irish low-cost airline will close its only French base in Marseille this week in the latest round of a bitter war with French authorities. O'Leary has been engaged in a stand-off with France since pilots' unions and the state took legal action against him for employing Marseille-based crew on Irish contracts rather than paying higher social security and tax in France.
monty python
ernesto cortazar
Just Four You - Ernesto Cortazar
Clay's Humorous Quote Bag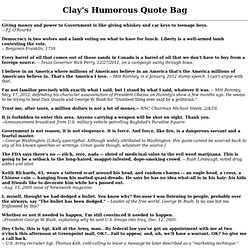 Giving money and power to Government is like giving whiskey and car keys to teenage boys. -- P.J. O'Rourke Democracy is two wolves and a lamb voting on what to have for lunch.
Charles Limb: Your brain on improv
(updated below – Update II – Update III) Last night, Birgitta Jónsdóttir — a former WikiLeaks volunteer and current member of the Icelandic Parliament — announced (on Twitter ) that she had been notified by Twitter that the DOJ had served a Subpoena demanding information "about all my tweets and more since November 1st 2009." Several news outlets, including The Guardian , wrote about Jónsdóttir's announcement. What hasn't been reported is that the Subpoena served on Twitter — which is actually an Order from a federal court that the DOJ requested — seeks the same information for numerous other individuals currently or formerly associated with WikiLeaks, including Jacob Appelbaum, Rop Gonggrijp, and Julian Assange. It also seeks the same information for Bradley Manning and for WikiLeaks' Twitter account.