Wednesday 2011-01-12
Ryanair stoppar 13 flygrutter - i protest - Resor - Resor Resetips Reseguider Tips om din nästa resa | Expressen Res
Lågprisbolaget Ryanair stoppar rutter från Marseille till 13 destinationer i Europa och Marocko från och med tisdagen. En lokal fransk domstol har anklagat bolaget för brott mot arbetsrätten, därför dras rutterna in. Ryanairs personal är anställd på irländska kontrakt i stället för franska, för att spara skattepengar åt bolaget. Bolaget hävdar att planen är irländskt territorium. - Detta handlar om rörliga irländska arbetare som faller under EU:s regler om rörliga transportarbetare, säger Ryan airs vd Michael O'Leary.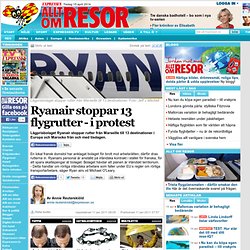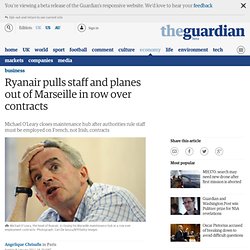 Ryanair pulls staff and planes out of Marseille in row over contracts | Business
Ryanair boss Michael O'Leary, the unflinching king of cost-cutting, may finally have met his match in the strictness of French employment law. The Irish low-cost airline will close its only French base in Marseille this week in the latest round of a bitter war with French authorities. O'Leary has been engaged in a stand-off with France since pilots' unions and the state took legal action against him for employing Marseille-based crew on Irish contracts rather than paying higher social security and tax in France. It is the first time Ryanair, Europe's biggest low-cost airline, has faced legal action of this kind. A furious O'Leary, fearing large fines, said he would remove his staff and from Tuesday, Ryanair will no longer have its Mediterranean hub in the French port. Its aircraft and 200 jobs will be moved to rival airports in Spain, Italy and Lithuania in protest at what O'Leary called the "ill-judged" ways of France.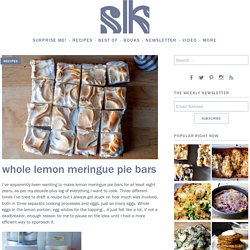 Thursday, January 16, 2014 pear and hazelnut muffins We all know that muffins teeter precariously on a razor-thin line that divides the food categories of "Acceptable for Breakfast" and "Nope, This Is Dessert" and one must maintain firm boundaries during the breakfast hours lest the day that follows devolve into a full-on bacchanal of Resolution decompensation that ends with one passed out amid scatters of Cheetos, ketchup packets and French fry grease with a side of cronut. Thus, when I come upon a new muffin recipe — or in this case, when my son is told to pick a recipe for us to make from a new book, and he predictably chooses the thing that most resembles cake — I immediately assess the list of ingredients and label them accordingly: Continued after the jump » Monday, January 13, 2014
monty python
ernesto cortazar
Just Four You - Ernesto Cortazar
Clay's Humorous Quote Bag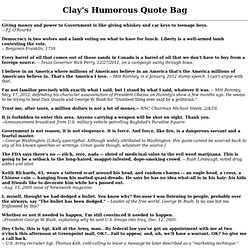 Giving money and power to Government is like giving whiskey and car keys to teenage boys. -- P.J. O'Rourke Democracy is two wolves and a lamb voting on what to have for lunch.
Charles Limb: Your brain on improv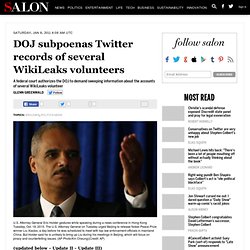 (updated below – Update II – Update III) Last night, Birgitta Jónsdóttir — a former WikiLeaks volunteer and current member of the Icelandic Parliament — announced (on Twitter) that she had been notified by Twitter that the DOJ had served a Subpoena demanding information "about all my tweets and more since November 1st 2009." Several news outlets, including The Guardian, wrote about Jónsdóttir's announcement.