Thursday 2011-02-03
Al Jazeera English - Live Streams - Watch Now. FindTheBest.com | Find. Compare. Decide. FindTheBest Looks Like A Winner. Most startups don't hockey stick on traffic in the first few months after launch (it took Twitter well over a year, for example).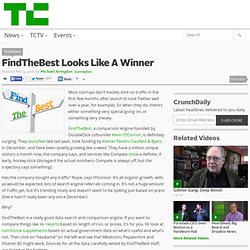 So when they do, there's either something very special going on, or something very sneaky. FindTheBest, a comparison engine founded by DoubleClick cofounder Kevin O'Connor, is definitely surging. Egypt unrest. TeliaSonera worried about possible Android, iPhone duopoly. TeliaSonera says Apple and Google too powerful Swedish carrier TeliaSonera said it was concerned that Apple and Google were developing a duopoly in the smartphone space [reg. required].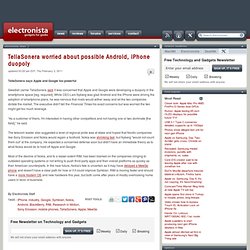 While CEO Lars Nyberg was glad Android and the iPhone were driving the adoption of smartphone plans, he was nervous that rivals would wither away and let the two companies dictate the market. The executive didn't tell the Financial Times his exact concerns but was worried the two might get too much leverage. Details of News Corp.'s iPad Newspaper the Daily | John Paczkowski | Digital Daily | AllThingsD. At the launch of the Daily, News Corp.'s iPad newspaper this morning, CEO Rupert Murdoch said, "New times demand new journalism."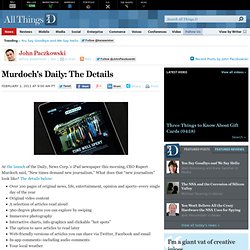 What does that "new journalism" look like? The details below: Over 100 pages of original news, life, entertainment, opinion and sports–every single day of the year Original video contentA selection of articles read aloud 360-degree photos you can explore by swipingImmersive photography Interactive charts, info-graphics and clickable "hot spots" The option to save articles to read later Web-friendly versions of articles you can share via Twitter, Facebook and email In-app comments–including audio comments Your local weather Your favorite sports teams' scores, news and feeds Crossword and Sudoku puzzles Pull all this together for a $40 yearly subscription fee (or $.99 a week) and you get what Murdoch says is the model for how stories will be told from now on. My Favorite iPad Apps. 01 Feb 2011 If you are curious to know what apps have I installed on my iPad, check these interactive screenshots for a complete list of my favorite iPad apps. couch mode print story If you are curious to know what apps have I installed on my iPad, check these interactive screenshots for a complete list – Screen 1, Screen 2 and Screen 3.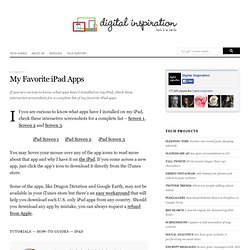 You may hover your mouse over any of the app icons to read more about that app and why I have it on the iPad. Jon Stewart, Kristen Schaal Debate Rape vs. 'Rape-Rape' (Daily Show Video) Plus, wins for 'Veep,' 'Game Change,' 'Two and a Half Men' (NEWSER) - And they're off!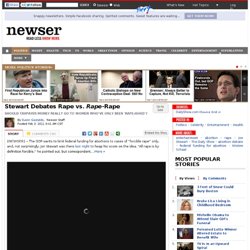 Host Jimmy Kimmel opened the Emmys with jokes about Honey Boo Boo and politics ("Being a Republican in Hollywood is like being a Chick-fil-A sandwich on the snack table at . "), and noted that this is the first year none of the four major networks have been nominated for Best Drama. "The Academy is sending a pretty clear message," he said, "and that message is, 'Show us your boobs.' " Motorola gives up on moving Cliq XT to Android 2.1. Motorola Cliq XT Android 2.1 stopped permanently Motorola in an update Thursday morning said it had given up on trying an Android 2.1 update for the Cliq XT.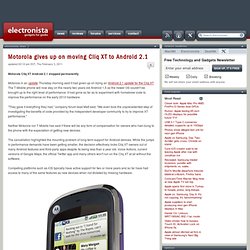 The T-Mobile phone will now stay on the nearly two years old Android 1.5 as the newer OS couldn't be brought up to the right level of performance. It had gone so far as to experiment with homebrew code to improve the performance on the early 2010 hardware. "They gave it everything they had," company forum lead Matt said. Nielsen: Apple iAds More Effective Than TV Ads. According to the soup company Campbell's, Apple iAds are twice as memorable as TV ads to the general public.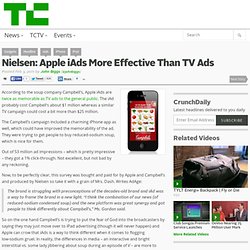 The iAd probably cost Campbell's about $1 million whereas a similar TV campaign could cost a bit more than $25 million. The Campbell's campaign included a charming iPhone app as well, which could have improved the memorability of the ad. Barack Obama's Egypt Response Slammed In Israel. JERUSALEM — President Barack Obama's response to the crisis in Egypt is drawing fierce criticism in Israel, where many view the U.S. leader as a political naif whose pressure on a stalwart ally to hand over power is liable to backfire.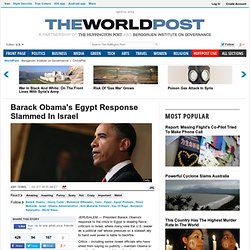 Critics – including senior Israeli officials who have shied from saying so publicly – maintain Obama is repeating the same mistakes of predecessors whose calls for human rights and democracy in the Middle East have often backfired by bringing anti-West regimes to power. Israeli officials, while refraining from open criticism of Obama, have made no secret of their view that shunning Egyptian President Hosni Mubarak and pushing for swift elections in Egypt could bring unintended results. "I don't think the Americans understand yet the disaster they have pushed the Middle East into," said lawmaker Binyamin Ben-Eliezer, who until recently was a Cabinet minister and who is a longtime friend of Mubarak.
Find and listen to Talk, Music and Local Radio Online. Lessons from Egypt: Kill the kill switch and decentralize the Internet. The five-day Internet outage in Egypt has two big takeaways.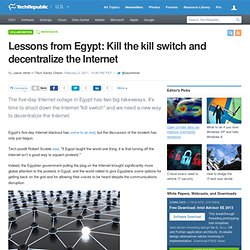 It's time to shoot down the Internet "kill switch" and we need a new way to decentralize the Internet. Egypt's five-day Internet blackout has come to an end, but the discussion of the incident has only just begun. Tech pundit Robert Scoble said, "If Egypt taught the world one thing, it is that turning off the Internet isn't a good way to squash protests. " Indeed, the Egyptian government pulling the plug on the Internet brought significantly more global attention to the protests in Egypt, and the world rallied to give Egyptians some options for getting back on the grid and for allowing their voices to be heard despite the communications disruption. Still, this kind of outage is not something that we want to see on a larger scale, and since much of the Internet's core infrastructure is located in the United States, there is even greater responsibility in the US to learn some lessons from the Egyptian blackout.
---