Traffic Calming
Mayor Bill de Blasio speaks with the family of Noshat Nahian, an 8-year-old killed while walking to school last month. Photo: NYC Mayor's Office Calling traffic fatalities an "epidemic" that deserves immediate attention from the city, Mayor Bill de Blasio launched his administration's "Vision Zero" agenda this afternoon, setting out to eliminate traffic deaths within a decade. The most important news to come out of today's announcement is that his administration will enlist multiple agencies to tackle the multifaceted problem of traffic violence. A working group led by the city's police, transportation, health, and taxi commissioners is tasked with coming up with an action plan by February 15.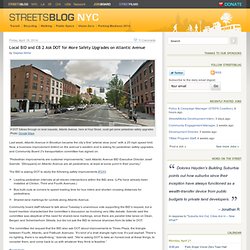 #BKME
Anyone who's done cycling in an urban environment has encountered traffic calming devices. On my modest 9-mile commute in Columbia, MD, I experience speed bumps, rumble strips, chicanes, and traffic circles. Sometimes these devices don't work entirely as intended; they can be abused by drivers, or can be confusing to drivers who don't know how to manage multiple inputs (Bicyclist ahead! Traffic calming ahead!) in a way that reconciles everything.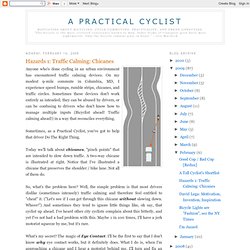 A practical cyclist
TrafficCalming.org
DOT - Street Design Manual
The Street Design Manual is New York City's comprehensive resource for street design standards, guidelines, and policies. It draws from a wide range of resources and experience to present a coherent set of choices for street design. These range from ubiquitous features, such as standard sidewalk concrete and street lights, to newer design elements like pedestrian safety islands, bus bulbs, and protected bicycle lanes.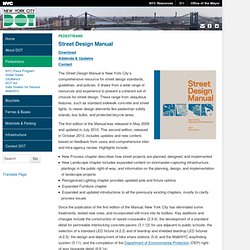 On this site you will find many invaluable documents relating to the design, construction and maintenance of highways. Simply use the navigation links to access the following: The Design Manual for Roads & Bridges (DMRB) The DMRB was introduced in 1992 in England and Wales, and subsequently in Scotland and Northern Ireland. It provides a comprehensive manual system which accommodates all current standards, advice notes and other published documents relating to the design, assessment and operation of trunk roads (including motorways). It has been developed from a number of separate series of documents previously published by the Overseeing Organisations of England, Scotland, Wales and Northern Ireland.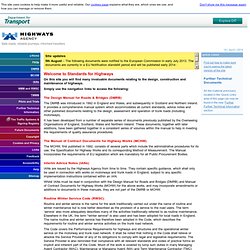 Standards for Highways
Design Manual for Roads and Bridges
5th August – The following documents were notified to the European Commission in early July 2013. The documents are currently in a EU Notification standstill period and will be published early 2014 : MCHW Volume 1 Series 000 Introduction to the Specification for Highway Works MCHW Volume 1 Series 100 Preliminaries MCHW Volume 2 Series 000 Notes for Guidance on the Introduction to the Specification for Highway Works MCHW Volume 2 Series 100 Notes for Guidance on the Preliminaries MCHW Appendix A Quality Management Systems MCHW Appendix B Product Certification Systems MCHW Appendix C Certification for Proprietary Products MCHW Appendix D Statutory Type Approval MCHW Appendix E Type approval / Registration / Listing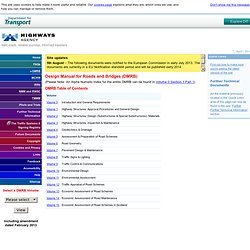 Traffic Calming 101
"In almost all U.S. cities, the bulk of the right-of-way is given to the roadway for vehicles, the least to the sidewalk for pedestrians… just suppose that Americans were to extend their walking radius by only a few hundred feet. The result could be an emancipation… –William H. Whyte (CITY: Rediscovering the Center) Developed in Europe, traffic calming (a direct translation of the German "vekehrsberuhigung") is a system of design and management strategies that aim to balance traffic on streets with other uses.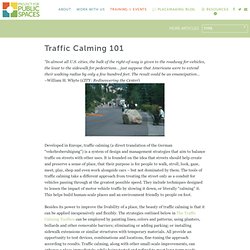 Pedestrian planning and design guide
PEDSAFE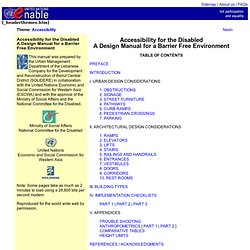 Accessibility for the Disabled A Design Manual for a Barrier Free Environment This manual was prepared by the Urban Management Department of the Lebanese Company for the Development and Reconstruction of Beirut Central District (SOLIDERE) in collaboration with the United Nations Economic and Social Commission for Western Asia (ESCWA) and with the approval of the Ministry of Social Affairs and the National Committee for the Disabled. Ministry of Social Affairs National Committee for the Disabled United Nations Economic and Social Commission for Western Asia
Accessibility for the Disabled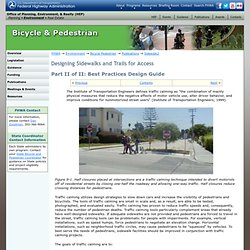 The Institute of Transportation Engineers defines traffic calming as "the combination of mainly physical measures that reduce the negative effects of motor vehicle use, alter driver behavior, and improve conditions for nonmotorized street users" (Institute of Transportation Engineers, 1999). Figure 9-1. Half closures placed at intersections are a traffic calming technique intended to divert motorists off of residential streets by closing one-half the roadway and allowing one-way traffic. Half closures reduce crossing distances for pedestrians.
Chapter 9. Traffic Calming
Transportation Planning Library
Construction (A) Permits Construction (B) Permits Excavation (U) Permits Excavation (E) Permits
Bureau of Engineering