Traffic Calming
Part II of II: Best Practices Design Guide - Sidewalk2 - Publications - Bicycle & Pedestrian Program - Environment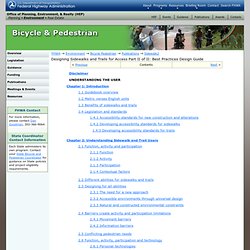 Office of Planning, Environment, & Realty ( HEP ) Planning • Environment • Real Estate HEP Events Guidance Publications Awards Contacts FHWA Contact Christopher Douwes Trails and Enhancements Program Manager Federal Highway Administration FHWA HEPH-10 Rm E74-474 1200 New Jersey Ave SE Washington DC 20590-0001 Phone: 202-366-5013 Fax: 202-366-3409 State Coordinator Contact Information Each State administers its own program.
Streetsblog New York City
#BKME
Anyone who's done cycling in an urban environment has encountered traffic calming devices. On my modest 9-mile commute in Columbia, MD, I experience speed bumps, rumble strips, chicanes, and traffic circles. Sometimes these devices don't work entirely as intended; they can be abused by drivers, or can be confusing to drivers who don't know how to manage multiple inputs (Bicyclist ahead! Traffic calming ahead!) in a way that reconciles everything.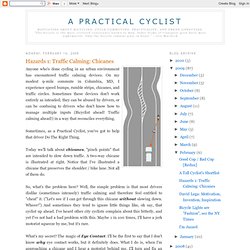 A practical cyclist
TrafficCalming.org
DOT - Street Design Manual
Latest Manual Update: July 9, 2010 The New York City Street Design Manual provides policies and design guidelines to city agencies, design professionals, private developers and community groups for the improvement of streets and sidewalks throughout the five boroughs. It is intended to serve as a comprehensive resource for promoting higher quality street designs and more efficient project implementation.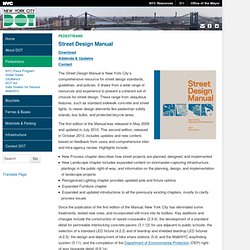 Changes to www.dft.gov.uk/ha/standards Over the next few months you'll notice some new material appearing on the site as well as some other changes. The aim is to bring various important publications, that currently sit on a number of websites, together to create a focal point for technical documentation. A summary of the changes and when they will occur is given below: May 2010 – Access directly via this site to additional information on air quality, road restraints, safety barriers, gantries, errant vehicles and Eurocodes. May 2010 – 'The Network Maintenance Manual' and 'Routine Winter Service Code' will be made available online.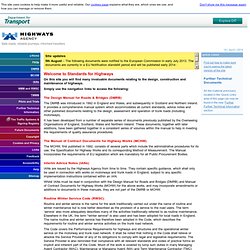 Standards for Highways
Design Manual for Roads and Bridges
Traffic Calming 101
"In almost all U.S. cities, the bulk of the right-of-way is given to the roadway for vehicles, the least to the sidewalk for pedestrians… just suppose that Americans were to extend their walking radius by only a few hundred feet. The result could be an emancipation… –William H. Whyte ( CITY: Rediscovering the Center ) Developed in Europe, traffic calming (a direct translation of the German "vekehrsberuhigung") is a system of design and management strategies that aim to balance traffic on streets with other uses.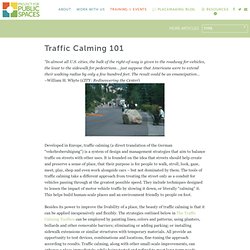 Pedestrian planning and design guide
PEDSAFE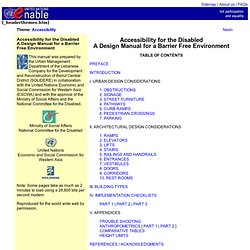 Accessibility for the Disabled A Design Manual for a Barrier Free Environment This manual was prepared by the Urban Management Department of the Lebanese Company for the Development and Reconstruction of Beirut Central District (SOLIDERE) in collaboration with the United Nations Economic and Social Commission for Western Asia (ESCWA) and with the approval of the Ministry of Social Affairs and the National Committee for the Disabled. Ministry of Social Affairs National Committee for the Disabled United Nations Economic and Social Commission for Western Asia
Accessibility for the Disabled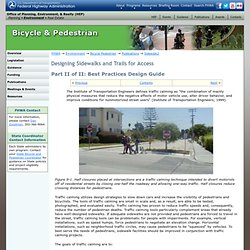 The Institute of Transportation Engineers defines traffic calming as "the combination of mainly physical measures that reduce the negative effects of motor vehicle use, alter driver behavior, and improve conditions for nonmotorized street users" (Institute of Transportation Engineers, 1999). Figure 9-1. Half closures placed at intersections are a traffic calming technique intended to divert motorists off of residential streets by closing one-half the roadway and allowing one-way traffic. Half closures reduce crossing distances for pedestrians.
Chapter 9. Traffic Calming
Transportation Planning Library
Construction (A) Permits Construction (B) Permits Excavation (U) Permits Excavation (E) Permits
Bureau of Engineering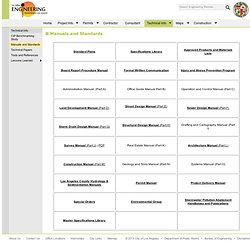 Carfree Cities