Word
Spliterature | Momtastic
Unique Word Game
Access previous puzzles by visiting our Crossword Archives Do you find solving crosswords relaxing? Well, if you answered yes then you have come to the right place because WebCrosswords.com has thousands of crossword puzzles and we're still adding new ones daily. Our one and only focus is to provide an unlimited number of crosswords to you daily so you can satisfy the strange but rewarding craving to solve crossword puzzles.
Free Daily Crossword Puzzles Since 2002! | Free Crossword Puzzles | WebCrosswords.com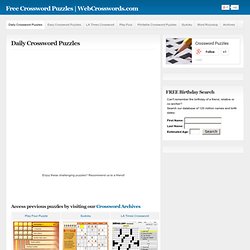 Life Section puzzles
Full Archives Access 240+ archived USA TODAY puzzles in The Puzzle Society! Technical problems? Contact customer support .