Full time camping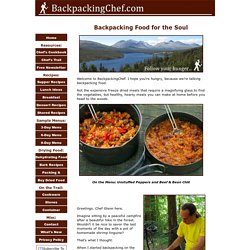 Pull up a stump. We're talking backpacking food. Not the expensive freeze dried meals that require a magnifying glass to find the vegetables, but healthy, hearty meals made at home before you head to the woods. On the Menu: Unstuffed Peppers and Beef & Bean Chili Greetings. Chef Glenn here.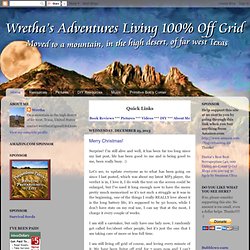 Surprise! I'm still alive and well, it has been far too long since my last post, life has been good to me and is being good to me, been really busy. :) Let's see, to update everyone as to what has been going on since I last posted, which was about my latest MP3 player, the verdict is in, I love it, I do wish the text on the screen could be enlarged, but I've used it long enough now to have the menu pretty much memorized so it's not such a struggle as it was in the beginning, one of the things I really REALLY love about it is the long battery life, it's supposed to be 50 hours, while I don't have stats on my real use, I can say that at the most, I charge it every couple of weeks. I am still a caretaker, but only have one lady now, I randomly get called for/about other people, but it's just the one that I am taking care of more or less full time. I am still living off grid of course, and loving every minute of it.
Wretha's Adventures Living Off Grid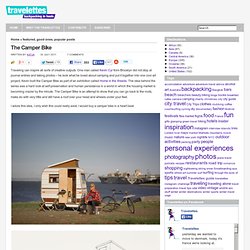 The Camper Bike - StumbleUpon
Home » featured, good ones, popular posts Written by Katja30 July 20117 Comments Traveling can inspire all sorts of creative outputs.
Recently we received a question about what fulltimers do when they hang up the keys. Since their expensive RV's have depreciated and the house is no longer an investment, how do they cope (and pay) for the transition? John and I decided to follow our dreams to become fulltimers as soon as our military contract was over.
Where do all the Fulltimers Go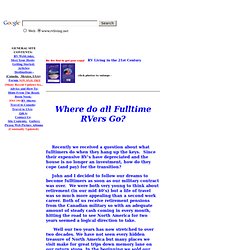 HitchItch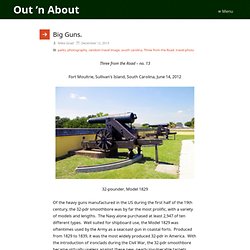 Three from the Road – no. 13 Fort Moultrie, Sullivan's Island, South Carolina, June 14, 2012 32-pounder, Model 1829 Of the heavy guns manufactured in the US during the first half of the 19th century, the 32-pdr smoothbore was by far the most prolific, with a variety of models and lengths. The Navy alone purchased at least 2,947 of ten different types.
Haw Creek Out 'n About | Images and Info about places — where we are, where we've been, and where we'd like to go.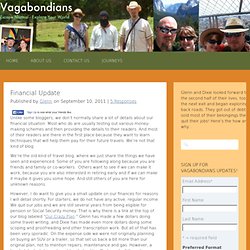 Financial Update | Vagabondians
Unlike some bloggers, we don't normally share a lot of details about our financial situation. Most who do are usually testing out various money-making schemes and then providing the details to their readers. And most of their readers are there in the first place because they want to learn techniques that will help them pay for their future travels. We're not that kind of blog.