iPhone App Design References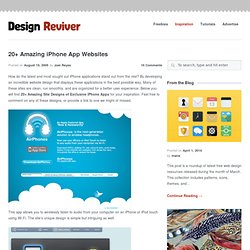 20+ Amazing iPhone App Websites
How do the latest and most sought out iPhone applications stand out from the rest? By developing an incredible website design that displays these applications in the best possible way. Many of these sites are clean, run smoothly, and are organized for a better user experience. Below you will find 20+ Amazing Site Designs of Exclusive iPhone Apps for your inspiration.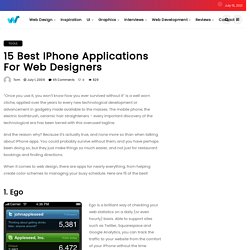 "Once you use it, you won't know how you ever survived without it" is a well worn cliche, applied over the years to every new technological development or advancement in gadgetry made available to the masses. The mobile phone, the electric toothbrush, ceramic hair straighteners – every important discovery of the technological era has been tarred with this overused tagline. And the reason why?
15 Best iPhone Applications for Web Designers | Tools
I've always been a fan of Apple's design. As a web designer, I'm sure that many of you are. When Apple released the iPhone and iPod Touch, thousands of apps hit the app store. As a result, web designers started creating sites for Apple apps. These sites promote, give information about, and help sell these apps.
35 Beautiful iPhone App Website Designs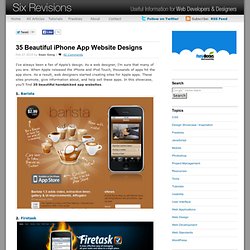 To compete with thousands of iPhone apps in the App Store, having a good app icon is not enough. A nicely designed website for the app is very important. A beautiful website helps to drive traffic in and also makes your app stand out from the crowd. This post showcases a gallery of appealing iPhone app sites and common design trends that I see. One-Page Format Almost every app sites are designed in a one-page format with a short descriptive paragraph and a feature list.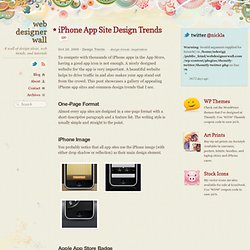 iPhone App Site Design Trends
The iPhone has revolutionized the mobile device, and the App Store has taken it even further. There are literally apps for just about everything. While some of them are for having fun or passing the time, there are many apps that can help us perform serious tasks.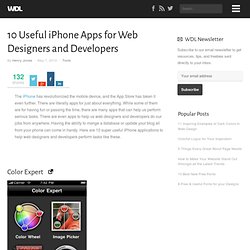 10 Useful iPhone Apps for Web Designers and Developers | Tools
Advertisement Update: 01/10/2012: The original version of this article by Jen Gordon was published in August 2009. It was thoroughly revised and updated by the author in September 2012. — Editorial Team